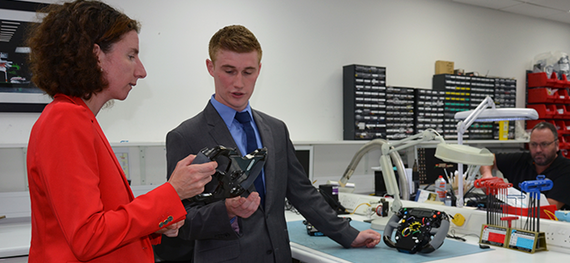 Last year I called on the EU Commission to investigate the unfair structure created at the top of F1 in 2013.
Under rules introduced by the Group's hedge fund owners, Williams, Ferrari, Red Bull, Mercedes and McLaren all receive tens of millions of pounds every year regardless of where they finish on the track, a situation that seems unfair to smaller teams, some of which are based in the UK.
This lopsided form of competition has thrown F1 out of balance and forced other teams into an untenable position. We have already seen Caterham and Marussia, two Oxfordshire-based teams, being forced to close. In Caterham's case, this involved the loss of many dozens of highly-skilled jobs (Marussia luckily eventually found a buyer). Lotus, also based in Oxfordshire, has also been in financial difficulties and is in the middle of a protracted take-over with Renault.
In addition to the financial imbalance, the new structure of F1 allows the bigger teams to impose and influence the laws that govern the sport, with little say for smaller teams. This allows the introduction of new rules that exaggerate the already severe financial imbalance and further prevent smaller teams from competing on a level playing-field.
Perhaps the pinnacle of this disastrous attempt to distort the sport is the decision of the FIA, the sports regulatory body, to accept a 1% share in the group at a cut price cost of £286,000. Those shares were valued at £74m last year. It is very unusual for a regulator to have a financial stake in what it is regulating. Recent developments are akin to the Food Standards Authority taking a stake in McDonalds, or the Health and Safety Executive buying up a factory.
The reply that I was provided by the Commission, when I first raised concerns with them,stated that they would not be able to look into an investigation unless the teams in F1 submitted a formal complaint themselves. Last week Force India and Sauber formally wrote to the Commission with their complaint.
I will be writing to the Competition Commissioner, Margrethe Vestager, again in the coming days. I will lay clear how seriously the Commission needs to take the formal complaint submitted by Force India and Sauber.
It is time for F1 to return to their former reward systems that gave money to teams based on how they perform on the track. This is the only way to protect the jobs of those brilliant innovators working for the teams and the integrity of a globally loved sport. It is also the only way to ensure that the many highly-skilled jobs and technological breakthroughs associated with F1 here in the South East, continue.
Popular in the Community