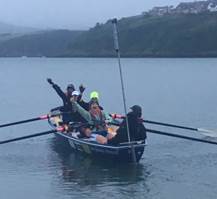 Almost 10 years ago, I received a call from my dad telling me that he had a growth in his stomach. He was diagnosed with stomach cancer, which he would battle bravely, undergoing treatment before it sadly took his life.
Today, our family is dealing with cancer again, after my 30-year-old nephew was diagnosed with angiosarcoma - a rare cancer of the blood vessels. He fights and will continue to fight it with immense heart and courage.
My family is not alone though. There doesn't seem to be a day goes by that we don't hear about someone in our extended circles fighting this disease. The latest figures from Cancer Research UK estimate that 50% of us will get some form of cancer in our lifetime. That's one in two. That's either me or you.
Currently, there are 2.5 million people living with cancer in the UK (an increase of 400,000 in just five years). These are frightening statistics and we need to do everything within our power to fight this merciless disease. That's why I am honoured to be a founding member and ambassador of CASCAID. Following my personal experience, and knowing so many others have - and continue to - go through similar experiences, I was inspired to set up CASCAID, an industry-wide initiative which sees over 100 financiers from across the asset management industry leave their company loyalties at the door as they join forces in the fight against cancer.
Through a series of fundraising events and sporting challenges, after just six months CASCAID had raised over £1 million - so we have decided to double the target. We are now collectively on a mission to raise £2 million for Cancer Research UK within the year.
This is why last week I found myself, alongside nine others from across the industry, in the middle of the Irish Sea, rowing the 73 miles from Fishguard to Rosslare (approximately one mile for every day my dad was in treatment for cancer).
As a complete novice when it comes to rowing (I even used to try and avoid the rowing machine in the gym at all costs) there was no doubt that this was going to be a huge challenge.
Alongside me, there were two other complete novices in the team: Asmita Kapadia and Claire Lewis. Then we had a team of experienced river rowers but who had never rowed at sea: Tom Whateley, Lottie Meggitt, Jessica Shuman, Eeke Triggs-Hodge, and Anna Campbell. Happily we were also joined by Phil Pring who had rowed the Atlantic in the past which certainly helped put my mind at ease! We were also hugely reassured to have Steve Kempsley of Richmond Bridge Boat Club coxing for us. Steve helped us all the way through training and is such an experienced rower that having him in the boat really calmed the nerves!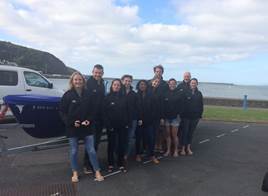 It was an early start from Fishguard in Wales (5.38am to be precise) and it was hard from the get go. The crossing is widely known to be one of the roughest (if not the roughest) oceans in the world and the conditions were borderline brutal; cold, wet, dark and windy, not to mention the choppy waters.
We experienced all the highs and lows possible on an ocean crossing from extreme sea sickness to dolphin spotting. But the Irish Sea lived up to its reputation and about 15 miles from the shore we encountered a terrifying thick fog which meant we lost our support boat and suddenly our rowing challenge became life threatening.
However, 17 hours after we'd left Wales, weary, cold and wet, we hit the sandy beach at Rosslare and were greeted by my three sister-in-laws who were waiting on the beach. They'd even written "Failte" - welcome in Gaelic - into the sand!
Although the challenge was hard and a huge challenge for us (especially those of us who had never rowed before), there was a great sense of solidarity and enthusiasm as we pulled together for such a great cause.
Yet, I couldn't help but think that we faced less than 20 hours of hardship and that is nothing compared to what cancer patients suffer day in, day out.
And that is why CASCAID is so important. That is why we must #pulltogether for CRUK.
If you would like to sponsor us, please visit http://uk.virginmoneygiving.com/AnneMarieMcConnon or to hear more about the other challenges, go to http://www.cascaidcharity.com/