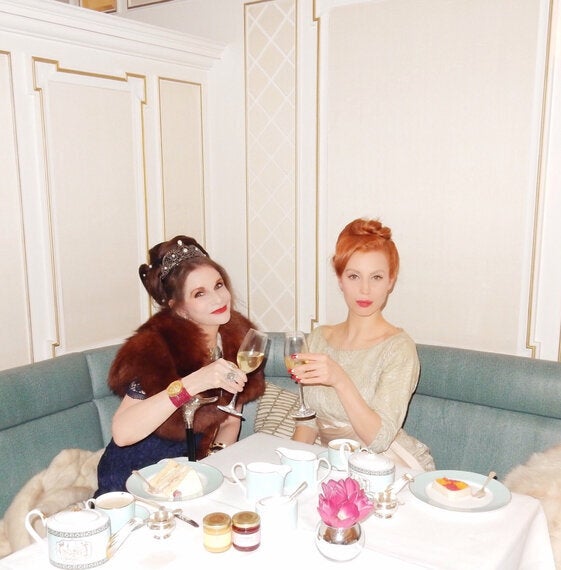 Tyne O' Connell is a Mayfair based author of 13 International bestselling novels. She often writes about lawyers, toffs, princes, Mayfair, sex and Hollywood whilst her latest book is set in the world of Mayfair Eccentrics.
Tyne is a triple threat. Not only is she a talented novelist and Mayfair Historian, but she is also impeccably elegant whilst she was recently awarded Eccentric Thinker of The Year by the Eccentrics Club (patron HRH Prince Philip).
I caught up with her over a sumptious afternoon tea to talk dandizettes, salonnieres and what it's really like to be on best friend terms with Scott's...
I adore Mayfair and St James. Some of the most wonderful places are Claridges, Fortnum's, Scott's and The Wolseley (who incidentally do a fabulous Steak Tartare and Battenberg).
At Claridges, you can wear your pyjamas and take a darling tea providing you dress appropriately. The trick is to wear the finest silk, sling a fox fur over your shoulder, wear a large pair of Audrey Hepburn shades and of course your best tiara.
When I lived on Mount Street my children found it hilarious that I would go off to meet a girlfriend and have to climb over the garden fence to get back in. They would have to get a ladder to help me, but I wasn't drunk- just lost in Mayfair.
Another favourite thing to do was to chat to local old ladies. We would tie Battenberg onto string and let it drop out of the window, enticing them upstairs so we could find out all of their brilliant old lady stories!
There are lots of secrets held in Mayfair. I've seen corpses on the street and people disappear, all with no police investigation. My next book will be set around this murder mystery theme.
Tiaras are one of the many perks of being a married woman. When I was a young girl, I was excited to be married so I could wear a variation. Quite a lot of my tiaras are Georgian, Victorian, Regency or from the French Empire period. They include Rose cut diamonds, pearls and sapphires. It is always best to keep a spare tiara in your handbag as you never know when you'll need it. Then you can simply slip it on at a moment's notice and your ready for your close up...
Tea should always be served in fine porcelain. When my children were at Oxford I immediately furnished them with a set of fine bone china tea sets- serving it in anything else simply won't do. Just because it's a cup and saucer doesn't mean it's a set, otherwise you are serving a completely different drink...
On Being Best Friends With Scott's
Living so close to Scott's was an attribute. I became on such good terms with the owners and waiters and they do the most fantastic oysters! If I was busy writing at home, I could simply drop a bucket down and they would happily fill it for me with their finest selection.
On Her New Book The Mayfair Eccentrics
This is my first foray into none fiction and I became immersed in the history of Mayfair and St. James when I found out the land was owned by Mary Davies, who in 1665 when her father died, became the heiress to 100 acres of land. This book covers the eccentric woman and forward-thinking gentleman, from 1660 to the present day and the many secrets and history that Mayfair beholds. Some of my inspirations include Catherine Braganza, Duchess of Newcastle, Elizabeth Wilbraham as well as more recent ones Edith Sitwell and Evelyn Waugh, who wanted to pursue art, literature and tea salons.
The Mayfair Eccentrics will be released in late 2016