A Russian philologist has written a book that is a masterpiece by any standards. It has already been published in twenty languages, attracting international attention. First published in Russian in 2013, Eugene Vodolazkin's Laurus became an instant national success winning several of the most prestigious Russian literary awards, among them the National Big Book Award and Yasnaya Polyana Book Award.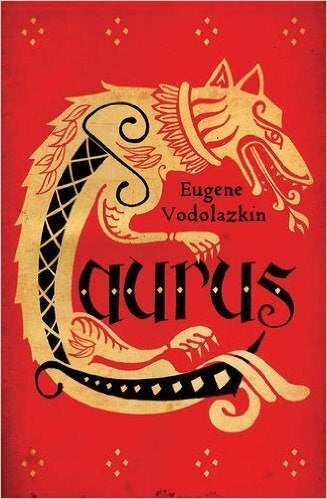 It is a hard and brilliant read. The hero of the story is a medieval man who lives through four major phases in his life, changing his name as he goes - Arseny, Ustin, Amvrosy, Laurus. Left alone in the world after grandfather Christofer's death, Arseny inherits his gift of a healer. He cures his patients with herbs, words and nothing. But when his beloved woman dies in childbirth, he cannot forgive himself for overestimating his powers to restore life where it is threatened. Unable to overcome the guilt and grief for his stillborn son and Ustina, who died without confession and in sin (as they had not been married), Arseny decides to reject his own life and live in Ustina's stead to win eternity for her.
Ustina was not separate from his love for her. Ustina was love and love was Ustina. He carried it as if it were a candle in a dark forest. He feared that thousands of greedy night-creatures would fly toward that flame all at once and extinguish it with their wings.

Trans. by Lisa C. Hayden, 2015
Now Ustin, he travels far and beyond, curing the victims of the great plague. The novel unfolds a story of a life devoted to love at its many layers. Vodolazkin portrays a magnificent range of life on the medieval road, in movement but out of time's joint. We follow the hero's life as a holy fool in the graveyard of a nunnery through to his pilgrimage to Jerusalem with an Italian Catholic seer. Ambrogio's visions throw us forward into a familiar Petersburg setting and farther into the unknown future; in constant searches for the time of the end of the world the novel leaves us on its pages frustratingly faced with the nonentity of time.
Vodoazkin's beautiful portrayal of holy fools demystifies, or rather mystifies, the concept of yurodivy associated with Russian Orthodoxy (but not unique to it). The writing is soaked in religious beauty without the least Orthodox bias. At times we are reminded of Hesse's Siddhartha, but then the novel flows in the spirit of the invincible Russian literary tradition of pathos and Dostoevskian depth; and at yet other times, it is a pure philological triumph.
Written with glimpses of medieval Russian tongue, the texture is rich with live and quaint depiction of medieval life. Vodolazkin exposes - in naked, vulnerable and crisp language - the magic and the grotesque of religion and the human soul. You are strained from the first page to the last. It can get obscure but is in no way a dry read. Vodolazkin's archaic seasoning is complemented by his sublime sense of humour. Lisa Hayden's beautiful translation in English manages to preserve the linguistic diversity of the novel as far as is possible without making it sound tasteless.
When the city had been cleansed of demons, Foma said, reclining in front of the church:

You don't really think I drove them out forever, do you? Maybe about five years, ten maximum. And what will you do then? you might ask. Well, write this down. A great pestilence awaits you but God's servant Arseny will help you, when he's back from Jerusalem. And then Arseny will leave, too, for he will need to leave this burg. And then you'll have to display some spiritual fortitude and internal focus. You're not children anymore yourselves, after all.

Holy fool Foma closed his eyes and died after he had made sure everything had been written down.

Trans. by Lisa C. Hayden, 2015
In the dusk of his life, Laurus returns to Kirillo-Belezorsky Monastery where he came from. The ending is chilling, repulsive and unexpected. Vodolazkin pushes us back into the medieval reality of the novel, the religious mystery and an unequivocal world of ugly holiness which we believe we have navigated a long way from - but have we?
As Zachar Prileptin said before me, I am simply filled with an unending sense of happiness that such a novel exists. You open it and close it, something has happened to your soul.