Every Shakespeare freak has probably sulked at least for once on Robert Burn's Night. No Shakespeare Night? No Shakespeare Day? But tarry, you might say, April 23 hardly fails to be a day on a national scale when the grave of the "Star of poets" in Stratford-upon-Avon is bathed in roses and daffodils as the Tudoresque crowd cheers to high heaven on Henley Street and every land scattered around the wide world is likely to have their April 23's marked red on the calendar.
Yet Shakespeare peeps are such greedy geeks! The 400 years have made it clear by now that we can never get enough of Shakespeare. And it is high time there was an official National Shakespeare Night. Though "national" leaves out the vast fandom outside the Sceptred Isle, including the writer of this article. So, to be fair and square, we need International Shakespeare Night. Day and Night.
Janet Ford, owner of the Tudor World - the Falstaff Experience - a fascinating Tudoresque museum unique in its kind in the land that run ghosts tours and above all, have their own Shakespeare, alive and kicking - has taken the dormant wish of many a step further.
"It dawned on us that Burns Night has been going on for 200 years, yet Shakespeare, who is an international treasure and the most famous playwright in the world, doesn't have a similar occasion."
This is by no means a pioneering attempt. There has been a quest for a National Shakespeare Day for a while, with a relevant Twitter page and all, yet the idea never got farther to knock on the governmental doors over the Thames hard enough. But the laudable Falstaff Experience have gone as far as to have Her Majesty seal their venture with royal wax and pass it over to the Secretary of State for Culture, Media and Sport, Maria Miller.
Janet Ford and aptly named Kingsley Edward Tudor Glover, Shakespeare persona grata, were happily posing with the Royal letter at the tradition-starting supper in the Tudor World Museum on Sunday.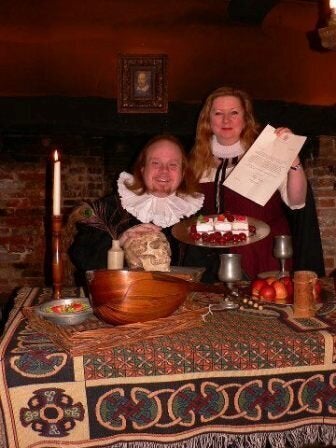 The Queen's own enthusiasm and support, needless to say, has thrown many into rapture. Stratford-upon-Avon, as always the bosom of Bardic affairs, has stirred up many - Shakespeare's Globe is now up in support, especially since there have been similar celebrations at the Globe on Shakespeare's birthday quite for a while.
What we will be doing on a Shakespeare Night? Sonneteering, soliloquising, quoting, reciting, acting, playing, punning, bantering, supping pork, cherries and drinking sack. Who would not want a bank holiday to carouse like Falstaff, dress up like Queen Bess, curse like Lear or hazard one's codpiece in a jousting sport!
"Instead of a Burns Night's toast to the 'laddies and lassies' we'd toast the masters and mistresses and we could have a battle of the sexes with women delivering Shakespeare quotes about men and men delivering Shakespeare quotes about women... You have this moment when you realise, 'Surely not! How do we not have a day to celebrate this man?'"
And most importantly, we will be twisting our tongues to talk like Shakespeare! So get thee to a Willery, whet thy thee's and thou's, fix thy -th's, lend thine ears and ope thine eyne - a National Will Day and Night is anon in line! If the avid Facebook quest Talk Like Shakespeare Day should thrive as much as to have Mr. Zed add Shakespearean English as a "language" on Facebook - bardoholics are in for a glorious year.
Needless to punctuate the educative appeal of an official Shakespeare Night and the much ado therewith. Soul of the age... Never as truly as in the 21st century, it seems.