Following previews and screenings, the new Shakespeare film Bill is hitting the cinemas this week. As an adult who regularly overdoses on Horrible Histories, I have been ridiculously excited about the coming of this film. Bill is produced by BBC Films with the cast made up mainly of the Horrible Histories lead actors, each playing many parts. The story is written by Laurence Rickard and Ben Willbond who also play a paranoid Walsingham and a cocky (and maybe a little bit too sexy) Philip II of Spain, respectively. The year is 1593, after the second period of Shakespeare's "lost years".
Bill, a thirty-year-old husband and father of three, is having a bad time settling into a permanent job. As all classic career beginnings go, Bill is a member of a music band called Mortal Coil which he leaves after going out of tune with the other three of the band. After some deliberation on his existential crisis, Bill decides what he is --
Bill: I am a writer now.

Anne: Oh my God.
Anne has other plans for her husband; surely she could arrange a butcher's place for him?! And she is not at all impressed by Bill's extravagant dreams --
There is no way that you are moving our entire family down to that bloody London!
They quarrel and Bill vows that --
People will remember the name 'Shakespeare' (pause) twenty years from now!
He packs, kisses goodbye to the family and goes to London, because 'to each their dreams'.
Mathew Baynton as Shakespeare is unsurprisingly endearing and far more charismatic than Joseph Fiennes (if you wanted a comparison!). Martha Howe-Douglas makes a convincing Anne Hathaway and is equally good in her secondary roles, such as an enthusiastic body collector with an adorably flashy accent.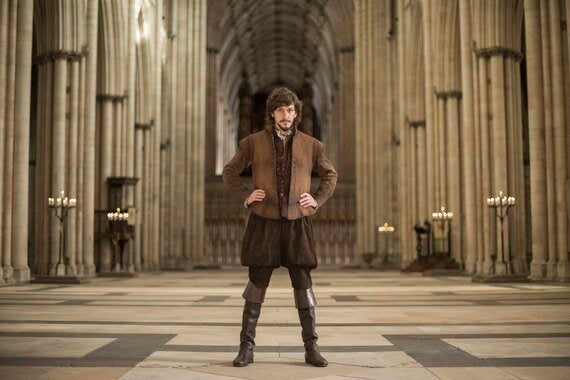 ... In London unfolds a story which is in the same vein as the Horrible Histories - snappy dialogue, brilliant performance, wit and humour galore, accuracy and imagination tastefully combined. Shakespeare meets Marlowe who becomes his inspiration and teaches him the techniques of writing a play. There is a certain Earl of Crawley - or Croydon, as he insists - who ends up commissioning Bill to ghostwrite a play which he is going to put up with a group of Spanish assassins led by Philip II. Marlowe decides to earn Bill's fee for the play (and instead meets his death) as he is tortured by his creditors. The latter struck me as a cross between the Viking forefathers of the Rus and Ivan the Terrible in the classic Soviet film. As it turned out, the impression was not just down to Simon Farnaby looking, as always, authentic. (The bad guys are always Russian, right?) Eventually, King Philip discovers he has a Russian 'Loan Terms and Conditions' instead of Shakespeare's play.
Marlowe's ghost later appears to Bill not once in the film. The plot conveys the familiar impression that Shakespeare killed Marlowe in the literary sense and that Marlowe's ghost is felt in quite a few of Shakespeare's plays. But the talents of the two are smartly implied in the film:
[Dying Marlowe tells Shakespeare the watchword he should use to Walsingham's spy]

Chris: (whispers) Saying things in a short snappy way instead of a long drawn-out way is the soul of wit.

Bill: You mean brevity?

Chris: Yeah, but say it my way.
Other clever scenes include Bill being freed by a Spanish Catholic homosexual assassin who has come to kill Queen Elizabeth I and ends up staying to be Bill's dresser and play the female parts he writes. The whole context, I thought, provided for one of the beautiful outcomes in the film. Jim Howick plays the part and is more at his best here and in his other secondary roles than as Marlowe.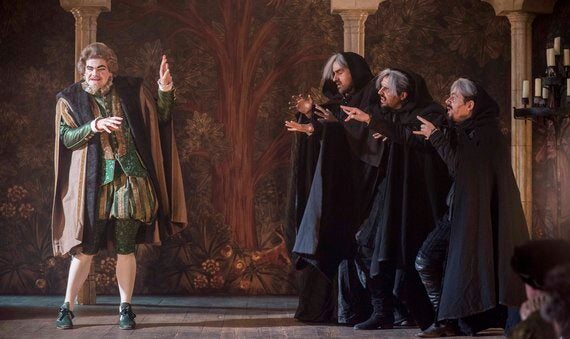 Eventually, Bill saves the Queen and the show. The play starts as Henry V, turns into Macbeth and ends with King Philip sneaking back to Spain with his assassins. It has to be said Anne has been instrumental in Bill getting a chance to put up a show for the Queen at all - but enough of spoilers!
The film avoids sprinkling the dialogues with too many Shakespearean quotes and instead employs allusions. We are not presented with a taken-for-granted genius who speaks in verse but who 'has a few ideas'. It is a foetal Shakespeare, ambitious but not quite a genius yet. One of my favourite line adaptations is when Shakespeare advises the Spanish plotters aka the Cockerney Players of Bow to --
Speak the speech as I pronounced it to you, because some of you have slightly weird accents.
In the end, we see Bill getting ready to appear on the stage to introduce his new play. As Anne hurries him up, he wonders aloud --
Is the world ready for Shakespeare?
Ay, Bill. And not just twenty but four hundred and twenty two years on.
Photos courtesy of Vertigo Releasing.