There are books I find it irresistible not to thumb through, re-read from or just caress every time I walk past my bookshelf. This time it happened to be Ben Crystal's Shakespeare on Toast: Getting a Taste for the Bard. And since the book has just been published in the USA by Icon Books and because it is Guy Fawkes Day today, a fresh appraisal of the book for the new readership might come timely.
There are several informal and reader-friendly introductions to Shakespeare but Shakespeare on Toast is different. It intimates, connects and friends you with Shakespeare with an unprecedented charm. As the title rightfully implies, this is a delicious book that keeps you drooling and nodding and yumming and squeeing up to the end.
Crystal emphasises that Shakespeare wrote for the actors and audience and expected his plays to be audited, not read - the author takes up forays into Shakespeare's "for the stage - not for the page" perspective and is very, very persuasive throughout.
I particularly appreciate Crystal's frankness and open-mindedness - he never claims every line Shakespeare wrote is sacred. Nor does he blindly accept all of Shakespeare's plays as equally brilliant.
The author believes Shakespeare likely wrote the Scottish play "inspired" by the current mayhem wrought by Guy Fawkes and et al. And the chapters on iambic pentameter in a Macbeth scene are a comprehensive and comprehensible interpretation of an important aspect of Shakespeare's style. Linguists will know, it is not at all easy to talk of phonetic issues, like metre, without getting too technical, let alone manage to entertain along the way. Crystal does it, probably thanks to his background of a linguist, actor and writer at the same time.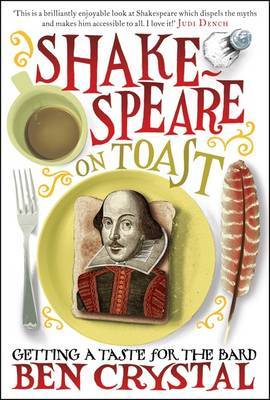 The chief message that rings out through the book is that Shakespeare is not a Literature with a capital letter (or an aristocrat with PhD and Travel Card!) but first of all he was flesh and blood no different from us and possessing the functions and feelings of all of us.
"It's stating the obvious, but too many people forget that at the end of the day, Shakespeare was just a man. He ate, he drank, he had sex, he laughed, he pissed, he cried, he woke up hungover, he wrote, he ran out of ideas... He would have done what we all do. Panicked when he ran out of money. Rewrote old pieces in new ways. It was his job, but he had theatre in his blood too..."
The author compares Shakespeare and Shakespearean realia to their modern counterparts to be more express and accurate as to what he means. Crystal does not portray Shakespeare as absolutely "modern" to entice his reader but keeps on reminding that despite the down-to-earthness and relevance, there are 400 years separating us from the Bard - Shakespeare ought to be understood within his native framework of Elizabethan England. Often, Crystal will quote First Folio excerpts and is persuasive in that old spellings, too, can help to keep the balance between Shakespeare's closeness and distance in relation to us.
Crystal is a true pragmatist. There is not a line in the book which is a mere theoretical reflection. He calls for action - get up, go see a Shakespeare play!
The accurate research beneath the fun of this book was clearly a labour of love - the content fully lives up to the title.
I lent the book to a student two years ago. It changed her life. Well, later I had to deal with a Macbeth-obsessed Shakespeare sycophant but it was worth it. Passion and inspiration - Shakespeare on Toast definitely has it... and Ben Crystal, funny, naughty and so British, has the penchant for Bardic treats.
For regular updates and schedule of public performances visit the Shakespeare on Toast website, or rather, start with Shakespeare's Words. Or ratherer, check out the new website on Shakespeare's Original Pronunciation, run by the father and son Crystals. Or ratherest, go to The Shakespeare Portal and let your Shakespeare hair down!