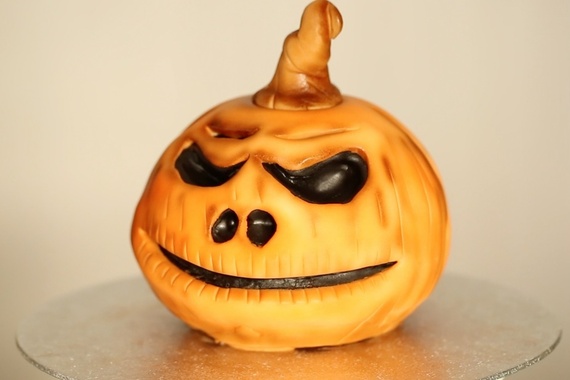 Daisy Brydon has baked cakes for the likes of Hugh Bonneville and Matt LeBlanc but here's a five-minute 'how to' video she made for The Early Hour. Time for a Halloween bake-off...
You'll need:
2 x 6'' 1/2 round spheres
400g vanilla buttercream (you actually don't need that much, but it's better to have too much than too little. You can use the remaining to decorate the board or add piping to the top)
500g orange sugar paste
100g black sugar paste
50g brown sugar paste (if you don't have an airbrush)
11'' cake drum
Palette knife
Turn table - (don't worry if you don't have one, it's not a necessity, it just makes life a little easier
Ball tool)
Scriber
Airbrush
Orange and brown airbrush colours (again if you don't have an airbrush, you can darken the orange sugar paste)
Scalpel knife
Spiced Pumpkin Cake
Ingredients
110g unsalted butter at room temperature
260g light brown sugar
2 large eggs at room temperature
220g pumpkin puree
1 tsp vanilla extract
200g plain flour
1/4 tsp baking powder
120ml buttermilk at room temperature
1 tsp bicarb
1/4 tsp salt
1/2 tsp ground cinnamon
1/4 tsp ground ginger
1/8 tsp ground cloves
Method
Preheat the oven to 180°C
Grease two x 6'' sphere tins with a little non stick spray, or you can use a little butter and plain flour
In a bowl, beat the sugar and butter until light and fluffy. Add the eggs, one at a time, mixing well after each addition. Scrape down the sides of the bowl when needed. You may add a tablespoon of flour to avoid curdling
Add the pumpkin puree and vanilla extract and beat until incorporated (the batter will look curdled at this point, don't worry)
In a separate bowl, sift together the flour, bicarb, salt, baking powder and spices
Add the flour mixture and buttermilk alternatively to the batter, beginning and ending with the flour
Evenly divide the batter between your two pans
Bake for approximately 25 minutes, check after this time with a skewer. If they are baked, it should come out clean, ovens vary so it may need a little longer
Cool in the tins for at least five minutes
You can then use the video tutorial above to show you how to turn your sponge into a creepy pumpkin halloween cake...
This article was originally published at The Early Hour