Monday 27 October 2014, Dirty Martini Club, London: TV reality star, and model Amy Childs celebrated the 3rd anniversary of her clothing collection and what an evening it was!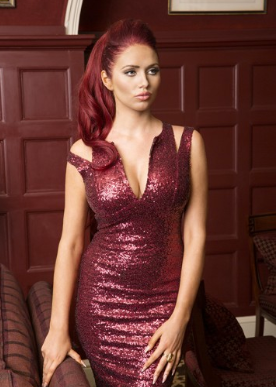 Amy dazzled in a gorgeous claret sequin covered dress from her recently launched party collection and was a real showstopper with her svelte size 8 figure.
The clever young business woman keeps fit by running her beauty and fashion empire and constantly being on the go, but let's face it she is also blessed with amazing genes! she loves talking beauty and clothes and her genuine interest in beauty, fashion and style is apparent in many of my chats with her.
The first time I met Amy Child last year at Olympia Beauty I was struck by her hard working ethos, I must admit when I met her I was tainted by the image that had been depicted on tv reality show "The Only Way Is Essex" she was the giggling red bombshell with a penchant for a fake tan, hunky boyfriend and tendancy to say "well jel" and "Shuuupp" often.
By that was quashed by my watching and observing a relentless go getter that is virtually non stop, clearly she is dedicated to growing her already successful fashion and beauty business and with the help of her management team at Can Associates Amy has become living proof that you can remove yourself from the pigeon hold of a mass prejudice about your identity and stereotype and turn the media spotlight to your own commercial ambitions, I cannot fault her for that at all. if anything I applaud the shrewd approach to turning her stint on reality tv into an empire.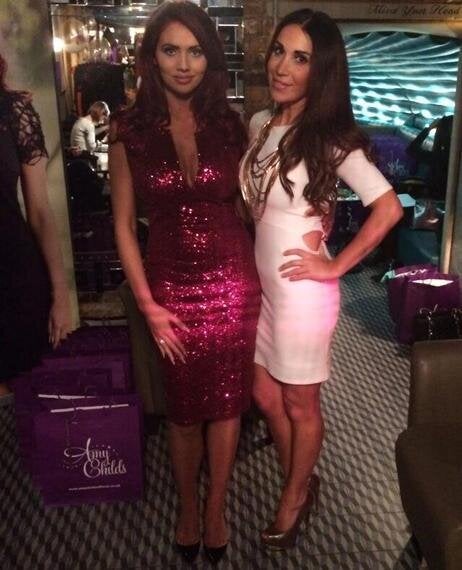 In a world of reality tv where Andy Warhols prediction that everyone would be famous for 15 minutes his prophecy has become a way of life and fact in our modern era. However, Amy has succeeded way beyond 15 minutes, and in an era of reality tv stars constantly fading into forgotten oblivion, this tough cookie is staying strong. Her strong Essex accent may still be prevalent, but that is something that is her signature and identity, why remove it?, but I assure you, the way she thinks and directs her attention is nothing short of a sharp witted entrepreneur.
Amy might have unluckily rolled her luxury range rover on to it's head a couple of weeks ago escaping miraculously with no injuries and just a fright, but that's her all over, always coming out of any scenario smelling of roses and unscathed, she is one of the few reality tv stars that manages to navigate her profile away from any scandal, saucy photo's or kiss and tell stories.
Amy is a successful businesswoman and is living proof that the stereotypical Essex label she was originally branded is a far cry from the go-getting, jet setting inspirational profile she has carved for herself and for her millions of fans who follow her with pride and devotion. Amy has gone on to show the world that beauty and brains can work together in perfect synergy.
I had a chance to preview her beautiful party collection during the evening it was fun and girly but that's Amy all over, deep down she appeals to us, as she is one of us.
I sipped on some signature cocktails mixed especially for the evening, mine was aptly named "AMY", red, sharp, fruity, yet crisp, says it all really.
I'm wishing her the best of luck, I can't help but smile and hope for the best for all young women who manage to stay on the path of their ambition and success and follow it through with hard work and consistency. Reality tv can either make or break a name, it's nice to see the unlikely ones actually make it.