Kelly Hoppen talks exclusively to Antonia Mariconda - The Cosmedic Coach and gives a glimpse into what is in her beauty bag.
Kelly Hoppen's flair for design is such that it has earned her numerous prestigious awards, no least her MBE for services to design. The flame haired interior designer and entrepreneur has worked her magic on the homes, yachts and jets of some of the world's most famous celebrities, including David and Victoria Beckham.
She has recently realised a dream of designing her own range of luxury products for the home and launched her website kellyhoppen.com, where she showcases beautiful products and gives helpful advice to inspire people to create the home of their dreams, and also runs a hugely successful design school. Kelly is also the author of seven books, and is the latest entrepreneur on BBC's Dragon's Den.
Apart from being known as a massively successful designer and business woman, Kelly is also renowned for her masses of distinctive, curly hair, about which she is undated with questions on Twitter about how she gets it to look so good.
So what does this Dragon have in her beauty bag? We asked her to talk us through it.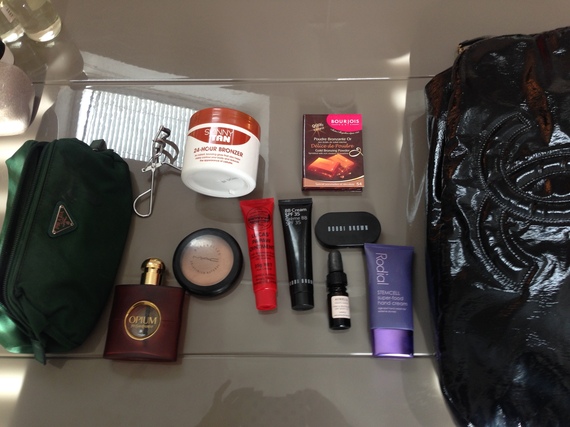 Skinny Tan 24hr Bronzer £16.99
I love this instant bronzing gloss that can be used for face and body. I have a regular Skinny Tan done by tanner James Harknett, and when I want a top up I use this it provides an immediate golden glow when I need it!
Yves San Laurent - Opium
I always carry a perfume with me and Opium is one of my favourite scents for years.
Eyelash Curlers
I always carry it around if need to curl my eyelashes when needed and then top up with mascara.
Bourjois Delice De Poudre
I'm quite a fan of bronzer, it gives a subtle, radiant finish to my makeup. It's perfectly natural.
Lucas Paw Paw Ointment Lip Balm
This soft, buttery balm keeps my lips hydrated throughout the day and is a must have staple in my makeup bag.
Bobbi Brown BB Cream spf 35
Bobbi Brown is a fantastic brand and I really like their BB cream because it is an all in one with moisturiser, foundation and SPF. It is really important to use a cream with SPF to protect the skin from sun damage.
Rodial Stem Cell Superfood Hand cream
Using shea butter and grape seed oil, this intensely hydrating hand cream leave is a real treat for the hands and keep them and feeling great all year round.
Mac Mineralize Skinfinish
This product is great for highlighting and has a luxuriously soft texture
It's little wonder that Kelly's skin looks bronzed and flawless, and you could knock a decade off her 54 years. The reigning design queen certainly knows how to look her best.