Crete has long been on my top ten list, not least because of my mother's creative thinking when she decided to call me Ariadna, in line with the ancient Greek mythology. I felt like it was about time to go back to the "roots" and took a trip to this popular destination.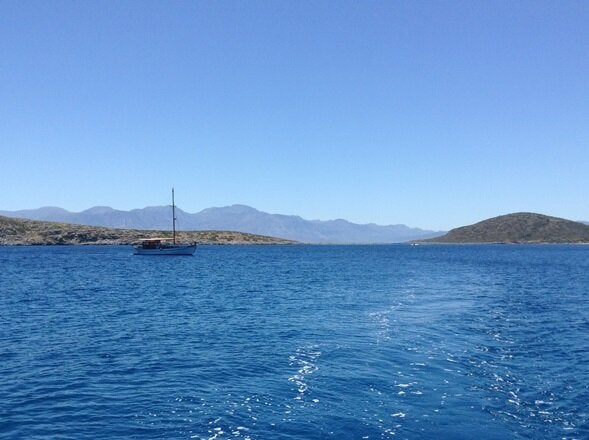 (photo by Ariadna Bakhmatova)
I definitely felt like home on the island of Knossos Palace, with some strange, subtle sense of comfort and belonging, even though the ancient myth about Ariadna's Thread is the only thing that ties me to the island.
The reality of my stay in Crete wasn't too far from the legend. My home for five days became a beautiful resort which attracts today's aristocracy and celebrities, alongside general well-off public. A true God's send in the middle of sun-less summer in London.
Blue Palace is a 5-star Spa Resort near the town of Elounda and has recently celebrated its 10th anniversary. This 251-room beachfront property is spread out at the bottom of the hill and offers spectacular views over the surrounding mountains, green landscape with dominating cypress trees, the sea and Spinalonga island, a historical and natural landmark just a 5-min boat ride away.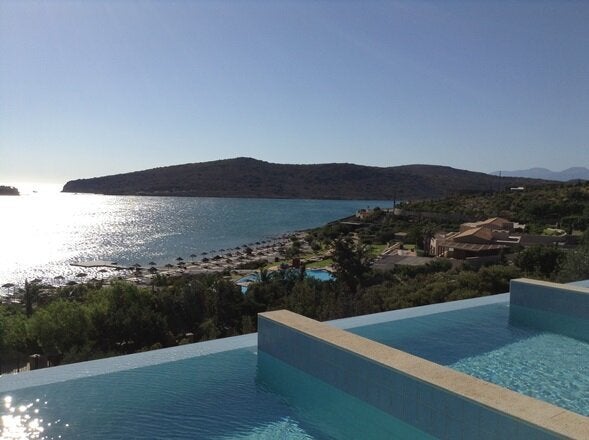 (photo by Ariadna Bakhmatova)
The resort's architecture perfectly fits into the local area and nicely blends in with the surroundings. Sleek, minimalist interior and tasteful décor draws its inspiration from various cultures that used to prevail in Crete for centuries, combining Minoan, Venetian and Turkish styles. Nothing too fancy but posh enough to remind you that you are at a 5-star Starwood-family hotel.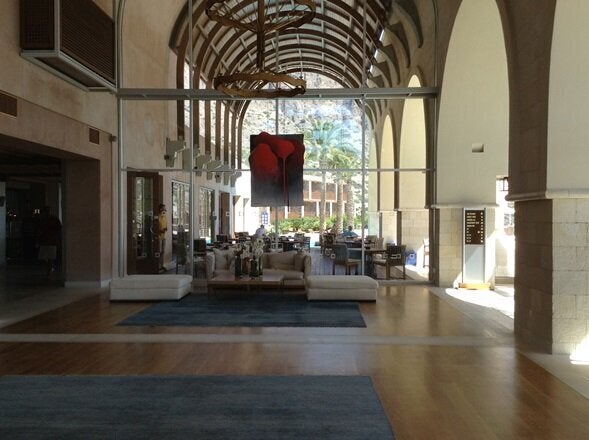 (photo by Ariadna Bakhmatova)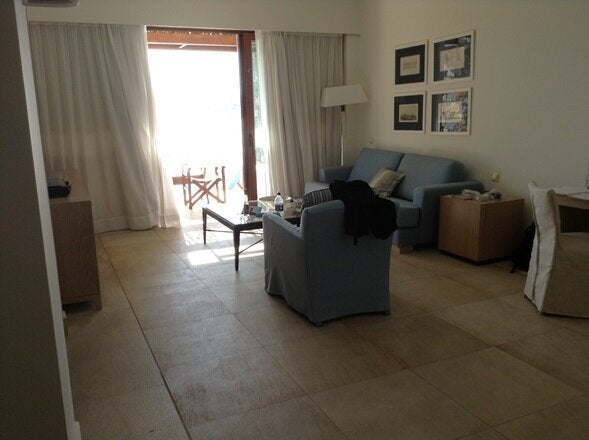 (photo by Ariadna Bakhmatova)
Lots of space, as you'd expect it. I loved sitting on the long, open-air communal terrace with lots of plush white sofas, coffee tables and a massive pool overlooking the sea, with live saxophone music at the background and spectacular daily sun sets guaranteed. Oh the bliss of doing nothing!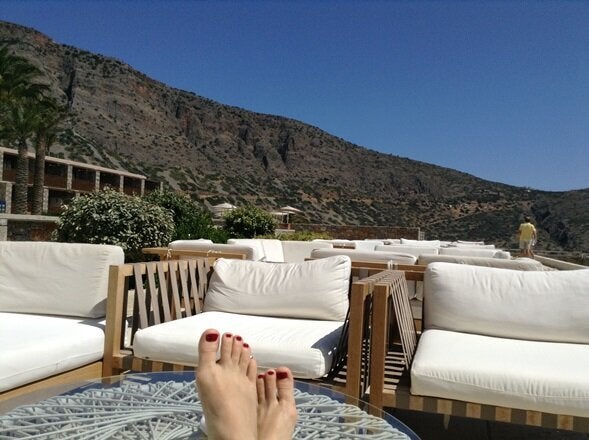 (photo by Ariadna Bakhmatova)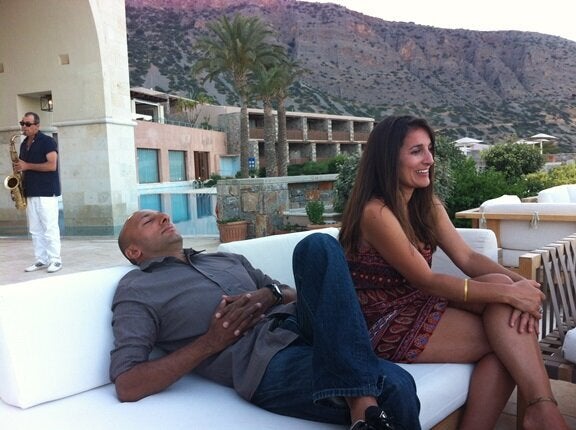 (photo by Ariadna Bakhmatova)
Serene blue, turquoise & green views from my balcony, spotless blue sky greeting me every morning and a private pool on the terrace created "Café del Mar"-type atmosphere for me which I'd been immersing myself into throughout my whole stay. Can't think of anything else one needs to feel happy.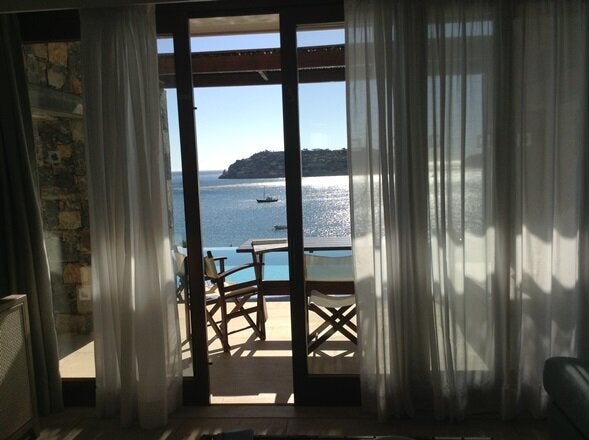 (photo by Ariadna Bakhmatova)
They kept me very busy at Blue Palace. When I wasn't glued to the deck chair soaking up the sun or sighing at the beautiful landscape, I was either spoiling my taste buds to the utmost degree, or feeling ecstatic at the Spa.
The food at Blue Palace is served at five different restaurants including a traditional Greek taverna, which I highly recommend for a true local culinary experience. I was lucky to be part of Blue Palace's first-time collaboration with a group of archeologists and chefs who brought us the experience of ancient Minoan cuisine done in a traditional slow-cooking way. It took time but the mouth-watering result was truly worth it. When consumed right by the sea on a balmy evening with a traditional live music at the background, it tastes even better!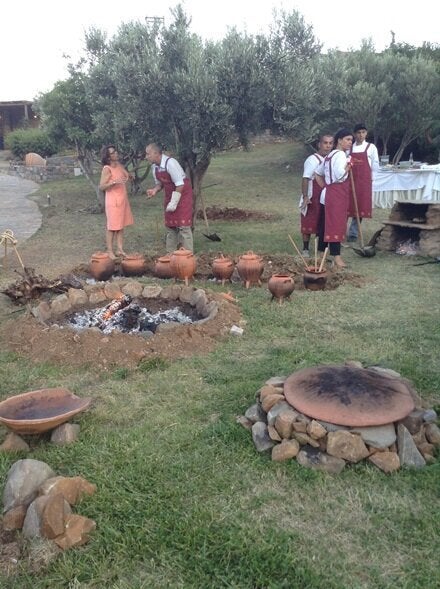 (photo by Ariadna Bakhmatova)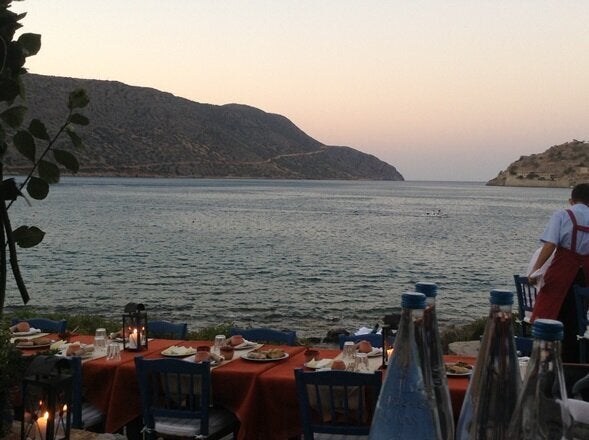 (photo by Ariadna Bakhmatova)
The barbeque boat trip to a nearby island was another God-like experience of the local fresh flavour-bursting produce and the resort chefs' mastery. I can still remember the taste of those baklavas - I literally couldn't stop eating them. Good bye size S.
I hardly had time to digest all that divine food in time for my treatments. The resort's Spa specialises in Thalassotherapy as well as traditional Cretan therapies and offers an expensive menu of wellness, pampering and beauty treatments, packages and experiences including special programmes for the Theseuses and Minoses of this world.
Glorious food kept following me even at the Spa. My first treatment was The Elounda wellness & beauty scrub of Olive Oil & Sugar followed by the sea water Hydro Bath. I felt great about the Ayurvedic principle being kept here: what goes on your skin should also be OK to go on your tongue. The local olive oil used for the treatment is of the top quality and smelled so good I really wanted to lick it off. The result of that rubbing, scrubbing and bubbling was me feeling very relaxed and my skin being baby-soft. I'm ready for dinner now.
The next day brought another signature Spa treatment - a "Minoan Prince Thalassotherapy Ritual" (never mind the name, it's also recommended for women!). The experience started with quite an unusual combination of sea water hydro massage with a simultaneous body scrub with the rose soap. This one may not be for everybody as there's a lot going on all at the same time and you can feel a bit overwhelmed, but it's one of the Spa's top treatments so worth a try.
The water massage and exfoliation was followed by a very relaxing full body and then a facial massage with local Cretan herbs. I think I fell asleep during that one as I hardly remember anything. All I recall is feeling way too calm afterwards, to the degree that I couldn't be bothered to follow the group of friends I met at the resort to visit a local town that night; all I wanted was to stay in my beautiful room with its beautiful surroundings and keep my deep sense of total relaxation and tranquility to myself. It's good to be selfish at times.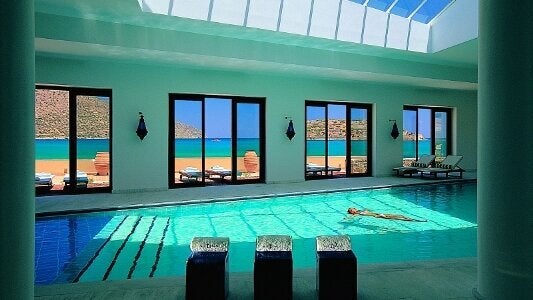 (photo courtesy of Blue Palace Resort)
Another Spa's signature treatment which I would have loved to try (but didn't as I was too busy eating!) is Rakotherapy. During this treatment, Raki, a traditional alcohol Cretan drink, is combined with some oil for a therapeutic, energising massage experience. Do not lick off that one if you, like me, aren't into strong alcohol beverage.
To add to the overall experience, the service at the Spa is outstanding and the staff makes you feel no less than a Greek Goddess, without a fail. A great reminder of who you really are.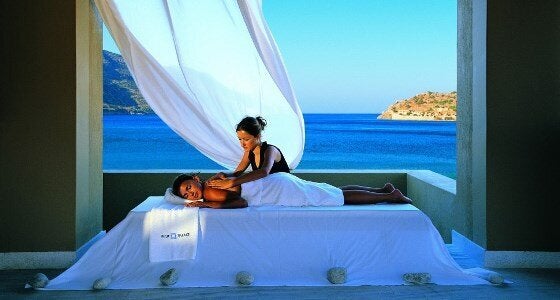 (photo courtesy of Blue Palace Resort)
Next time you decide to really spoil yourself and your beloved ones, go to Crete and book a few nights at Blue Palace (best time to go is May to September) together with a few Spa treatments or one of their special Spa packages. The resort's extensive offering can cater for anything from a wedding to a special romantic occasion to a family holiday to a solo pampering retreat. Blue sky and bright sun guaranteed throughout, and a sense of gratitude to yourself afterwards.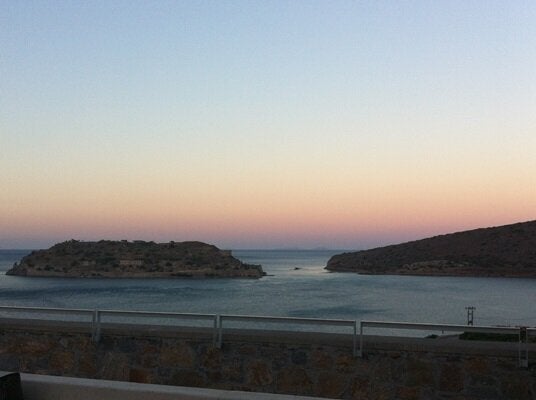 (photo by Ariadna Bakhmatova)
Ariadna Bakhmatova was a guest at the Blue Palace Resort courtesy of Sovereign Luxury Travel. Sovereign (0843 770 4526, www.sovereign.com) offers seven nights half board at the five star Blue Palace starting from £1,099 per person including private resort transfers, airport lounge access and return flights from London Gatwick with Thomson, based on departures 27 September 2013.