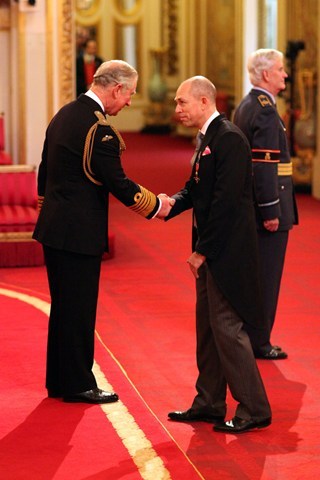 Will Dylan Jones become the next editor of New York's current affairs titan Vanity Fair? It's easy to make the case for why the editor of British GQ might be ready for a new challenge at one of the last bastions of general interest publishing.
Jones has been editor of British GQ for 15 years, and at 54 years old is - how should I put this - considerable more "seasoned", than the magazine's stylish thirty to forty target demographic.
In a digital revolution that has seen the "lads mags" all but consigned to history, GQ's mix of long-form content about men's fashion, lifestyle and much more besides, continues to set it apart.
The man once derided by Arena's editor Anthony Noguera as "the John Major of the men's magazine world" is now having the last laugh as the last one standing.
But having started 2014 receiving an OBE from Prince Charles for services to publishing in fashion, and widely tipped to add PPA's Editor of the Year to his silverware this summer, there is a pervading sense this is, perhaps, Jones' last time around the track.
Now consider Vanity Fair. Its claim to be the "biography of our age" continues hold a semblance of truth thanks to a potent cocktail of Hollywood gossip with high finance and media and culture with politics.
The magazine that gave the world that pregnant Demi Moore front cover, still has the ability to set the agenda. It commands a monthly circulation well in excess of one million copies.
The first to name Dylan Jones as a strong contender for Vanity Fair's hot seat in New York was none other than Michael Wolff, the media journalist who has wreaked glorious havoc as a regular contributor for both GQ and Vanity Fair.
Wolff notes that to be editor of Vanity Fair "is less a job than a role", and is one that has been performed for the last 22 years by Graydon Carter. But with Carter turning 65 next month, his retirement is believed to be imminent.
Highlighting Jones' suitability to the role, Wolff notes he is already one of the Condé Nast family, well versed in chronicling the power scene at GQ, and has proved himself more than capable as the impresario of the annual GQ Man of the Year Awards; "an event that comes close in celebrity power and complex curation to the annual Vanity Fair Oscar party".
However, when I caught up with Jones in Vogue House for a Campaign interview, the Marble Arch resident and father of two teenage daughters, seemed fairly adamant he has no plans to relocate to the US.
"I've never said I want to go and edit Vanity Fair," he said. "There's always conjecture about lots of things, but this [GQ] is the job I do and I love and, unless you know anything that I don't, I'm not anticipating leaving any time soon. I'm the lucky custodian of GQ and I'd like it to remain that way."
Jones, who began his career in journalism at i-D magazine in 1983, did appear to leave the door slightly ajar, when he added: "I've always thought that British journalism is better than American journalism, always.
"I think we're feistier. Even broadsheet journalists have a keener tabloid sensibility that I think is very, very important.
"However, most of the good journalism now is published in America because there's more of a dedication to publishing long-form journalism. Look at The New Yorker - probably the best magazine in the world, and publishes on a weekly basis some extraordinary material, and it still makes money..."
Condé Nast is remaining tight-lipped about plans for Vanity Fair, but an announcement can't be delayed for much longer.