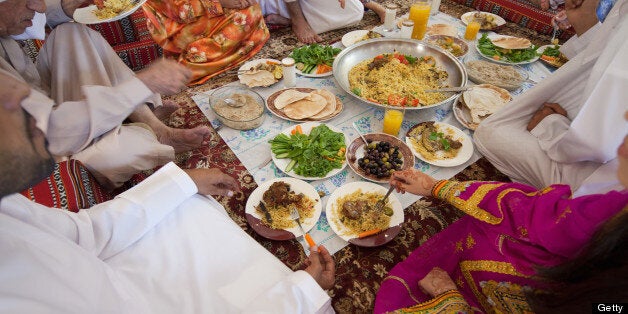 I'm really starting to enjoy fasting. There, I said it. In my first blog post I wrote about how I wasn't quite sure about giving up food and drink this year; due to a combination of questioning my faith and also the impending heat wave but now we are almost a week in I find myself looking at things differently and so far there are three things I have come to realise.
The first is the compassion I have for others who are fasting. Over the weekend we took my nephew and niece to the park and whilst I was constantly exhausted and hunting down shade at any given point, I couldn't shirk my responsibilities as fun uncle (self-appointed title before you ask) because I knew that my family was also fasting and were equally exhausted. Going through this tradition together - cliché as it might sound - really does bring people together. We are all hungry, tired and thirsty, and we are all going through the same process of keeping fast. It's something that's easy to forget, especially in the corporate world, but looking out for others is an important thing to recall every day.
The second thing I've come to appreciate is the importance of sacrifice. Whilst out in the park, my nephew and niece had ice creams (they're too young to fast - one usually starts from around the age of 13) and as fun uncle, I was tasked with holding onto a glorious, inviting and quickly melting orange ice lolly while my nephew took to the climbing frame. The temptation to eat it was unbearable, but there was something amazing about not being able to eat it. I can't really put it into words but I do know that come Iftar time (sunset), my very own ice cream that I ate after numerous samosas tasted twice as good. Not only that but I could feel the physical reward as my body was refuelled and rehydrated. It's much easier to appreciate food after forgoing it for 18 hours.
The third thing I've realised so far is generosity. Over the weekend a family friend brought over a tiffin box full of treats including haleem. Ramadan is the only month I know where people you haven't seen for a year turn up - sometimes unannounced- with delicious treats. In today's world of ready meals and takeaways, I for one am really appreciative of the generosity that Ramadan brings to families across the world. It seems these moments of generosity only happen during festivals or when someone is ill, but it's made me think about making a conscious effort to give others more throughout the rest of the year.
So here we go into week two. I'd like to say time flies when you're keeping fast but that would be a half truth. At times it feels like the clock stands still but when I keep remembering to stay compassionate, remember the sacrifice and try to be generous, it feels like this month will go faster than you can say British heat wave.