What is it that keeps us hooked?
Luxury fashion goes above and beyond the tangible product on offer, it launches customers into a crystal encrusted dream world; one filled with hedonism and opulent beauty. Take Louis Vuitton's store on New Bond Street; you're greeted with the sensuous, rich colours of red, chocolate brown and gold, ornate glass-encased goods and large expanses of beautifully lit space. Not only is it the lavish surroundings, it's the personalised customer service and the attention to detail, as I discovered when purchasing a Hamilton tote bag and tortoise shell watch from the Michael Kors store on Regents Street. Several well-presented assistants greeted me, offering help as I took in the minimalist, white interior. Subsequent to fitting the watch to my wrist and selecting a handbag, a member of staff retreated to the stock room to get my desired colour and style. The tote was delicately placed in an MK branded dust bag and the watch in a leather box. Leaving the store, hand in hand with the signature MK shopping bag, I already felt hungry for more.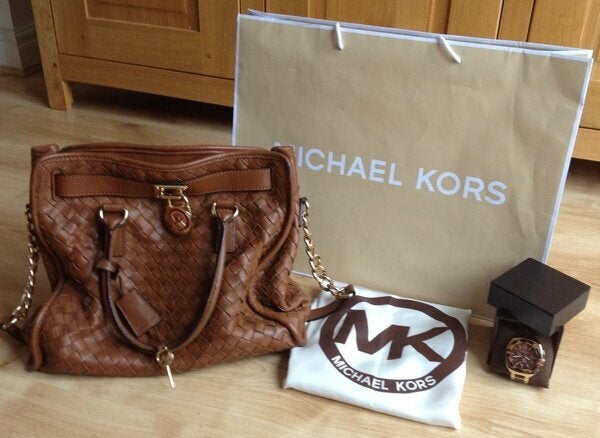 Luxury fashion cannot just be equated to 'carrying a designer handbag on your arm'; it's the lifestyle we experience. In the words of Coco Chanel, 'Fashion is not something that exists in dresses only. Fashion is in the sky, in the street. Fashion has to do with ideas, with the way we live.' The luxury fashion experience oozes elegance, uniqueness and artistic flair, satisfying a desire for indulgence and pleasure; something we can all relate to in Western culture. Luxury objects need to be showcased, whether in-store by plush surroundings, by glamorous celebrities in advertisements or by striking models on the runway.
The famous Mila Kunis became the face of Dior's 2012 Fall/Winter Campaign, with advertisements portraying this stunning starlet being met with adulation from the paparazzi. The satin dress becomes framed, as a head-turning, eye-catching garment and a yearning need to consume the product and the extravagant experience it's offering descends around the consumer.
Beautiful models adorn the catwalks, exhibiting an air of luxury, as onlookers stare in awe at the extravagant scene unraveling before them. Chanel stole the stage during Paris Fashion Week, with its signature, sophisticated monochrome palette and pops of bright colour throughout. A mixture of tweed, leather and glitter gave the classic Chanel style a rock chick edge.
High-quality and premium prices no longer define luxury fashion; it's much more complex than that. Consumers want to be fully immersed in this affluent world where extravagance is purely a way of life.
I would love to hear your views on the subject, what does luxury fashion mean to you?