Thank God for The Fat White Family. Just when I was seriously considering a revenge attack on Simon Cowell for murdering the music industry, this band of South London reprobates has arrived to reassure me that rock n' roll is, in fact, alive and well.
Fast-becoming a talking point on the live circuit, The Fat Whites are booked to play the Old Blue Last in Shoreditch and I've gone along for the ride. The boys - highly commendably - are horribly late, and their manager Carla is growing increasingly stressed.
'I told them to get the f***ing bus,' she tells me. 'But they're on the way here in a taxi: F***ing tarts!'
I'd hazard a guess that Carla will be dealing with far, far worse in time to come, for when the six dishevelled degenerates who make up the band eventually tumble into the venue, it's plain to see they're musicians second, DIY rock n' roll stars first - which, in a world of crushingly polished brand product, is entirely the correct order of affairs.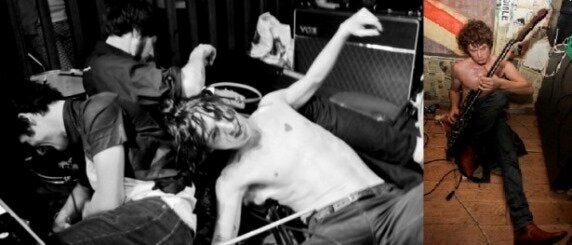 Eventually, the pulsating rhythm of opening track Auto Neutron kicks in. It has a brooding, drug-addled, psychedelic air of pure menace. Singer, Lias, and guitarist Saul share the vocals.
Saul is reminiscent of a debauched Mick Jones. He has Ian Curtis' eyes. He also has a front tooth missing. It's difficult not to stare. It's like being in the presence of a benign ghost. He looks ill, spaced-out, and other-worldly. I feel like I could gently push my arm into his stomach and it would exit through his back the other side.
Saul may be a hologram but he's also a fantastic guitarist. As well he needs to be, because tonight I suspect his bloodstream would put an elephant to sleep.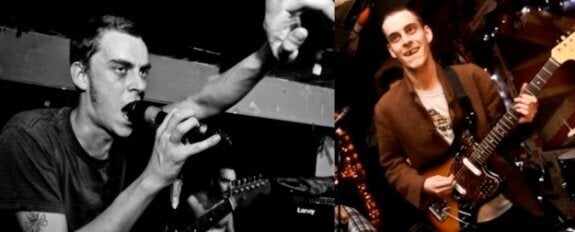 By the fourth song, frontman Lias has lost his top, revealing a scrawny heart tattooed on a bony but muscled torso. He is lean and hungry, and looks like he'd be filthy in the sack.
'Cream of the Young' is a blissed-out, darkly neurotic, electro-driven track, ridden with sleaze, and boasting a guitar lick of which Jenna Jameson would be proud. It is one of many sordid stories that make up debut album, 'Champagne Holocaust.'
As the group staggers on, I notice several hot young girls towards the front of the stage and I worry for them. Corruption is imminent.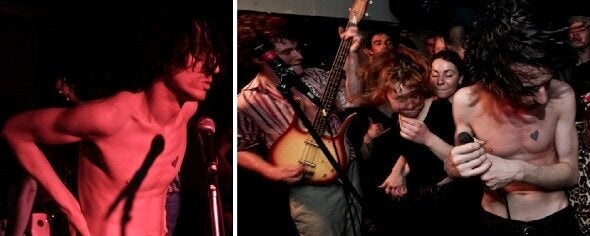 'Five sweaty fingers with a criminal impatience,' Lias belts out during stand-out track 'Raining in Your Mouth.' On stage, this guy is a star performer. Brimming with manic energy and lustful to engage his audience, he is backed with a voice which somehow combines elements of Shane MacGowan, Johnny Rotten and Mark E. Smith. As the song climaxes, he repeatedly screams 'Who's sipping chicken soup in my chicken coup?'
There's a bit of a Cobain thing going on here too, not just in the rasp of his vocals but for the brilliantly surreal lyrics. They mean nothing and everything.
Also in the mix alongside Lias and Saul, is bassist Joe - who I previously witnessed playing an entire gig collapsed on his back - plus keyboard player, Nathan - who seemed to spend much of the same night gently nodding off, surrounded by spilt beer. A second guitarist, Adam, and drummer, Dan, try their shambolic best to hold things together as the band, at times, go perilously close to full-on carnage.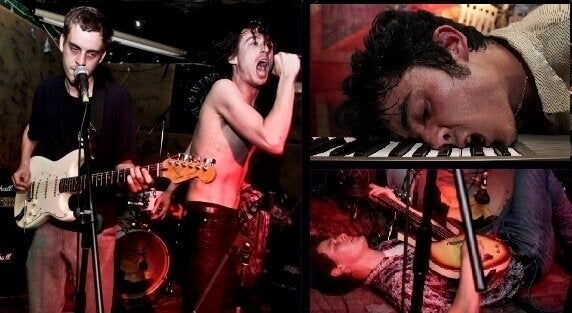 But the self-destruct button and the chaotic stage-presence is all part of the appeal, for it's in chaos - and at this gig - where you find a magical sense of freedom, of raw punk potential, that is fantastically entertaining. It also gives the Fat Whites a sense of danger that I haven't witnessed since seeing The Happy Mondays in their heyday.
There are shades too of The Brian Jonestown Massacre, a narcotic dash of The Libertines, a smattering of MGMT. It's a deeply, deeply twisted and intoxicating mix.
Tonight, there are many contradictions: The Fat Whites are raggedy yet totally kick-arse, renegade but charming, threatening yet also inclusive. But at heart, there is a real sense of brotherhood and community here, of six lads lashing out together, fighting for The Struggle and inviting you, intimately - through their music - to come on board and be part of The Family.
You can watch a live video to Raining in Your Mouth here:
Debut album Champagne Holocaust is available here:
Limited edition vinyl copies are also available here:
All photos courtesy of Lou Smith
Related