WARNING: This blog contains adult content and graphic images.
Have you ever heard of pegging?
Well, as we approach International Women's Day, I think it's high time we all found out exactly what it is.
Pegging is when a woman wears a strap-on dildo and performs anal sex on a man. And if you're disgusted by that, then please read on: this one's for you.
2012 - according to famed women's sex shop, Sh! - is all set to be the year that pegging will go mainstream in bedrooms up and down the country. Where sex toys are concerned, Sh! has been right at the forefront of an explosion in sex accessories. In 1993, Sh! founder, Kathryn Hoyle, discovered the "Jessica Rabbit Vibrator" and made it one of the most famous toys in the world.
But it's the rise in the number of women buying strap-ons, rather than vibrators, which points to the new upward trend in pegging.

If you like being pegged, then I'm right behind you. Not literally - I'm not that way inclined... the thought of it makes me feel a bit iffy. I don't mind that area being, like, touched a bit... but infiltrated? ...By something bigger than a finger? Yikes.
Besides, the thought that this is how I'll be kitted out in 2013 scares me slightly...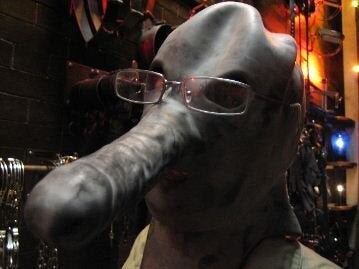 But whatever my personal tastes, I still love the idea of a sexual act that challenges boundaries and promotes female (and male) sexual liberation.
For too long us Brits have sneered at things - especially when it comes to sex - that are perceived as 'different' or 'weird.' But sexual play like pegging, however wild it may appear to the less open-minded, is an undeniable part of modern sex life, a legitimate fantasy for both men and women. So let's not ignore it. Let's talk about it. Other people are.
It's a rule of history that the vast majority of alternative sexual behaviours - like pegging - were initially frowned upon. Masturbation for instance, although nowadays considered 'natural', was once, in certain cultures, completely taboo. Being openly homosexual used to be a scandal - today, amongst the enlightened, no-one cares.
If you really think about it, whether your sexual kink is deviant or even illegal depends entirely on your cultural and historical context - in 21st century Britain you can have gay sex with a man of 18 and enter into a civil partnership. But imagine doing that a century ago. In Iran.
As I see it, yesterday's 'perversion' is today's 'alternative lifestyle.' It may even turn out to be tomorrow's accepted standard of behaviour. A simple change in the law to the age of consent, for example, means that overnight you can go from being guilty of a sex crime to practising an accepted form of love-making.
In terms of what's deemed acceptable or not, things are changing faster than ever before, but as long as your kink is consensual and doesn't harm anyone else, then where's the problem?
We should always think twice before mocking someone else's fetish and condemn it as 'wrong' or 'flawed'. It's not: it's just part of who they are.
The more 'vanilla' - or traditionally 'straight' people - tend to fall into the trap of thinking that their lack of self-knowledge - their ignorance - means they have no kinky side - they almost certainly do, they just haven't discovered it yet. Have they ever encountered forniphilia in their lives? I doubt it. I have. It looks something like this: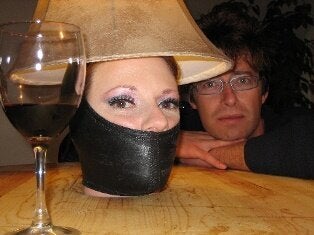 As a seasoned sexual adventurer, I struggle to think what 'normal' really is. It's such a dated concept. Is a sexual obsession with rubber balloons normal? What about sensory deprivation? Foot fetish? Or genital trampling? How about muscle worship? Are these things normal?
How many people need to be into pony-play or mummification or gang bangs or indeed, pegging, in order to have them classed as 'normal'? When we say 'normal', do we just mean 'popular'? Or when we say 'normal', perhaps we mean 'acceptable.'
I'm convinced that these so-called perversions - like pegging - are in fact, not just the niche pursuit of a select few. We think they are, only because they remain hidden as bedroom secrets.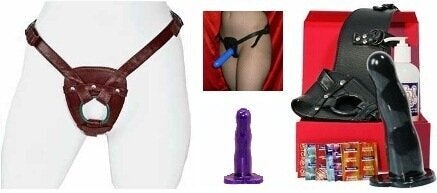 Thousands of us are keeping our true fantasies quiet for fear of being ridiculed or rejected as freaks or perverts. That's why a dominatrix will always find customers - because so many men are afraid of telling their partners about darker urges which might get them thrown out on the street. A dominatrix provides them with a non-judgemental outlet for their fantasies.
Shame and humiliation are part and parcel of being 'different' ...of being adventurous. That's the real shame.
Internet porn and a more liberal media have made us increasingly aware of those people with extraordinary sexual kinks or fetishes, but these people have always been among us. However much we may wish to dismiss them as weirdoes - and their subversive tendencies as aberrations - their tastes and desires are as much a valid form of sexual expression as yours or mine.
I believe that companies like Sh! - among others - have helped people who may have more embarrassing sexual fetishes to feel less isolated. And that's a good thing.
So if you're a fan of pegging, well, sure, it may make you an outsider, but you're not a freak: you're just you. And who knows? Before the year is out, you may well become the norm.
Some of this text has been adapted from my book, Sin Cities: Adventures of a Sex Reporter.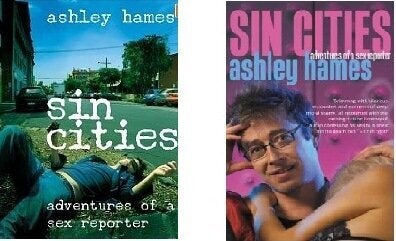 Related