Whether you love it or love to hate it, London Fashion Week is an event that you can't avoid; from the weird and wonderful outfits that glitter the streets of Soho, to celebrity sightings and fashion talk plastering both print and online publications, to the streams of photos and minute by minute updates on social media. Ok, ok, so MAYBE you can avoid it if you stay away from central London and avoid magazines and the internet - but why would you want to?
I live by the mantra that you should never just like anything - you need to show passion and either love or hate something. Lucky for me I both love and loathe Fashion Week in equal measure, which resulted in the most exciting rollercoaster of a week ever. Well, technically three weeks as it took a week to prepare for it and a week to recover.
Preparing for both the highs and the lows as well as trying to look flawless and fabulous for the FROW takes a lot of organisation and pruning so I began by taking my ass to the Revive Wellness clinic in Knightsbridge. In this case I literally do mean my ass because I got a Slimboost shot containing vitamins, amino acids and anti-oxidants straight into it before getting a Royal Flush infusion inserted into my body through intravenous technology in order to purify and cleanse me so I was on top of my game. You might be cynical but let me tell you my friends I woke up the next day feeling like Jack and Rose standing at the front of Titanic. Revitalised and energised I was finally ready for London Fashion I was finally ready for London Fashion Week and for me it all began on Thursday evening with a celebration of the high street at one of my favourite magazine's awards, the Cosmopolitan Fashion Awards.
I'm a massive fan of high street fashion, my blog is pretty much entirely focussed on it, so I decided to wear a dress from one of my favourite celebrity collaborations: Michelle Keegan for Lipsy. For red carpet events I like to mix high street with designer so I wore some shoes by one of my favourite shoe designers Gianmarco Lorenzi and the most beautiful Aspinal padlock clutch. I also asked one of my favourite hair and makeup artists, Scarlett Burton, to make me look pretty as I always feel more confident that way, plus she is the absolute queen of lips.
Feeling fabulous, Charlotte de Carle and I arrived at the awards space by taxi and awaited our moment to get photos on the red carpet when suddenly a girl I like to describe as Voldemort, because she's terrifying and I can't name her for political reasons, arrived behind us and I lost all my outer confidence and ran to my table. Luckily she was sat somewhere else so all was well again and I tucked into some fabulous food and champagne with Charlotte, Olivia Cox, Pips Taylor and the hostess with the mostess Laura Whitmore. We were treated to an impressive performance by my friend and singer Conor Maynard before enjoying the show. I decided to call it a night early as I was preparing myself for Friday, or as I like to call it the busiest day of my life to date, so Charlotte and I made our way to the exit (only narrowly avoiding another run in with Voldemort by hiding in the Photobooth) when I bumped into Michelle Keegan who was so excited I was wearing her dress so we took a quick photograph and I gawped at her beauty as I do every time I lay eyes on her before we headed home to bed.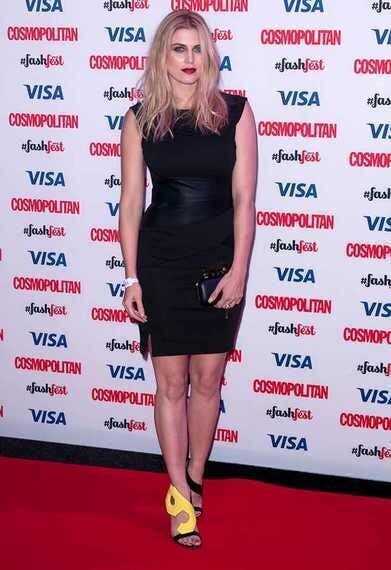 I woke up bright and early Friday, the day I had been anticipating with both excitement and dread. It was here, the first day of London Fashion Week and a logistical nightmare because of the multitudes of outfits, little space to change, and overlapping schedule the day imposed. I packed my outfits up into bags and gathered up my tickets and thoughts before my hair stylist, Moira Borg, and makeup artist, Natasha Sheridan arrived at 9am to get me ready for Felder Felder. I used a service called Priv, which is an app that let's you book hair, makeup, beauty and even personal training to your home or office and it is honestly revolutionary. As my first outfit was rather athletic, a dress by a brand I recently discovered and am OBSESSED with called Tyla Blade and Melissa shoes, we decided to go for hair up and then beautiful makeup with red lips. I'd never worked with either girls before but I was so impressed with their work and on top of that they offered to look after all my bags whilst I attended Felder Felder so we all made our way to the Freemason's Hall in a taxi. So far so good! That was at least until we got stuck in traffic and I worried I'd miss the show so I jumped out got on the tube to Holborn and hurriedly walked to the show with minutes to spare. If you're wondering the taxi beat me there! I sat on the FROW next to fellow blondies Diana Vickers and Kara Marshall before being treated to a spectacular show of iridescent and printed two pieces, structured dresses with cut outs, clashing block colours, and all white and black ensembles. The show was so amazing and on leaving I bumped into friends Lilah Parsons, Zara Martin and Whinnie Williams and narrowly avoided another bump in with Voldemort. Just as I stepped outside the heavens opened, so I booked a cab on double fare and paid £25 to get from Great Queen Street to Dean Street where my friend lived and had agreed to let me use as a base (thank you Olivia Cox). I decided to keep my makeup the same because I loved it so much as it was but we put my hair into loose waves before I waved goodbye to the Priv girls and got into a head to toe Oasis outfit as I was taking over their social media and headed to the Brewer Street car park, the new home of London Fashion Week, to see what all the fuss was about before I took a break from fashion all together and rushing to interview reggae legend Stylo G for my Hoxton Radio show. After the interview I quickly got changed into my Braganza dress in the glamorous studio loos, which I wore with a beautiful Aspinal bag, nude duster from Oasis and Gianmarco Lorenzi heels before hopping into a cab back to the car park. Whilst the shoes are beautiful and attracted lots of attention from the photographers outside, they were not made for walking up the ramps of a multi-story car park so I was buggied up to the show before taking my place FROW between Antonia O'Brien and Caggie Dunlop to watch the most beautiful show of sophisticated prints, and all white and black structured outfits. It was simplistic, classic and amazing. A buggy and a fast walk later I was in the most incredible Paul Costelloe dress, a Folli Follie bag and jewellery, and the most perfectly matched Moda In Pelle shoes and rushing to the Hotel Cafe Royal alongside Olivia Cox for his show and I was thrilled to be greeted by champagne (I needed it!) as well as Roxie Nafousi, the beautiful Amanda Byram and her boyfriend (and my old producer) Julian. The show was so beautiful and feminine and I'd go as far as saying this was one of my favourites as I loved the shapes, structures and classic colours.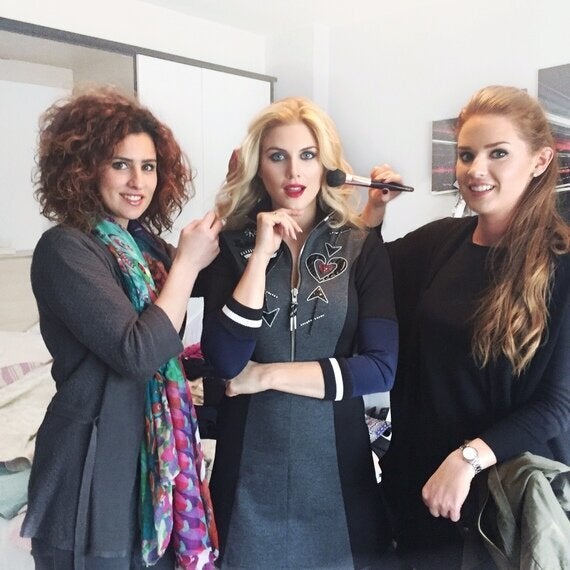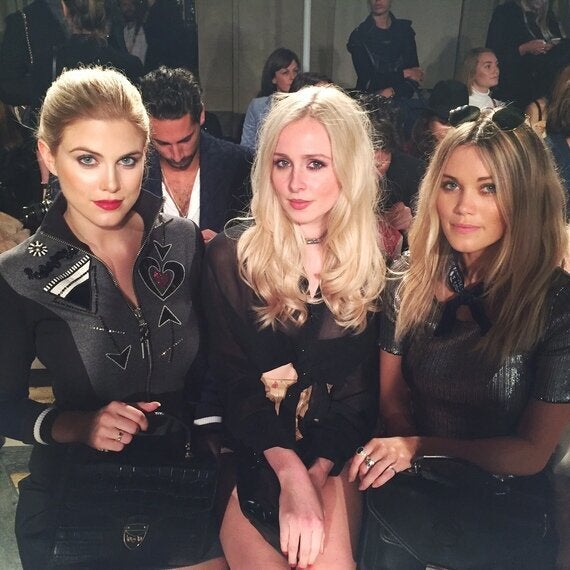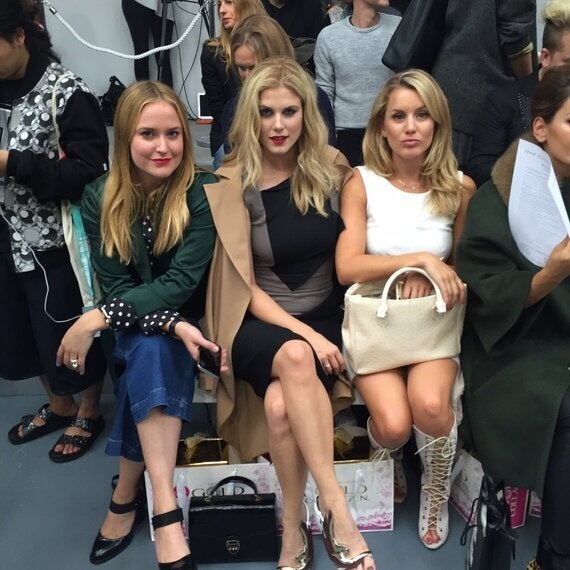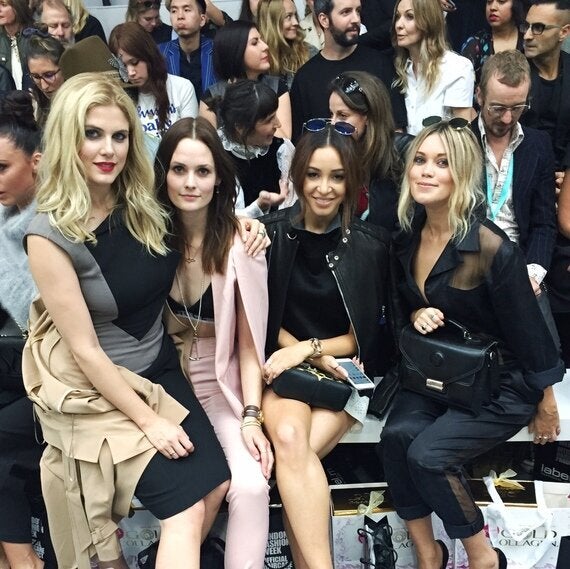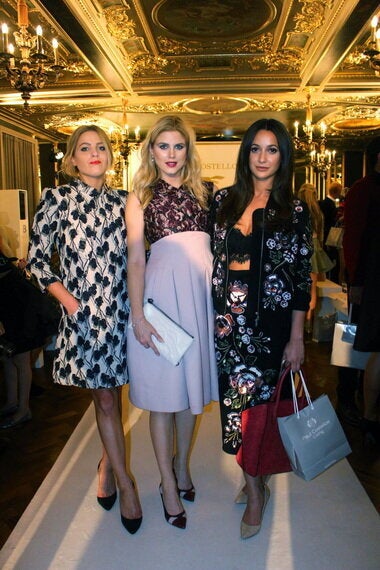 As soon as it finished Olivia and I quickly changed before running through London to PPQ, a show I was really looking forward to as I not only walked in the show last season but am obsessed with their work. We arrived to be told that the show had just started (sob) so we sadly left and ran to get ready for Pam Hogg; a show I always get excited for because her eccentric punk style, her refusal to use classic models and the amazing crowd of people her shows attract. This year did not disappoint in any of those elements, plus I wore the most amazing flared jumpsuit from Jaded. I was meant to go to the Hunger Magazine party afterwards but ironically I was suffering from hunger as well as exhaustion so I made my way home and got an early night so I could enjoy the rest of the day. Day 1 may have been made up of Voldemort, torrential rain, sweat and tears but it was wonderful and I'd lived to tell the tale.
The rest of Fashion Week was smooth sailing and enjoyable. The Asli Polat catwalk was made of grass and white flowers and we were treated to khaki, metallic embossed florals and CRONUTS - the killer combination of a croissant and a donut. I wore another piece from Tyla Blade with Michelle Keegan for Lipsy printed leggings and the incredible white Melissa shoes with an Aspinal bag - you might think I look relaxed here but it took me an entire hour to get the leggings on because they were a size 6 - I was still trying to zip them up in the taxi on the way to the show - so I celebrated my achievement by eating the cronut, obviously. I was treated to the most fantastical afternoon tea by London Fashion Week's official sponsors Sunglasses Hut which included glittered fruit, indulgent cake, green tea martinis, tea in a cauldron, a catch up with Charlotte and Lilah Parsons and a selfie with Drew Barrymore. I FRICKIN' KNOW! She was such a babe. I spent a day backstage with the Body Shop at Fashion Scout where I was treated to a face analysis, a much needed massage and the chance to chat to the head makeup artist of Fashion Scout herself, Lan Nguyen-Grealis, about the SS16 beauty trends whilst backstage at Niro Wang. So ladies, keep your makeup base as natural as possible, use a lot of white, used red under your eyes (I know!) and keep your hair messy in unstructured braids.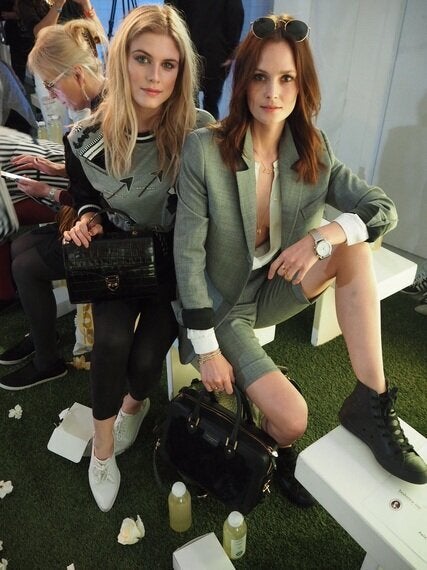 I was so blown away by the beautiful prints and shapes of Panama designer Teresita Orillac's show that I reached out to her and asked her if I could wear one of her dresses to the London premiere of Sicario, which I did with some Diamonfire diamonds and Gianmarco Lorenzi heels. I went to meet her for a fitting at her hotel and the day after I sat and had breakfast with her family, friends, and husband and truly felt like part of her gang. It was such a nice and lovely personal touch to my fashion week story, and I'll really treasure its memory.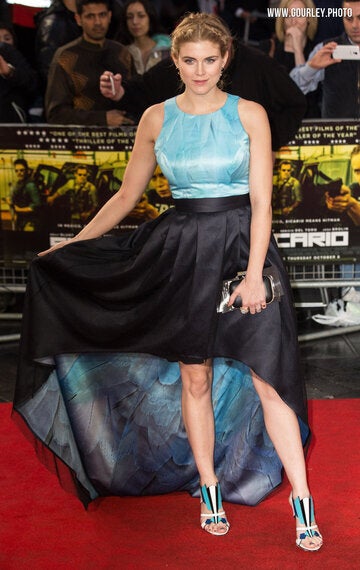 I was also invited along to KTZ with Hervia's founder Oscar who is the most incredible man. The show was set in the coolest space and we sat FROW alongside Boy George and Paloma Faith and I was mesmerised by the strong shapes, bold metallics, wacky prints and incredible leather the show offered - I'm definitely going to be purchasing KTZ going forward. Naturally I wore a head to toe outfit from Hervia consisting of Rick Owens jeans, a Nicopanda T-shirt, and my most prized possessions: my Pharrell x Adidas superstar trainers, which miraculously matched my neon yellow Aspinal bucket bag. Success!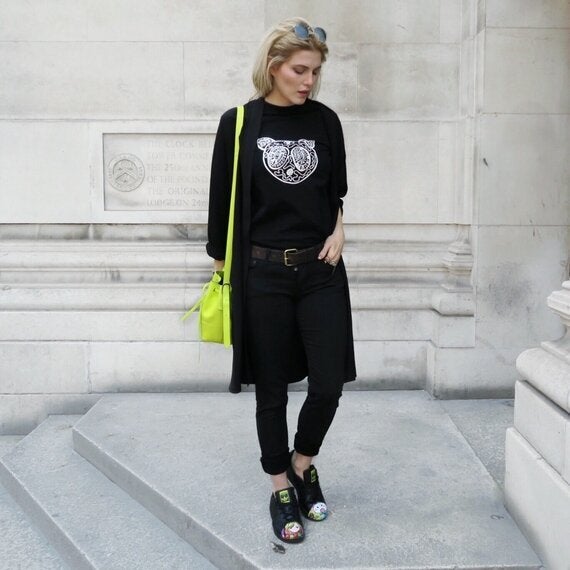 One of my favourite events of the whole week was the Aspinal presentation as not only is it one of my all time favourite brands in the world (if you hadn't guessed already from my outfit choices), but the new collection of floral bags and customisable coloured straps (a first for Aspinal) were incredible. The location was absolutely mesmerising too! I went along with Charlotte, Danielle Peazer and Lilah Parsons and we were greeted by a wall of the most incredible red and yellow flowers with green foliage everywhere as well as flowers and butterfly all over the floor and walls, and little bees in the cakes... I could go on! I wore an Ann Summers lace bra, under a Misguided top, with my Rick Owens jeans and Pharrell x Adidas superstars and chatted with Zoe Hardman, Rosie Fortescue and Irish beauties presenter Lorna Weightman and fashion editor Corina Gaffey before deciding to call time on London Fashion Week for another season and went to collect my dog, who seemed as delirious as me but out of excitement rather than exhaustion.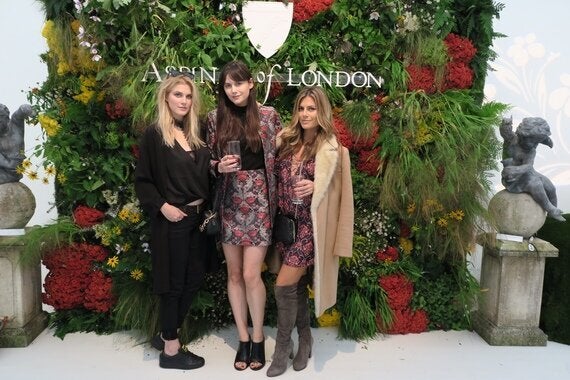 In terms of trends florals, metallics, iridescent, clashing bright colours, and white are all going to be massive, but right now I can go back to thinking about winter - embracing the 70's trend a little while longer, getting out my knitwear and looking forward to my favourite day of the year Halloween. Although I'm not sure it could ever be as terrifying as Voldemort and that first day of Fashion Week.
I really hope you enjoyed reading my Fashion Week round up, which most consists of me being wound up. I'll be posting all my outfits over on my blog - www.ashleylouisejames.com and if you want to know how I managed to wind down in the week after then stay tuned to me on Huffington!
Find me on ashleylouisejames.com / twitter: @ashleyljames / instagram: @ashleylouisejames
All my images were shot on a Canon PowerShot G7 X which has wifi ability so you can send images straight to your phone.
Outfit photographer: Oscar May www.oscarmay.com
Popular in the Community