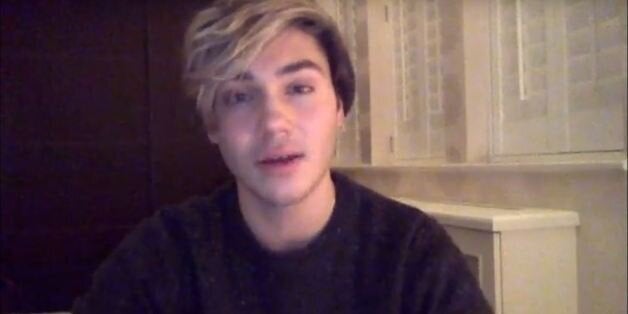 By now, you may have heard that Union J singer and I'm A Celebrity star George Shelley has made the brave decision to open up about his sexuality, after he posted a candid video on YouTube explaining that he is attracted to men and women. And in a completely refreshing and honest admission, he said he is not sticking an "old-fashioned" label on his life choices.
So why then, were most news outlets who reported the news quick to brand George "bisexual"?
"George Shelley reveals he is bisexual in impassioned video message," read one headline. "George Shelley reveals he is bisexual in candid interview," stated another. "Union J member George Shelley comes out as bisexual in YouTube video," another proclaimed.
Now, let's revisit exactly what George told fans in his video:
"I've been reading a lot of speculation online as to whether I'm gay or straight or bi, and it's all these labels and it's a little bit old fashioned. That's why I'm not going to label it myself because it's not something I feel I can label."
Hmmm. So did George actually *say* he was bisexual? That would be a no, then.
As a celebrity journalist myself, I understand the challenges and pressures of getting stories out quickly, and mistakes can sometimes be made. But even I was astonished at the widespread inaccuracy and irresponsibility of the way many places covered the story.
Just because journalists use words such as "brave", "candid", "impassioned", "courageous" or "inspirational" in their copy, none of those adjectives cover up the fact that the "bisexual" top line of their George Shelley pieces were just plain incorrect.
While it feels crazy that in 2016 people still have to 'come out', addressing your sexual orientation - whether it be to family, friends, or millions of fans online - is still a big deal, and I imagine it is one of the hardest things people who don't feel they fall in line with perceived notions of heterosexuality, ever have to do. So to misrepresent them, their words, and their feelings is pretty damn shitty - is it any wonder people in the media spotlight are often afraid to come out?
We've come to know that don't live in a world where labels such as lesbian, gay, bisexual and trans effectively represent who some people feel they are any more, with the likes of Miley Cyrus, Cara Delevingne, Ezra Miller and Lily Rose Depp acting as trailblazers in redefining ideas of sexuality. Thus, it seems such a backwards step for media to still be using 'traditional' terms.
I even saw one journalist tweet that George's sexuality was "something that's long been known in the showbiz industry", but sadly this idea of "oh, we all knew anyway" was widespread on Twitter.
Comments like this are so unhelpful, and are sadly what many people who decide to discuss their orientation are faced with. It does absolutely nothing but demean the struggle they may have faced in coming to terms with who they are, and the courage it will have taken to overcome that. Unless you are told about someone's sexuality personally, you knew nothing - you just made an assumption, which is very different.
But despite people's attempts to put George in a box, or tell him they knew who he was even before he did, the 22-year-old seems like he is very happy with the new direction his life is heading in - and at the end of the day, that is the only thing that matters. George knows that sexuality is just one big ol' sexy spectrum, and it's time everyone else realised that too.
Popular in the Community