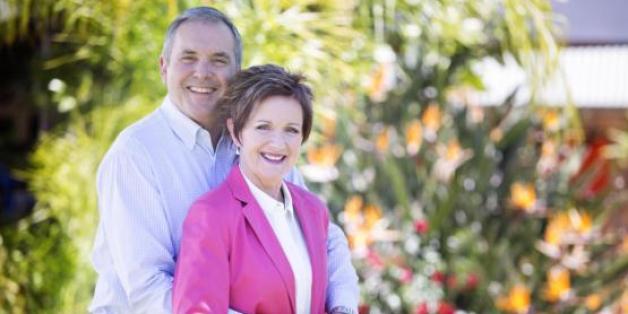 Channel 5
I am about to tell you something I don't tell many people - I am a 28-year-old who still watches 'Neighbours'.
This isn't something that would normally come up in idle conversation, but this week my fandom was pushed to the fore, due to the fact the show's future on UK screens is in jeopardy, as apparently talks between Channel 5 and production company Fremantlemedia over it rights to air it have stalled.
But why do we love it so, or at least claim it as a of "cultural importance" to the UK, as it was branded in the press earlier this week?
Different chapters of 'Neighbours' bring nostalgia to different generations of audiences in its 32-year history. Scott and Charlene's wedding captured the imagination of millions in 1988. I was only born that year, so, for me, my big Erinsborough moment came years later, when Toadie drove his new wife Dee off a cliff on their wedding day in 2003. And while it has sometimes veered off the track down a more sensationalist route (the less said about that plane crash, the better), 'Neighbours' continues to deliver more than its share of easy-to-watch, escapist drama.
It's because it's so similar to us, but so different too. They speak the same language, but they do it with upward inflections, the sun is always shining, and the families are ones you actually wouldn't mind being a member of. When was the last time you could say that about one of the UK's on-screen families, eh?
But listen, I'm not trying to claim 'Neighbours' matches up to any of the big UK soaps, or is even half as popular as it was back in the day (it could pull in 20 million during the late 80s and early 90s). However, it still attracts over a million viewers over its two airings each day - more than the likes of daytime favourites 'Loose Women' and 'This Morning' pull in - which, given for the amount of love and publicity these lesser-watched shows receive, just goes to prove 'Neighbours' is totally deserving in its place in the daytime schedules.
There's also a lot of diehard fans out there who are willing to try and save 'Neighbours' too - one launched an online petition to ensure its future on Channel 5, and at the time of writing, it had already gathered 15,000 signatures. (You can sign it here, btw).
Worryingly though, if their voices are not heard, it could spell the end for 'Neighbours' not only in the UK, but in Australia too.
The running joke Down Under is that every British tourist knows so much more about the goings-on in one of Melbourne's TV suburbs than its home-grown audience. Indeed, without the UK's support, this 22-minute soap would have dried up many years ago. Having been bumped from its prime slot on major channel Network Ten in 2011 due to declining ratings, there's now a real risk that without the Brits behind it, 32 years of TV history could become just that.
So I am urging Channel 5 - dig deep into those pockets and don't be responsible for the death of a TV icon, as there's a lot of life left in this old dog yet. And no, I'm not talking about Bouncer.