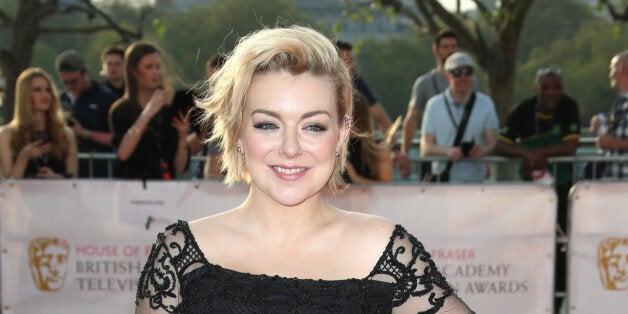 This time last year, Sheridan Smith was the woman of the moment.
After winning widespread critical acclaim in in ITV's Cilla, and landing roles in thriller drama Black Work and the TV adaptation of Lisa Lynch's cancer diaries The C Word, it was Sheridan's talents that were making headlines.
Fast-forward 12 months, and it's a very different story.
Over the last few weeks, the star, who rose to fame on hit BBC comedy Two Pints Of Lager and a Packet of Crisps, has become the media's latest punch bag.
Clearly at a vulnerable place in her life following her father's cancer diagnosis, the press have pounced on her, seeing her torment as an opportunity to knock the star that they spent so long building up, right back down again. And I for one have been feeling increasingly uncomfortable watching the whole circus.
Nearly 10 years ago, the world's press went to town on Britney Spears as she suffered a serious breakdown. While the extent of her mental health issues were not known at the time, tabloids and gossip mags filled their pages with pictures showing the star in distress, and various articles (often built on complete speculation) about her outbursts and the reasons behind her anguish. I really hoped that we'd changed our approach in the way we write and speak about such issues, but it seems we haven't come very far since 2007.
Following claims she suffered a "slurring stage meltdown" during a "drunken" performance of her West End show Funny Girl, the media have pushed Sheridan to breaking point. She was branded a sore loser after appearing to look disappointed at not winning a BAFTA for her role in The C Word, and reports later claimed she went on a "boozy BAFTAs manhunt" at one of the afterparties.
Backed into a corner, Sheridan lashed out on Twitter and pulled out of further Funny Girl performances, claiming the press had won and she was "not strong enough" to carry on. This was truly heartbreaking to witness, especially as it came from someone who had openly discussed her struggles with anxiety and stage fright in the past.
It's easy to forget that celebrities, actors, singers and performers are all human too, and they go through just as much shit as the rest of us do. Being told your elderly father has been diagnosed with cancer would be a lot for anyone to bear, but to be in a job that demands you are on public display six days a week, four hours drive away from your sick loved one? It's no wonder Sheridan is finding it difficult to keep her emotions in check.
Sheridan has now announced that she will take up to four weeks off from Funny Girl, citing "stress and exhaustion", which will give her the time to rest and regroup and spend some time with her beloved father. Hopefully she will then return to the stage at the top of her game, forcing her critics to eat their words.