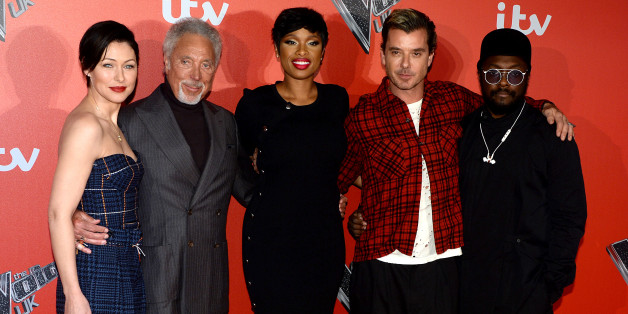 Doug Peters/Doug Peters
With The Great British Bake Off's much-publicised move to Channel 4, it was quite easy to forget it wasn't the only show switching sides this year, which could be why The Voice's arrival on ITV almost went by unnoticed in the weeks leading up to its launch.
While Gary Barlow's new show Let It Shine lapped up all the press attention, it seemed like everyone was as enthusiastic for another series of The Voice as they were about the prospect of returning to work after Christmas - least of all, me.
I've always thought of The Voice UK as the runt of the reality family (yes, I even found Dancing On Ice marginally more entertaining). Its desperation to be taken seriously, coupled with its holier-than-thou approach to the talent show format, made it a complete turn off for me. But come Saturday night, I decided to give it a chance, mainly to see if it had finally shed its nicey-nicey BBC image.
And the signs looked good during the first three minutes. A flashy, fast-paced montage that looked like it was ripped straight from The X Factor had ITV written through it like a stick of rock. I was on board. And then the titles rolled (which themselves revealed they hadn't seized the opportunity to bin off that dreadful theme tune), and it was back to the usual drudgery.
Yes, the decision to not have the chairs turn if a contestant doesn't get through injected a much-needed edge to proceedings, but that wasn't enough to tighten the pace of this never-ending borefest. I would still rather gouge my eyes out (or at least watch 10 more adverts per break) than having to endure the toe-curling way each coach pitches themselves to a successful singer for them to join their team. So for ITV not to find a workaround for this felt like a real missed opportunity.
But the show's biggest problem still remains, and that is that it doesn't seem like any fun - either to watch or be on. Because it pitches itself as a competition for credible artists, the contestants seem so serious and one-dimensional, and there's never even a glimmer of self-awareness or silliness like with The X Factor and Britain's Got Talent. Some of the most memorable reality TV moments of the last 15 years have been born out of making us laugh - think Jedward, think Louis Walsh and Sharon Osbourne walking into a door, think Amanda Holden's water-throwing, think David Walliams in general. And if the first episode is anything to go by, I'm not holding out for Tom Jones and co making an entry into this Hall of Fame.
Which brings me to the judges, who, by the way, I am still flat out refusing to call coaches. Yes it's meant to be about the talent, but we all know how a good panel can make or break a series of one of these shows. And with ITV being experts in the genre, you'd thought they'd have brought out the big guns. Alas, the mixture of Gavin Rosdale, will.i.am and Tom Jones proved to be as dull as feared when they were offically announced last year.
Will is still like your friend's annoying child you're forced to tolerate with his nonsensical critiques and the inability to stay in the damn chair. Gavin - well, if anyone could enlighten me as to what he brings to the party, I'd be grateful. And as far as Tom is concerned, why on God's green earth did ITV make the call to bring him back? If ever proof was needed that being a music legend doesn't always make you an exciting TV star, he's it.
So thank goodness for Jennifer Hudson then, who was the only judge contributing any sort of life (and GIFable content), with her fierce one-liners and fabulous facial expressions. Here's hoping she does a Rita Ora and pops up on the next series of The X Factor.
Meanwhile, Marvin Humes had been ditched from the presenting line-up, with Emma Willis flying solo. Although with the amount she actually had to do, it's no wonder bosses decided to just shell out for one host this year. I'm sure I wasn't the only one playing 'Where's Emma?' during the episode, after all her contributions were seemingly left on the cutting room floor. But in all seriousness, why, when you have a host of Emma's calibre, wouldn't you use her? Dermot O'Leary, quite rightly, is up front and centre on The X Factor, as are Ant and Dec on BGT, so it seems bizarre to not give Emma the chance to shine too, especially when she's proved to be the best thing about Big Brother since taking the helm in 2013.
Cut to the end of the show, and I struggled to remember one single contestant's name from the previous 90 minutes. There was no water-cooler audition to talk about in the office on Monday morning, or any act you could realistically imagine being a star or selling millions of records, which is a problem when so much is resting on them producing the show's first credible recording artist this year.
With ratings down two million on last year's opener with an average of just 5.9million, bosses are sure to be worried about the rest of the series, given viewers traditionally start switching off when the chairs stop spinning. It's a shame, because there was nothing stopping ITV really grabbing the bull by the horns and giving The Voice the shake-up it needed. Instead, it is still living in the shadow of The X Factor - and considering Simon Cowell's baby isn't exactly thriving at the moment, it's hard to predict a long and happy future for The Voice in its new home.