Ever since Psy's "Gangam Style" became the most annoying post on Facebook, trendspotters have jumped on anything related to the Southern half of the Korean peninsula. The Americans are so excited they're even sending warships and soldiers to hang out with their Korean counterparts.
Other than Samsung smartphones, the big import exciting London's bloggers is Korean food: whilst a row of Korean eateries has existed behind Centrepoint for years, the recent explosion in street-food and markets has brought Korean flavours to a wider audience. But, apparently, there's more to Korean food than mixed rice, Kimchi (fermented cabbage) and chilli pepper paste.
So, under the guidance of former "Observer Young Chef Of The Year" Stevie Parle, I explored what else Korean cuisine has to offer, at his Dock Kitchen in Ladbroke Grove. With its modern furniture, funky exterior lighting and waterside location (overlooked by the Corporate Headquarters of Innocent Drinks) the setting has a passing resemblance to a scene from Tron.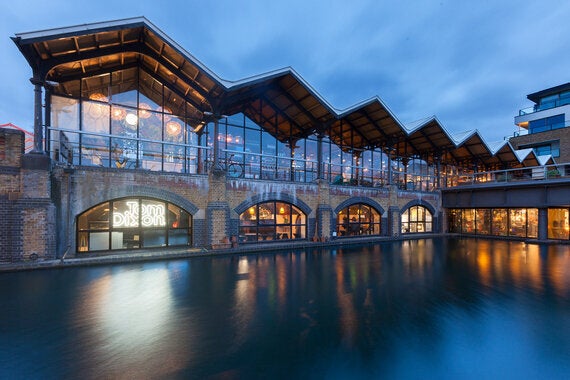 Parle spent time living with local families on his travels around India and South East Asia - something that generated a lasting Far-Eastern influence in his cooking. He made a name for himself by visiting countries around the world, delving into traditional cuisine, and combining it with his home-cooking style, developed during three years at The River Café.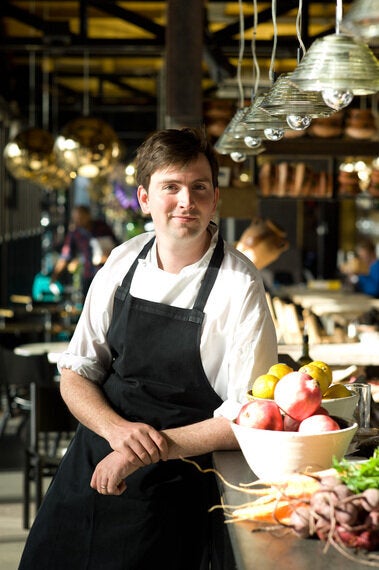 He regularly sets aside time and money to go on research trips for Dock Kitchen's ever-changing menu. Sometime he sends his staff, "creating a wonderful synergy and creative process; not just replicating what we've found elsewhere. I feel like an editor, overseeing and curating the output."
On his most recent trip, he spent four days in Seoul, South Korea's energetic capital, to learn about different aspects of Korean food. First he spent half a day cooking with monks at a monastery, where they grow and forage all their own ingredients. Here, balance is key - not just for health, but in flavours too: fresh with cooked; sweet with sour.
He spent the rest of the day with a chef whom the Korean government has proclaimed an Intangible Cultural Heritage. She prepares meals in the traditional Royal Korean fashion: the very best ingredients and dishes, drawn from all over the country. Finally, he delved into the eccentric, pop-culture street food that typifies the Gangnam district, before finishing in a restaurant that he describes as "impeccable, beautiful, contemporary cool. The décor and the food."
Having researched different elements of Korean food through direct experience, Parle returned and got creative with his crew. The results were laid out for us in a tasting menu.
We started with what I describe as Korean steak tartar, but with the beef sliced, rather than chopped, less spice, and sesame coming through as the defining flavour. Fried rice cakes embodied pop-culture street food, with the crisp shell giving way to a chewy interior.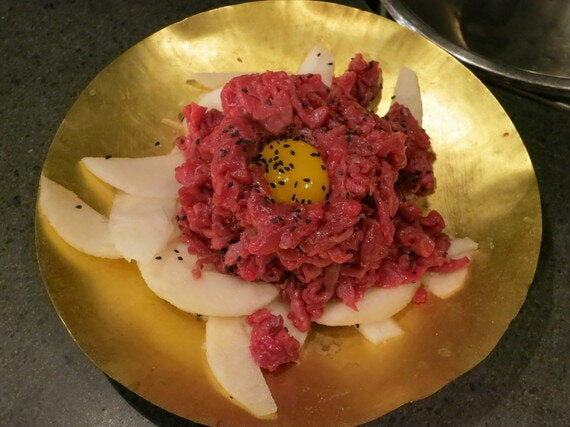 Next came warm rice with raw sea urchins and aged soy. I've never had sea urchin before - and they came beautifully presented, their shell (or "test") cut in half, and the urchin ready to be scooped into the rice. It was... unusual. I'm glad I've tried this particular delicacy, but I'll be leaving sea urchins to sea otters from now on.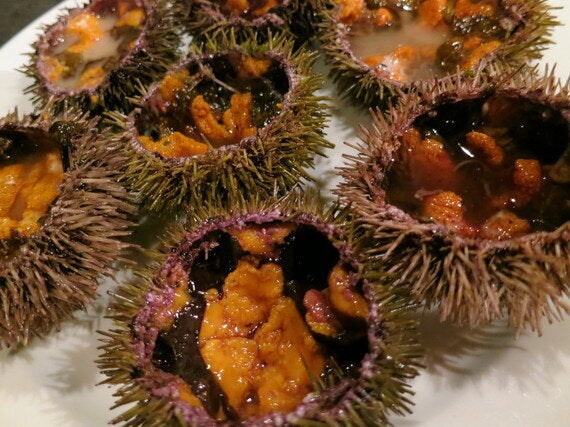 We moved onto the taste-slap sensation of steamed pork belly and fresh oysters, wrapped in leaves. The freshness of the leaf, the delicacy of the oyster and the weight of the pork was a combination I'd never have considered, but one that worked surprisingly well.
This came alongside one of the best servings of meat I've ever eaten: steamed onglet - Hereford beef diaphragm steak. It was awesome: tender, juicy, full of flavour, melt-in-the-mouth stuff, niceley complimented by a Kimchi selection, including an "English Kimchi" of pear, red cabbage and watercress. The concept of balance worked well again, as the sour flavours of the 3-month-fermented kimchi broke up the richness of the beef. Sides of tiny fried and dried anchovies were a tasty grazing snack
A dried mullet roe and radish pallet cleanser led the way for dessert: yuzu ice cream, which was a little overpowered by black sesame crackers.
My overall impression of Korean cuisine is that each dish has a distinct flavour - each potent, but not overly rich. Balance and combination are integral, so going for a planned menu, designed with that in mind, helps to understand each dish in it's proper context.
The Dock Kitchen is running the Korean-themed menu for 3 weeks from February 3rd-22nd, with meals at £45. But get down there on Monday for a 3-course version with wine for £24.50. A perfect intro to Korean cool.
Photos courtesy of The Dock Kitchen, image of Stevie by James Bedford; image of Dock Kitchen exterior by Peer Lingreen