Smallholder farmers in developing countries lack access to affordable credit. As many banks ask for their land as collateral, they turn to informal lenders who charge exorbitant rates and trap them in an unrelenting cycle of poverty. Ricult, an initiative founded by four recent graduates of Massachusetts Institute of Technology (MIT), aims to break this cycle.
Leveraging data analytics and a proprietary creditworthiness assessment, Ricult drastically increases farmers' income through a mobile platform that provides affordable credit, high-quality farm inputs, agronomy service, and access to end buyers. This leads to improved yields, better quality crop, and higher profitability for the farmers.
Helping Smallholder Farmers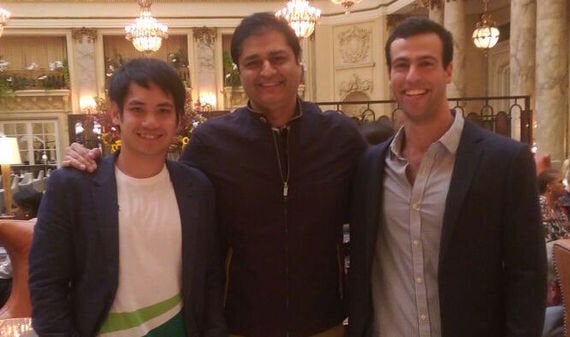 Ricult Founders: Aukrit Unahalekhaka, Usman Javaid, and Jonathan Stoller (not pictured: Jiang Xu). Photo credit: Ricult Team Member.
"Ricult has been primarily setup to help smallholder farmers in developing countries control their destiny," co-founder and CEO Usman Javaid said. "Farmers survive in an extremely exploitative ecosystem. Although we've piloted in Pakistan, these problems transcend borders, and this model can be replicated in other developing countries."
"I grew up in a family of farmers," explained co-founder and Chief Product Officer Aukrit Unahalekhaka, who hails from Thailand. "I've seen firsthand the problems farmers face. Farmers are some of the hardest working people I've ever met, but the lack of access to affordable credit opens them up to being exploited by middlemen."
The word "ricult" comes from the middle part of agriculture; ricult cannot exist without agriculture. Globally, 78% of the world's poor are farmers. Ricult's tagline is, "The people that feed us, need us."
The product has launched as a pilot in Kasur, Pakistan, one of the most fertile pieces of land in the subcontinent. The area was chosen for its high population density. Ricult is currently working with farmers who grow multiple crops, primarily corn and potatoes.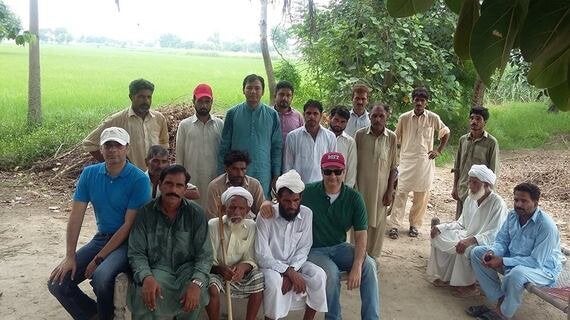 Ricult Team with smallholder farmers in Kasur, Pakistan. Photo credit: Ricult Team Member.
To date, they have provided over $77,000 worth of farm inputs (seed, pesticide, and fertiliser) to more than 150 farmers on credit. Before Ricult, farmers had to rely on loan sharks charging 4-5 times more.
"Smallholder farmers are excluded from mainstream banking due to lack of a credit scoring system like you'd see in the US or Europe. Banks are very risk averse, so they ask for collateral. For farmers, that's mainly in the form of land; they're not interested in using the land since that's vital to the only source of income they have. Their only option is the loan sharks," Usman explained.
Additionally, products from a local village shop may be adulterated and a farmer won't know until later. Ricult's products are sold without an intermediary shop - they go right from a manufacturer's warehouse to the farmer's doorstep. In two crop cycles, the anticipated increase in earnings for the farmers is 30-50%.
Despite the dramatic increase, one challenge the team has faced is building trust. "As a new organisation, we don't yet have brand awareness," Usman said. "These farmers are dependent on middlemen to service their needs. If they sever their relationships with the loan sharks, they need to know that we'll be around the following year. Trust has to be earned and built over time. In the meantime, we're putting a lot of focus on customer service."
To reach the farmers they've organised workshops featuring skits and serving food; these events have 400-500 attendees. The sales team is part of the farmer's community, and the agents meet with the farmers regularly to make sure they know how to use Ricult's mobile platform.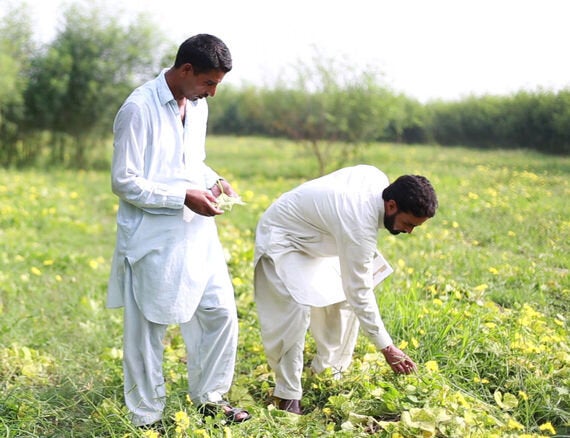 Ricult Agronomy Service Team conducting crop analysis to help improve farm productivity for the farmers. Photo credit: Ricult Team Member.
"This is a great opportunity for people interested in helping the world's poor," Aukrit explained. "There is almost a 5 billion dollar gap between agriculture credit supply and demand in Pakistan, with a 400 billion dollar gap globally. Almost 40% of the population in Thailand - 50% in Asia - work in the agriculture sector. This is a great opportunity for investment with social impact."
In the coming months, Ricult is focusing on scaling up and building infrastructure to increase the number of farmers served.
To find out more, visit Ricult's website or email them at contact@ricult.com.