Helen Skelton
Blue Peter Presenter
Helen Skelton is a Blue Peter Presenter and former CBBC Newsround reader. Helen began her career at BBC Radio Cumbria where she worked as a breakfast show presenter before being asked to audition for Blue Peter. Helen is often called a 'daredevil presenter' and known for her willingness to take on extreme challenges, believing 'impossible and difficult are different things'. In April 2009, Skelton became only the second woman ever to finish the 78-mile Namibian Ultra Marathon, completing the run in 23 hours and 45 minutes - just 15 minutes under the time limit of one day.

Helen is an avid supporter of Comic Relief and over the years has undergone many challenges. In early 2010, Skelton kayaked 2,010 miles down the Amazon River for Sport Relief achieving two Guinness world records: the longest solo journey by kayak, and the longest distance in a kayak in 24 hours by a woman.

In 2011 Skelton became the first person to high-wire walk between the chimneys of Battersea Power Station, in aid of Red Nose Day. The Blue Peter presenter took just 14 minutes to complete the 150 metre stretch of wire at a staggering 66 meters above the ground; earning her a new record for the highest wire walk by a female in the UK.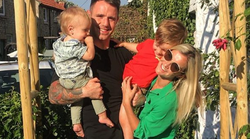 Instagram
The wind in your hair has the power to blow away your worries from the week
It was such a spur of the moment notion when Richard Curtis and a few of us got it going that it's hard to believe it has gone on to become so close to people's hearts. Back in 1985 Ethiopia was being torn apart by famine, and a gaggle of fresh faced comedians thought they might be able to raise a bob or two to help. Three decades and a billion pounds later though what's changed? For starters there's still a big perception that it's only Africa that benefits. The reality is very different. Since Comic Relief began, projects funded in the UK have touched the lives of more than 10million people.
Enough is enough though. This Red Nose Day, we want to help change and save thousands of lives by improving healthcare for communities across Africa. By combining your cash with local talent and determination we can make a huge difference and to demonstrate that we're going to follow the refurbishment of Iyolwa clinic by working with Ugandans like Gonza, a local architect who has come forward to lend his skills. Your support will not only help to refurbish this clinic, but will also help to improve healthcare for thousands of people in communities across Africa...