Over time, we have seen the mobile phone evolve from a device for simply sending and receiving calls to an indispensable tool with many uses -- with capabilities that include calendars, notes, photos, videos, games, and maps. A similar thing is happening with automobiles, which are evolving to become more like tech hubs than vehicles designed simply to get you from point A to point B. In fact, Gartner predicts that by 2020, there will be more than 250 million connected vehicles on the road worldwide.
As the Digital Age transforms and reshapes the auto industry, it is drawing new entrants into the market. With disruptive players like Google and even Apple reportedly working on smart cars, traditional automakers need to steer towards adopting key digital trends such as diverse mobility, autonomous driving, electrification, and connectivity. Automakers are seeking ways to recover their investments in connected and autonomous vehicles to take back market share. In order to thrive in a technology-driven future, automakers must invest in digital capabilities to stay ahead and battle the agile innovative tech giants that are stepping onto their turf.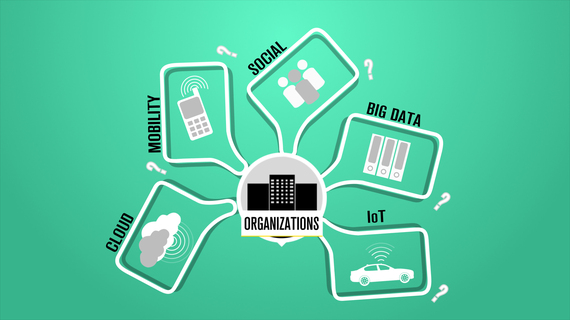 Author's own - Syntel
At CES, automakers, suppliers, and tech experts came together to talk about technology that would shape their vision of the car of the future. From autonomous cars and personalised in-car marketing to biometric access, technology and automation is revolutionising what consumers expect from their vehicles.
All over the world, drivers are becoming accustomed to increasing levels of digital technology being integrated into their vehicles. Customers are attracted to brands that equip vehicles with the latest technology - features that should not only improve driving, but better connect with the increasingly smart road infrastructure and consumers themselves. As part of the UK government's Road Investment Strategy, they have ambitions to rework the road infrastructure itself. An £11 billion investment in roads will witness the creation of roadside Wi-Fi for instant traffic updates, new "expressways" and new smart motorways to help ease congestion during busy periods.
Legislative initiatives are also beginning to integrate this approach, which highlights the expanding influence of the Internet of Things. For example, in the EU, all cars will be fitted with an eCall-equipped chip by 2018 that will automatically contact the nearest emergency center in case of an accident. This sharp increase in vehicle connectivity is driving profit in the automotive industry, which is predicted to boost the value of the global market for connectivity mechanisms. In the car buying process, connectivity is becoming just as crucial as fuel efficiency and engine power, and more than 5,000 consumers would consider connected features a priority feature of their next purchase.
The automotive industry is currently being revolutionised, and it reflects what our technological future might look like - a more social Internet of Things (IoT), and a tendency towards connectivity over isolation. One of the biggest changes in the automotive industry is that car companies are quickly becoming software companies.
In order for traditional automakers to remain competitive in an increasingly "digital" automotive industry, they must plan their investments carefully, innovate more efficiently, and look for the right technology partners to help get them over the finish line.