At Sea from Bitter Creek on Vimeo.
Never in a million years did I ever think I'd find myself strolling to my local pool and jumping in the deep end with no hesitation. I only learned to swim seven years ago at the age of twenty-eight while presenting Blue Peter, and it's taken a lot out of me mentally and physically to get to the point where I don't panic and where I feel less fearful of open water. However, that being said, I still often have to psych myself up before taking on the ocean.
My situation isn't unique. Swimming, particularly in deep water, is still a struggle for many people - especially black people. Two years ago, a study found that as an ethnic minority you're three times less likely to swim in comparison to your white counterparts. I am one of only four black people with a swimming world record - I currently hold the world record for the deepest location open water swim, which I set by swimming across the Palau trench in the Pacific Ocean. The other three record holders are Jamaican Alia Atkinson, who in 2014 became the first black woman to win a world swimming title for the 100-metre breaststroke in Doha; American athlete Cullen Jones, who is a two-time Olympic Gold medalist and a world record holder for the 4x100m (long course), and finally, and most recently, Simone Manuel, who won two gold medals for the USA in Rio 2016. Clearly black people can swim - so is it more a case that they won't swim? I have made it a personal mission of mine to find out, overcoming my fears to learn to swim myself, talking to experts and professional swimmers, researching studies, statistics and projects, and even exploring the bone density theory (the theory that black people have heavier bones, therefore are more likely to sink... Safe to say I'm not wholly convinced on that one).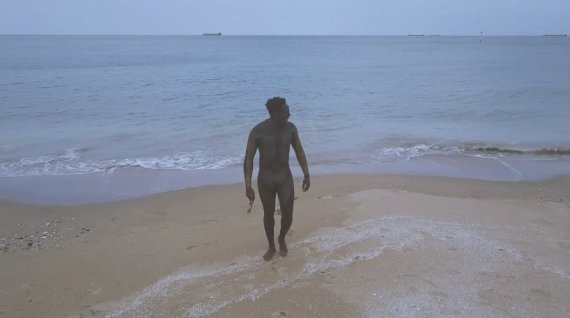 Through my research, one thing kept coming up again and again though. Within the confines of the swimming world is a universal fear many share: the fear of the sea. That dark, uncontrollable abyss that can make even the most competent swimmer doubt their abilities. I once had a conversation with Olympic medalist Rebecca Adlington who told me even she didn't like swimming in the sea. Something to do with its unpredictability and the fact that she has no lane lines to follow. I have to agree - not with needing lane lines, but with the unpredictability. It's a foreign world; with the sea there is no 'off' switch. It can be relentless and it takes no prisoners.
Last year I read a report by the National Drowning Prevention Strategy, which claims that every year around 400 people drown accidentally in British waters while a further 200 take their lives in open water. Furthermore, 44% of people who drown never had any intention of entering the water in the first place. Over the last year I asked a close friend who's an open water specialist to send me articles he came across of drowning deaths in the national press. Scarily many of these articles featured people of African, Caribbean and Asian decent - a disproportionate number to their white counterparts. I feel through discussions I've had across the country that we still have a problem in Britain that swimmers (and non-swimmers) have a limited knowledge of water safety.
Many fatalities happen in open water - oceans, lakes and ponds - where there are no lifeguards. I'm glad to see there are strategies in place to combat these drowning statistics (see above for strategies) but I still wonder, with impeding cuts to schools and the education sector, how well they can be executed? Discourse between all the organisations and bodies in the swimming world is essential to make this work and my experience a couple of years ago showed me this wasn't happening effectively. Perhaps things have changed now. But it is clear that, whatever the reasons behind it, people of colour aren't as comfortable in or around water and they're not only missing out on one of the best sports and recreational activities available, but they're putting their lives at risk.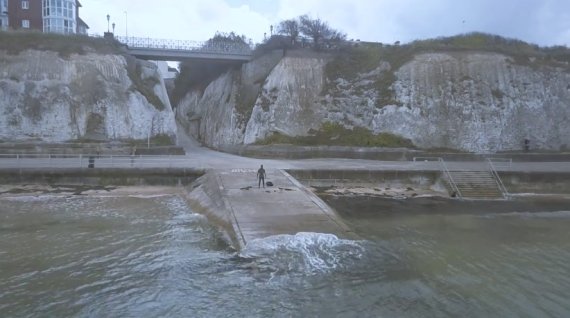 I recently moved to the Kent coast and have swapped the swimming pool for the sea. Margate has historically been a destination for British sun-seekers and it's currently going through a popularity resurgence that's very well documented in the national media. I often head to the Walpole tidal pool with a group of eager swimmers. The tidal pool was built in 1937 and yes, the initial freezing cold dunk is always shocking, but once you're in it's really quite magical.
I've started documenting my experiences in the water via social media and through creative projects. My dream has always been to change the 'look' of swimming in Britain. To encourage more people of colour to discover the beauty of powering through the water first thing in the morning, of feeling the satisfying ache of your muscles, of combatting your fears and of finding a peace and tranquility unique to swimming. Yet there is still a long way to go. For example, you still rarely see people of colour in campaigns for swimwear and swim brands. It's an uphill struggle, but I'm an eternal optimist.
I recently collaborated with a director to make a short film called 'At Sea', as a way to talk about my personal relationship with the ocean. For me it's like a pilgrimage - a moment of escape, away from the uncertainties of my industry and the trappings of life in general. I feel within the swimming world it's important to find creative ways of inspiring people of all backgrounds to take to the water safely and to discover the joy of swimming.
'At Sea' is a short film by Ayo Akinwolere telling the story of one man's relationship with the open water