Yup, it's that time again so get your fashion face on, mingle with the models and be sure to hit up the BarChick London Fashion Week hotspots.
The British Fashion Council get in the girls behind London's best bar guide to bring you the official LFW bar guide forget the FROW, these are the places you want to be seen this week.
BLAG YOUR WAY IN
A sort-of members club on the cusp of Shoreditch, The King's Head is all about the late licence. Keep your wits about you if you want to get in here; call ahead, say you know Rocky, look hot and don't slur. This five storey converted pub is Instagram gold, hang out in Rocky's Room for taxidermied lions or the Butterfly Room for a total mind blowing. In the basement? A bona fide bashment. What's not to love?
257 Kingsland Road, Haggerston, London E2 8AS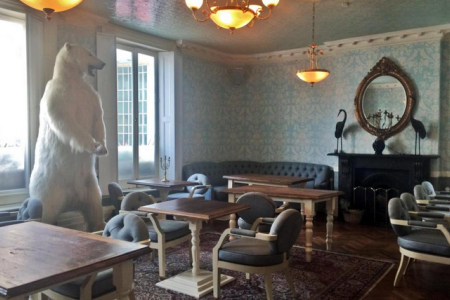 If your get-up is giving you the ick but you've got a full night of partying ahead of you, make Pelicans and Parrots your pre-drinks spot. An upmarket vintage shop to the untrained eye, the changing room houses a trapdoor and a staircase into a cellar full of rum, rude boys and hip-hop. Open weekends only you'll need the password or decent chat to get in, have faith in your blagging skills and you'll be two-stepping to MC Hammer in no time.
81 Stoke Newington Road, Dalston, London, N16 8AD
It's fair to assume that people are going to be clambering over themselves to get a chunk of the Chiltern Firehouse chaos this season. Less about being waitlisted for a table and more about finding a way into the hotel bar The Ladder Shed cocktails here are every bit as chic as the 'it' crowd that chuck them back. Sass up, slim down and get your game face on. Getting in here will make you the champion of good chat.
1 Chiltern Street, London W1U 7PA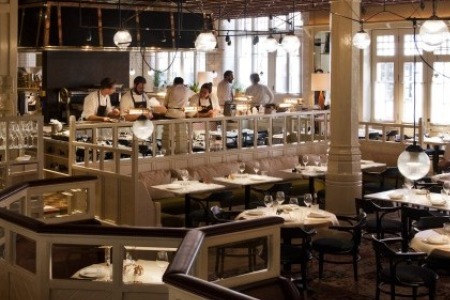 You've been going at it like Patsy Stone for the best part of a week and Soho is starting to look like a snooze. Up the ante by tumbling down the stairs at into Dick Bradsell's lair beneath El Camion. Technically you need to be a member but mumble something about a pink chihuahua and how you think serving tequila with lemon and salt should be a crime to see the doorman step aside.
25 - 27 Brewer Street, London W1F 0RR
Ideal location aside this place is everything you want for Fashion Week frivolities. Cocktails, drag queens and some good old fashioned snuff, not to mention the fact it's located downstairs in a men's public toilet. This place couldn't be more George Michael if it tried, see it to believe it.
Zero Aldwych, London, WC2E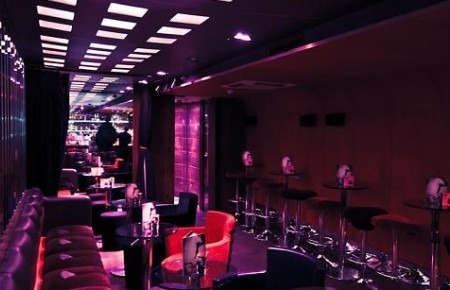 STYLISH SNACKING
The same no-booking policy means bagging a table at the new Covent Garden Barrafina still relies on your ability to wait in line. If you've been queuing for shows all day then this will be a doddle, you'll have a glass of sherry in your mitt and endless plates of Spanish tapas awaiting you at the finish line. Beats catching a glimpse of someone from Made in Chelsea's ankles any day.
10 Adelaide Street, Covent Garden, London WC2N 4HZ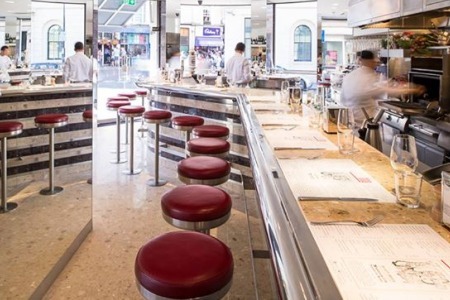 A former Chinatown gambling den now deals strictly in dim sum, cocktails and back alley glamour. Incense and low lighting sets the mood while bubble tea and booze brings down the tone. There are multiple storeys to choose from and hiding places a plenty but we recommend sitting at the bar where spirits have been decanted into apothecary style bottles labelled only with Chinese numeric characters.
15 -16 Gerrard Street, London W1D 6JE
The sexiest butcher's shop and steak house in town, buy offal by day and do candle-lit dining by night. Wine is served un-fussily in tumblers and clean-cut communal dining tables mean you're likely to make friends. Butcher Tom Richardson Hill shows off his passion for all things meaty by selling free range, organic meat with 100% traceability. Leave feeling like a lean, mean, drinking machine.
60 Broadway Market, London, E8 4QJ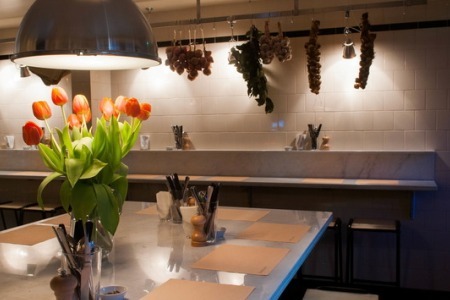 Winner, winner chicken dinner. Using strictly organic, free-range chicken and none of the shady bits, Clutch is the dirty fried chicken booty-call you never need to feel guilty about the next day. Located in the thick of Columbia Road's flower market, cocktails are a literary and taste sensation, especially if you love a good 90s hip-hop throw back. The MC Hammer'd (rosemary infused tequila, rosemary syrup, lime and absinthe mist) is the perfect party starter, dance it off to the epic soundtrack at the parties out back.
4 Ravenscroft Street, London, E2 7QG
Brunch and Bloody Marys calling? The newest Breakfast Club it is before getting lucky in the hidden bar - you'll need to hunt down a member of staff and declare that you're looking to get lucky before you're led underground to this debauched concrete drinking den.
11-12 Southwark Street, London SE1 1RQ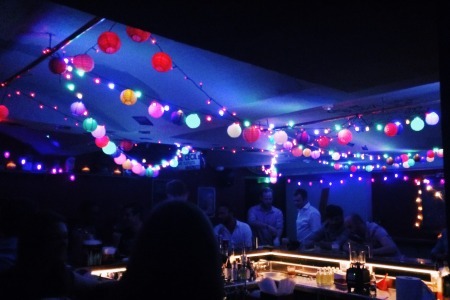 DRINK GLAM
The Langham Hotel's award winning cocktail bar is a stunningly chic affair dipped in oriental décor and well-heeled guests. The cocktail list changes annually and this year it's all about vegetable juice, of course. Expect garnishes in the form of flaming sticks of sandalwood and swap glassware for golden pineapples and vintage Czech vessels, it's difficult not to be fabulous here.
1C Portland Place, London W1B 1JA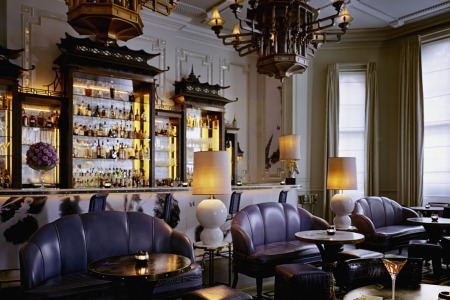 The Savoy is the bench mark for all things shiny, skip the queues at The American Bar and take your schmoozing game downstairs to the newer Beaufort Bar. Dripping in solid gold (£40ks worth to be precise) it's much easier to let loose here if someone else is picking up the bill. At £25 a pop, a round of cocktails might be worth more than your Pradas, company card anyone?
The Savoy Hotel, 189 Strand, London, WC2R 0EU
Birthed by the legend who brought us Studio 54, The Edition Hotel has fast become the go-to for Fashion Week after parties. Wandering what to do with all those bottles of booze you keep finding in your goody bags? Bring them to The Punch Room and have the bartenders make them into something ridiculous. Dress up, go large and do it like Naomi Campbell did it; throw your fur to the floor and strut right in.
10 Berners Street, London W1T 3NP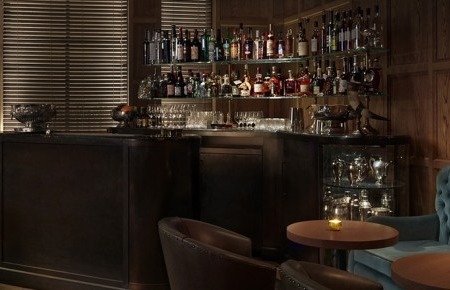 Who has time to wait three-months for a table? Not someone on a tight Temperley to Westwood schedule that's for sure. Yes, Dabbous may be the hottest restaurant of the moment but lurking downstairs is one of the hottest bars. Drink barrel aged cocktails by candlelight and eat bar snacks by the boy of the moment from upstairs. Ollie Dabbous' crispy, boneless, chicken wings with garlic aioli are next level delicious.
39 Whitfield Street, London, W1T 2SF
The Booking Office at Kings Cross St Pancras
What a wicked coincidence that the best building in London houses not only the Eurostar, the underground and the national rail, but also Harry Potter's platform 9 ¾ and some of the most exciting cocktails we know about. Linking to the St Pancras Renaissance Hotel if you sink too many here and miss your connection to Paris then simply book a room and catch 40 winks, darling.
St Pancras Renaissance Hotel London, Euston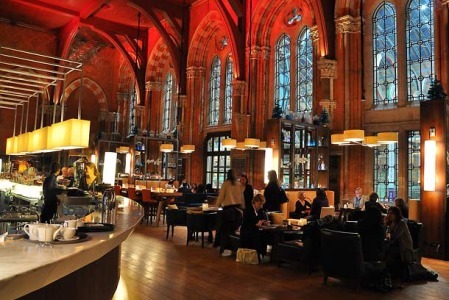 COUTURE COCKTAILS
A heralded hipster hangout, the Cat & Mutton was once responsible for the corruption of an otherwise sleepy Broadway Market. These days the boys from Ruby's rule the roost and although there's slightly less swinging from the light fittings, the standard of the cocktails is undisputedly decent. Drink the Smoky Rock (mescal, blackberries, mint) until you can conceal your shameless people watching no more.
76 Broadway Market, London, E8 4QJ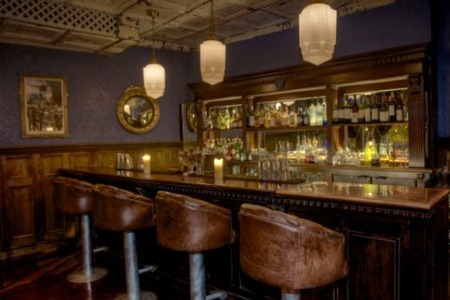 An unmarked door marks the spot and a Chinese restaurant, but this is Chinatown, what did you expect? Although the hype surrounding this place has died down, it shouldn't be forgotten that underneath all that taxidermy, candlewax and door drama are some seriously exquisite cocktails. Let Vincent choose for you. These guys run a whole host of Paris' hottest bars (and one in Ibiza) so if you want to do it like a Parisian then do it here.
13a Gerrard Street, London, W1D 5PS
Hit this place with a hangover from hell and come out the other side looking bright-eyed, bushy-tailed and ready to be street-style papped. A coffee shop by day and cocktail joint by night, when it comes to killing two birds with one stone these guys are murderous. Make your morning brew a Hot Flat White Russian and nobody need know about the rum.
19 Beak St, London, W1F 9RP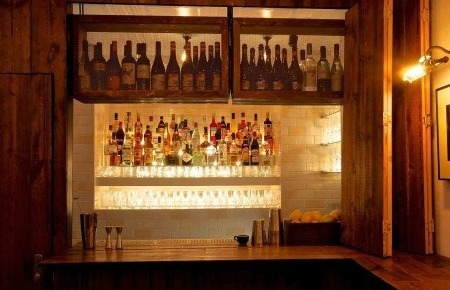 No signs, no frills, no Cosmos and no edgy haircuts, this is a Hoxton haven away from the hardcore hipsters that hang in this hood. Have you an hour to kill before dinner? A date you don't know how to squeeze in? Happiness Forgets is your friend. Make it a quick one at the bar or simmer down at one of the tables, whether you've got an hour or an evening, drinks here are made with equal measures of affection.
9 Hoxton Square, London N1 6NU
If you're loitering around the fashion action then you'll undoubtedly be hitting up the less salubrious parts of East London. Satan's Whiskers, bundled between newsagents, cab offices and strip clubs in Bethnal Green is a seriously good neighbourhood bar in a not so sexy neighbourhood. The well-considered cocktail list includes the sort of Salty Dogs (vodka, grapefruit juice and pink salt) that dreams are made of and the hip-hop will have you popping and locking before your drink even hits the deck.
343 Cambridge Heath Road, London, E2 9RA