With 1 in 7 of us now loving the flexible working lifestyle, and the number of self-employed people and freelancers having soared to highest level since records began - the way Londoners are working has changed (for the better we say).
Luckily bars and cafes are changing too; fixing up their Wi-Fi, firing up their coffee machine and embracing the freelance revolution. Because let's face it, there are only so many days you can rock the 'working in a dressing gown' look.
BarChick loves nothing more than spending the day laptop in one hand, Espresso Martini in the other; these are the best bars in London to get your freelance fix:
CENTRAL
The service scores poorly here but work it to your advantage and you'll go undisturbed with a hot water and slice of lemon for hours. The ultimate spot is near to the open fire in the winter, host your meetings like you're lord of the manner. Tap water all round.
69 - 71 Dean St, London W1D 3SE
Decent wifi means that The Bling Pig doubles up as more than just a cocktail bar.
58-59 Poland Street, London W1F 7NS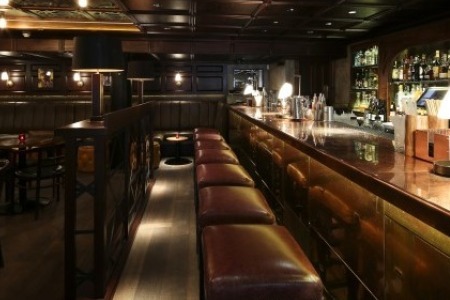 Marginally smarter than its big bro in east London, Timberyard Covent Garden is a coffee shop coming of age. This central London hipster hangout features the same Has Bean Coffee, epic wifi and chocolate and peanut butter brownies.
7 Upper St Martin's Lane, Seven Dials, WC2H 9DL
A sophisticated work space offering an alternative to meeting important clients in your local Costa. Pay for membership per day or per month and network tediously to your heart's content.
The Clubhouse, 11- 14 Grafton Street, Mayfair, London, W1S 4EW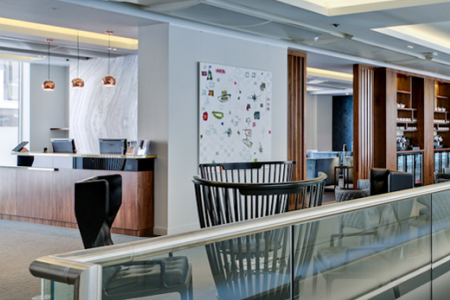 Sort of like you're in Hoxton but actually you're in central London, The Riding House café is all refurbed furniture and parquet floor. Natural light is always good and this place has plenty. Drink teas, eat cake and take things to the private meeting room if you really need to talk shop.
43-51 Great Titchfield St, London W1W 7PQ
Blag your way into Quo Vadis members club and take your laptop game to the spacious bar upstairs. Speedy wifi, seriously comfy seats, plenty of natural light plus a seriously tasty lunch menu, yep, all boxes ticked.
26-29 Dean Street, London, W1D 3LL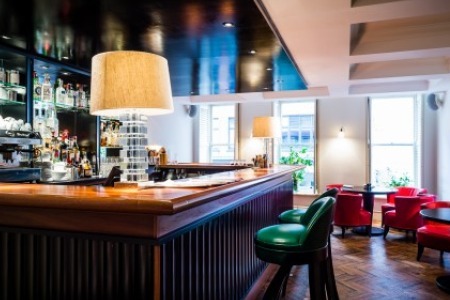 SOUTH
Peckham Refreshment Rooms, Peckham
Become part of Peckham's freelance community at this friendly little tapas bar. It's probably one of the only places where you won't be judged for ordering only a single plate of cheese all day. Open from 7am.
Unit 4, 12-16 Blenheim Grove, London SE15 4Q
Pitch up on the poolside at Brockwell's Lido and grab a table at The Lido Café. Buttermilk pancakes, fresh juices and a Beta Booster cocktail (made with beetroot and carrot it's basically healthy) are waiting. Need a work break? Watch the bods lap past you or even jump in for a lunchtime dip; exercise, work and pancakes all in one place? It's BarChick's favourite.
A2214, London SE24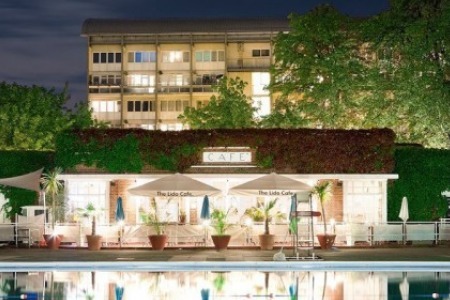 The Breakfast Club, Battersea Rise
News on the radio, toast on your plate and peanut butter in your milkshake; checking emails at The Breakfast Club is a nostalgic affair. You'll feel like you're getting ready for high school all over again, chilling out, relaxing, maxing... all cool.
5-9 Battersea Rise, SW11 1HG
Set your alarm for the crack of dawn and get down here for 9am. Don't be distracted by the board games and don't get lost in the maze of rooms upstairs.
Unit 7 Market Row Brixton London SW9 8LB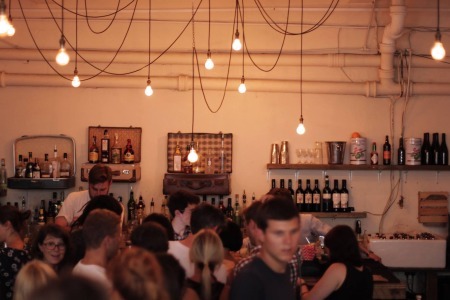 The sort of place that makes you wish you hadn't finished that assignment already. Light, breezy and big on brunch. Chances are you'll get one of the big tables to yourself too.
67 Peckham Rd, London SE5 8UH
This spot is the brunch brothel of the south and is great for daytime vibes, delicious coffee and a bangin Bloody Mary. Just in case you need a little creative inspiration.
15-19 Bedford Hill, London, SW12 9EX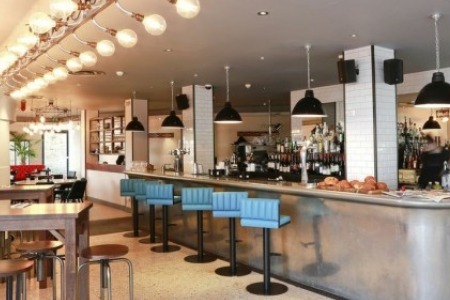 EAST
Describing itself as a 'unique social workspace' Forge & Co is spread over four floors of a 1950s building. To the untrained eye it could look like an upmarket internet café but the art gallery upstairs suggests otherwise. Drink fresh vegetable juice while chirpsing the other hot creatives.
154-158 Shoreditch High Street, London, E1 6HU
The sort of place the 15 year old you would've wanted to kick it on study days. Milkshakes, waffles and unlimited coffee refills make this media café productivity gold, and free wifi 'til 2:30am, well you might as well sack off your flat too.
5 Kingsland Road E2 8 AA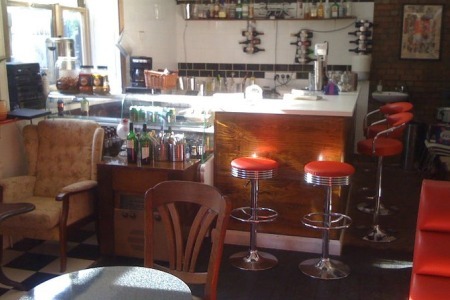 Probably the coolest thing to happen to Shoreditch in a while, The Ace Hotel not only looks the business but prides itself on helping you get down to it too. An array of experimental juices keep the brain lubed up and an itinerary of guest speakers seek to inspire the soulful, or something like that. Oh and Hoi Polloi in The Ace has plug sockets at every table, so you can eat, work and present simultaneously.
100 Shoreditch High Street, London, E1 6JQ
Perhaps confusingly not a laundrette come bar, but simply a bar. Don't show up here with your dirties but do expect to destroy your to-do list. Drink cocktails while you type, this place is owned by the guitarist from Radiohead so it's only right that you rock & roll as you work.
2-18 Warburton Road, London, E8 3FN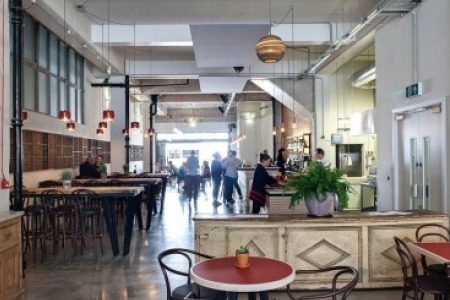 Daytimes at Shoreditch House are devoted to the freelance dream; ping-pong tables become communal work benches and half price Mondays mean you can still pay your bill even if you spent all day on Facebook.
Ebor Street, Shoreditch, London, E1 6AW
An undisputed favourite, Timber Yard smashes it with Has Been Coffee, lightning speed wifi and a plethora of plug sockets. If you've got big dogs coming into town book the private meeting room for a fee of £50.
61-67 Old Street, EC1V 9HW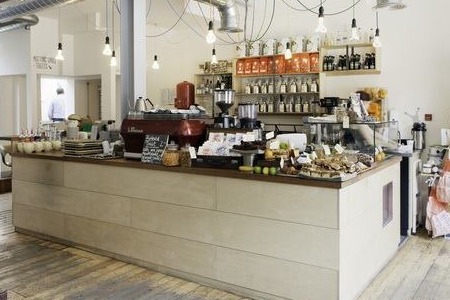 Handily located at Old Street roundabout for the Northern line and a million different bus routes for important last minute meetings. Practicality aside though the Hot Flat-White Russian looks just like any other coffee, so no one needs to know about the rum.
213 Old Street, London, EC1V 9NR
Department of Coffee and Social Affairs, Farringdon
Say you work here and people will assume you either work for the government or the Ministry of Magic. Why ruin the enigma by correcting them?
14-16 Leather Lane, London, EC1N 7SU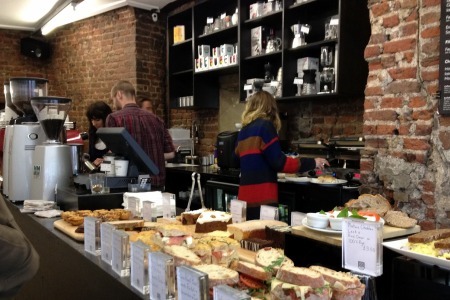 Bring your bike, bring your laptop and prepare to get sh*t done. Decent food and ninja baristas keep the whole of EC1 coming back for more. Good name too.
49 Old Street, London, EC1V 9HX
Weekends here have been overtaken by overexcited estate agents and Essex boys but weekdays are still sacred. Notorious for its low rates, why not book a room if your eyelids begin to droop?
81 Great Eastern St, London EC2A 3HU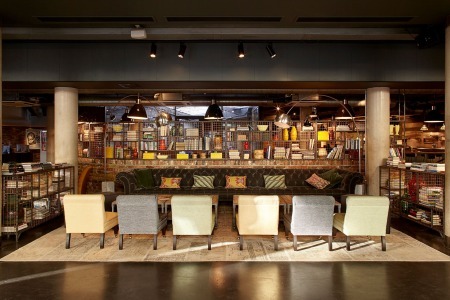 Yes, a bit of a dork fest but who doesn't want to pretend they work at Google HQ? This place feels like high school, except there are start-ups instead of stoners. An engine for collaborative innovation, apparently. See? You're cleverer already.
4-5 Bonhill St, London EC2A 4BX
Breakfast starts at 8am meaning pre-office meetings are more than definitely on the cards. Plenty of hotties rock up and get a table for two to share with their laptops, and informative talks and life drawing lessons kick the brain into action.
100-106 Leonard St, London EC2A 4RH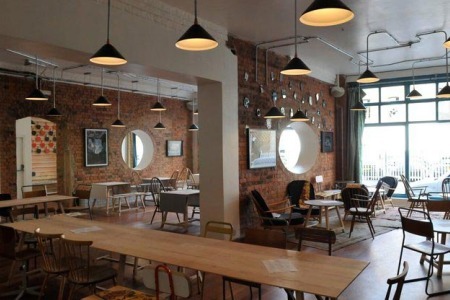 WEST
This old-time toff favourite has had a bit a bit of a facelift and a slight name change. Don't worry, it's still just as classic but now with lighter bites and wifi.
577 King's Rd, London SW6 2EH
A meeting place for the smoking hot and starving hungry in Notting Hill, The Electric is for freelancers earning a decent day rate. Feet off the seats, there'll be no slumming it here, just straight up schmoozing and chardonnay.
191 Portobello Rd, Notting Hill, London W11 2ED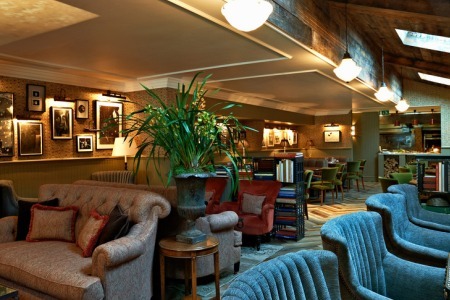 Located just off the Kings Road this is a sloaney Shangri-la with a home from home atmosphere, meeting rooms and a banging breakfast menu which makes this the perfect place to log on.
354 Kings Road, Chelsea London, SW3 5UZ
Paradise By Way Of Kensal Green, Kensal Green
A west London favourite, folk from all over London jump on the ginger line to hang here. There's a breakfast menu, comfortable seats and live music to look forward to in the evening.
19 Kilburn Ln, London W10 4AE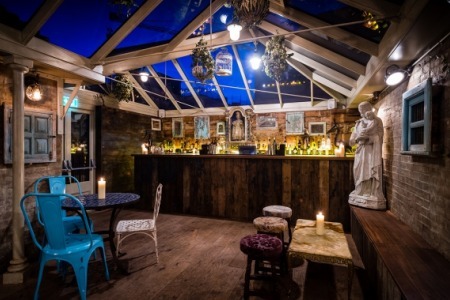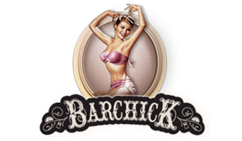 Brought to you by the babes at BarChick - the world's best bar guide.