Whether you're after work boozing in London or getting a Brighton beachside fix, when the sun shines on the UK it's basically criminal to drink indoors. Go and grab that extra vitamin D while you can at one of these epic rooftop bars.
Boozing on a carpark roof
From 28 May this summer there's only one south-side joint that Londoner's will be catching some rays and that's Frank's. Up on top of a Peckham car park roof is this legendary summer combo of mega views, an achingly cool crowd, killer (cheap) cocktails and BBQ legend Mike Davies on the menu. BarChick will see you there.
10th Floor, Peckham Multi-Story Carpark, 95A Rye Lane, SE15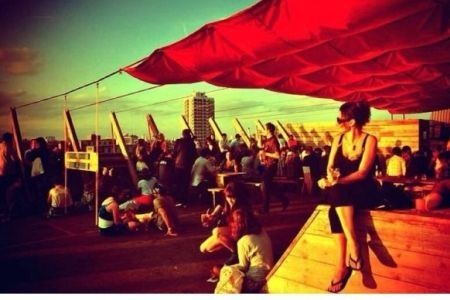 Brummy sun trap
Cross New Orleans voodoo with British charm and you'll be well on your way to a religious experience in the Jewelry Quarter. As the HQ for the super cool Soul Food Project, this food driven, stained-glass, Art Nouveau number draws in a chilled out crowd that knows something good when they see it. Head to the roof, try to snag BarChick's favourite seat in the house, the seat of honor - an old church throne, naturally - and soak in some rays while sipping on some seriously delish concoctions. Word on the street: they're adding a cinema up there. Bring. It. On.
22 Great Hampton Street, Birmingham, B18 6AQ
Relax to the max
Known for their epic spa, it's no surprise the roof terrace on top of this hotel feels like a garden oasis. The sofa tables are ace and perfect for melting into while chowing on some seriously good BBQ. With a view that stretches to forever and where you can sightsee the whole of the historic city, sack off the punting and kick back with a Pimm's and watch as the world turns beneath you.
24 Thompson's Lane, Cambridge, CB5 8AQ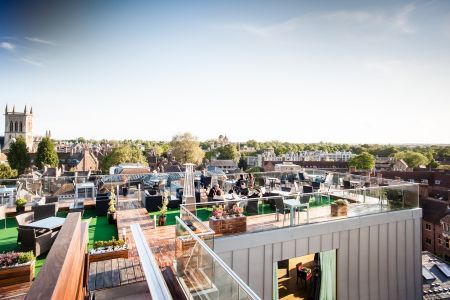 A legend for a reason
Candles, chandeliers, and plush sofas are what you can expect from this chic party bar tucked unassumingly on Westgate Road. After a decade of providing Geordies with tiki flavoured killer cocktails, Tokyo has the ability to impress even the most veteran drinker with booze masterminds behind the stick just waiting to blow you away. Secluded, with heat lamps and blankets just in case, their terrace is the place to be, so be sure to arrive early to claim your territory.
17 Westgate Road, Newcastle NE1 1SE
A Margarita garden, on a terrace
While jetting off to Mexico might not be on the cards, sitting in Cielo Blanco is the next best thing. Traditional religious icons? Check. Neon lights? Check. Top notch tacos and margaritas? Double check. Perfect for larger groups, hang out under their glass roof late into the night, or venture al fresco into their Margarita Garden terrace for jugs of blended 'Ritas, made just how you like 'em.
415 Trinity, Albion Street, Leeds, LS1 5AY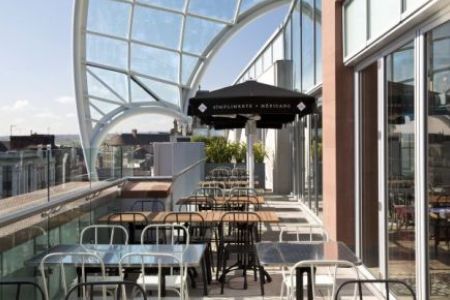 Champers and sunglasses
Get past the maze of unexpected wonders downstairs and you will find this rooftop secret getaway. Complete with greenery and recliners, people gather from morning 'til night to OD on sunshine, people watch and indulge. Astroturf and Champagne is the name of the game here, so sit back, relax and let the world bring you the finer things in life. Just don't forget your sunnies. Oh and make them big.
54-55 Meeting House Lane, Brighton, BN1 1HB
Sushi with a View
Perched on the 39th floor of the Heron Tower, this glam number is all suits, stilettos, and a heavy dose of labels, but the masterful drinks from Rich Woods makes everyone get on just fine. With a sexy outdoor bar wrapped around an orange lit tree, plus some serious firepits, this is the perfect spot to soak in that ridiculous (and we're talking best in London ridiculous) view, hit the cocktail list and toast to the good life.
Heron Tower, 110 Bishopsgate, London, EC2N 4AY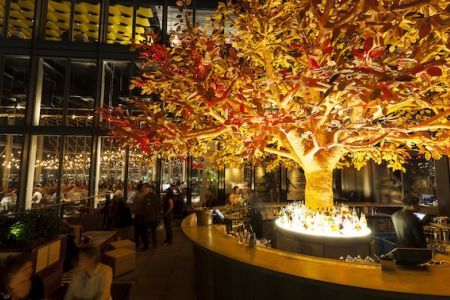 Historical drinking
This hidden gem, located in a Grade II Historical building in the financial district, has a jewel in its already awesome crown: a sky high gin-centric bar complete with cigars, craft beers and all classic cocktails you could dream of. Having returned for its second season, it's still Birmingham's best kept secret, so be sure to get in on the action.
110 Colmore Row, Birmingham, B3 3AG
360 boozing
From the ground it looks like yet another office block, devoid of any value to your thirsty, fun-loving self. However once you get whisked up to the 12th floor, you'll discover 360 degree views with some of the best cocktails in town. Work your way through their epic drinks list and party well into the night. Find yourself in need of nibbles? Their kitchen is mega slick so be sure to get involved.
Tower 12, 18-22 Bridge Street, Spinningfields, Manchester M3 3BZ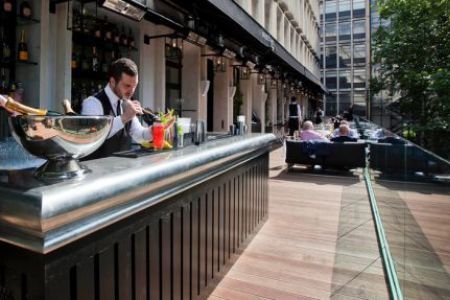 The surreal watering hole
Expect the unexpected on your way up at this multilevel sensory overload where you will find everything from an inside lake to a tropical paradise. Surrounded by views of the Glaswegian architecture, keep warm by the fire-pit and up your whisky game with their Whiskey Club or grab some food from their blindingly good kitchen. Either way, this is where you need to be this summer.
8-12 Ashton Lane, Glasgow G12 8SJ
BLACK DOG BALLROOM - MANCHESTER
An all-day affair
Imagine one part speakeasy, one part epic BBQ, with super charming staff and karaoke battles chucked in and you might start to get the idea of the Black Dog Ballroom. Head straight up to the terrace where exposed brick work and glass birdcages await you, along with a tiki styled bar pumping out great tropical drinks and breakfast served up 'til 4pm (this place has hair of the dog written all over it). Get bored of the view? It's down to the main bar for classics and debauchery till 4am.
Tib Street/ Church Street, Northern Quarter, Manchester, M4 1PW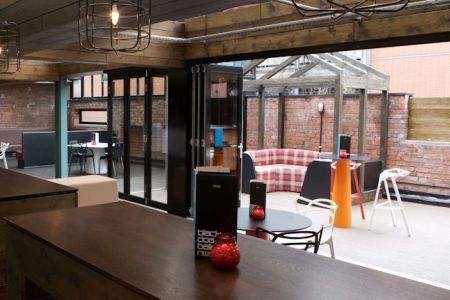 Artsy oasis
Hidden down on Pink Lane, this former Victorian boxing gym packs a punch with some very welcome surprises. While the main bar may still look like an old school boozer, kids in the know hit up their secret rooftop garden where they sip pretty under local artwork and hang out on picnic benches well in to the night.
Pink Lane, Newcastle Upon Tyne, NE1 5DW
Double trouble
Sneak high above the shops of Regent Street, where the young, beautiful and absolutely loaded come to sun. Divided into two areas (Spanish and Japanese, since those are a totally logical pairing), skip it all together and head straight to two epic terraces, where you can soak up the view and the booze with Asian influenced classics like their green tea Pina Colada.
5th Floor, 240 Regent Street (entrance on 30 Argyll Street), London, W1B 3BR