For me, breast cancer is both personal and professional. My sister, Adrienne, has breast cancer. Adrienne's cancer has spread to her bones, known as secondary breast cancer, for which there is currently no cure.
She is trying to get on with her life as best she can and appears normal, but the impact of her pain control medication and bone-protecting drugs takes its toll through fatigue and the loss of a tooth or two along the way. Then there is the distress of knowing the sadness that she will 'cause' when she is no longer with us. Feeling responsible even though it hasn't yet happened, anticipated grief can be as debilitating as the real thing.
Whilst I got involved in the breast cancer field nearly 20 years ago and have seen first-hand how the disease changes lives, speaking about women dying from breast cancer never becomes any easier. But we simply cannot afford to give up now.
Breast cancer remains the most common cancer in the UK, with 50,000 women being diagnosed each year. But survey statistics released by Breast Cancer Campaign reveal a major discrepancy between the public's perception of how UK breast cancer survival rates compare to other European countries and the reality of the current situation.
A study we carried out with ICM showed that just a quarter of Britons are aware that the breast cancer survival rate in the UK is worse than the European average, as we lag behind countries such as Italy, Portugal and Malta.
These statistics came to light as we recently launched a new nationwide campaign, 'Spread the word', to highlight that too many women are still dying from breast cancer.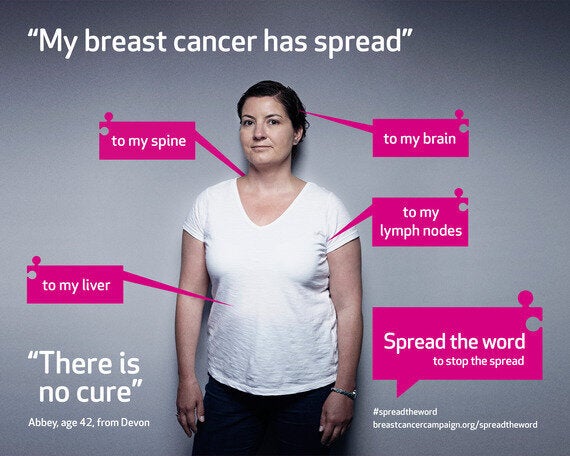 The 'Spread the Word' campaign aims to bring together all those who believe in beating this disease to send a clear message to politicians that breast cancer must be on their agendas when agreeing manifestos ahead of the 2015 general election.
As outlined in our latest action plan, Help Us Find the Cures, there is so much more that needs to be done to improve survival rates in this country. I firmly believe that we must have ambitions for breast cancer survival that take us to being amongst the best in Europe; aiming for average is not good enough.
Whilst we are incredibly proud of our collective achievements and of the significant progress that has been made through breast cancer research in the UK over the past 20 years, there just is not time to pause for breath, let alone become complacent. Learning that just a quarter of people are informed about comparison survival rates must motivate us to do more; it must stir us to action and it shows that now, more than ever, we need to be talking about breast cancer.
In the UK, breast cancer is not a 'done' deal. Some 12,000 women are still dying from the disease every year and to take our foot off the gas at this point would be to forget about these women and their families.
Our 'Spread the Word' campaign features a remarkable woman named Abbey (above), who you may have seen interviewed as part of an extremely emotive article in The Sunday Times. Abbey's story is an incredibly powerful example of why our new campaign is so important and a vital reminder of why we urgently need to take action.
Having felt both pain and a lump in her breast whilst on holiday, Abbey visited her GP upon her return. She was diagnosed with breast cancer and very shortly afterwards discovered that it had also spread to her liver.
Unfortunately, once cancer spreads from the breast to other secondary sites of the body, it cannot currently be cured. Abbey has been forced to confront an impossible situation and to begin preparing her 9-year-old son and her fiancé for their lives without her.
Now back at work part-time, Abbey has shown bravery beyond belief to make a stand and publicly spread the word about what happens when cancer begins to spread.
Too many women are being put in this position and there are too many stories like Abbey's every year in the UK. We cannot afford to forget about these women and their families and we must not cease in our work if we are to explore every avenue to overcome and outlive breast cancer in our lifetime.
To you, Abbey - we are so grateful to you and your family for supporting the campaign and sharing your story. All of us at Breast Cancer Campaign continue to be inspired by your strength, bravery and passion to see better outcomes for secondary breast cancer patients.
'Spread the word' is a demonstration of our commitment to doing all that we can for women with breast cancer and we are calling on people across the country to write to their MPs to ensure that breast cancer is on their agenda for the next election and beyond.
It could not be easier to take part in the campaign. Whether it be by contacting your MP, signing up to a breast reminder email, promoting the campaign on social media or encouraging other people to take part, there is a way for everyone to spread the word and it will take all of two minutes.
We owe it to the 12,000 women who lose their lives to breast cancer every year in the UK to once again demonstrate our steadfast commitment to improving diagnosis and treatments, and to continue building momentum by spreading the word about the lifelong impacts of breast cancer.
To spread the word and call for more to be done to tackle breast cancer by emailing your MP, simply click here. By spreading the word, you'll be helping us to finally beat breast cancer.