In just over a week's time, pink will be (hopefully) completely unavoidable. The dawn of October brings with it the beginning of Breast Cancer Awareness Month - a month dedicated to increasing awareness of breast cancer, raising funds for research into the disease, and ensuring that issues affecting breast cancer patients remain high on the political agenda.
Pink has become almost inextricably synonymous with breast cancer over the past fifteen to twenty years, and Breast Cancer Campaign is as proudly culpable as any. As debate over the meaning of the colour rages on, pink continues to mean a lot to our organisation; we hope that pink, and more importantly, breast cancer, is a cause that you will continue to passionately support this month. After all, breast cancer is still on the increase in the UK, with 50,000 women being diagnosed with the disease each year.
For Breast Cancer Campaign, the centrepiece of each Breast Cancer Awareness Month is our annual flagship fundraiser, wear it pink. Taking place this year on Friday 24 October, we are asking supporters across the country to simply wear something pink and donate whatever they can to help fund research into breast cancer.
2014 has seen us give wear it pink a makeover. Our new theme, 'Look good. Do good', makes it even easier to participate, for men and women alike. Indeed, the beauty of wear it pink 2014 is perhaps in its simplicity and flexibility: all we are asking you to do this year is to look good (and do good), using pink however you desire.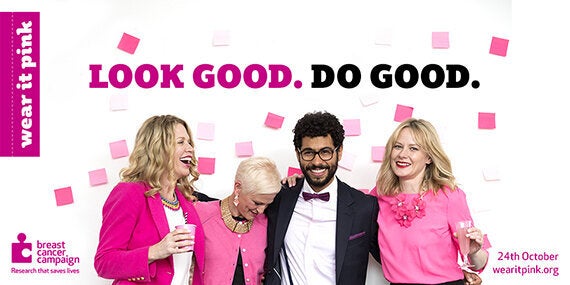 On the 24 October, simply open your wardrobe door, choose to wear your pink shirt, earrings, nail polish or jumper for the day and make a donation. This year you can wear as much or as little pink as you feel comfortable in.
Having launched wear it pink 2014 just over a month ago, we have been truly overwhelmed by the response. The campaign has been publicly backed by celebrities and style influencers alike, and it has been our pleasure to have five very dedicated and talented women supporting wear it pink this year.
Earlier this month, our wonderful celebrity supporters Kirstie Allsopp, Rebecca Adlington, Alex Jones, Lauren Pope and Eliza Doolittle took part in a photo-shoot in their own respective places of work to highlight just how easy it is to look good and do good at work and to help fund research by 'wearing it pink'.
We were also delighted to gain support from 176 MPs, including the Secretary of State for Health Rt Hon Jeremy Hunt MP, the Shadow Secretary of State for Health Rt Hon Andy Burnham MP and the Secretary of State for Business, Innovation and Skills Rt Hon Vince Cable MP, when they joined us in Westminster to show their backing for wear it pink and the fight against breast cancer in the UK.
All entered into the spirit of the campaign, donning subtle yet stylish pink ties, necklaces, jackets and rosettes or by taking the opportunity to forsake the usual parliamentary dress-code in order to go all-out in feather boas, sparkly pink wigs and sunglasses.
As light-hearted as this all may sound, our mission, and the purpose behind the pink, is an incredibly serious one. Our fight is far from over, with 1,000 women still dying from breast cancer every month.
And whilst providing an annual excuse for many to dress slightly more flamboyantly than usual, wear it pink has come to represent so much more to our organisation.
It is a day of powerful unity, as we clothe ourselves in the armour of our cause. Pink has become part of our identity: when you join the hundreds of thousands of people who take part in wear it pink, you become part of a collective force of scientists, supporters and people affected by breast cancer, passionately striving to beat this dreadful disease through ground-breaking research.
For many it's a day of fantastic fun, in the midst of a potentially miserable time dealing with breast cancer or its after-effects, bringing laughter, and colour - perhaps even a day of respite to families and communities affected by breast cancer across the country.
The power of pink in galvanising the breast cancer community to fundraising action has been nothing short of astonishing. First piloting the concept in 2002, little did we know just how generous, and pink, our supporters could be.
This will be the 13th year we have run wear it pink and in that time hundreds of thousands of supporters and their friends and families have been mobilised to fund cutting-edge research into breast cancer. wear it pink now raises more than £2 million each year and in total has raised an extraordinary £25 million to date for breast cancer research that saves and improves lives, giving women quicker diagnosis and more effective treatments.
As October draws near, the importance of pink and of wear it pink to what our organisation is able to achieve cannot be stressed enough. Every pink sock, scarf or shirt, makes a difference. Every wig, watch, cravat or crew-neck will raise money to help us find the cures for breast cancer. Every pink workplace, every lunchtime quiz, every pampering night, bake sale or pink raffle will help bring us one little step closer to stopping women dying from breast cancer.
With just under a month to go, it is not too late to sign your workplace up to wear it pink or to host a pink party in the comfort of your own home. Just ask your friends to wear something pink on Friday 24 October and donate what they can. Helping fund world-class research into breast cancer has never been quite so simple. Sign up now by clicking here.
Related