On Monday, breast cancer was once again inked across our national papers. The moral of the stories being quite simple: the breast cancer research landscape has a number of holes that need filling, as a matter of urgency.
At Breast Cancer Campaign, this is something that we are particularly passionate about. More specifically, as outlined in our 2013 action plan, we are wholeheartedly committed to identifying the gaps in our knowledge on the risk factors and prevention of breast cancer - and working out how we can fill them.
A research paper that goes some way to establishing this process was, on Monday, published in the journal Breast Cancer Research, entitled 'Risk Determination and Prevention of Breast Cancer'. The research, funded by Breast Cancer Campaign, highlights the critical gaps that must be addressed if we are to reverse the increase in breast cancer that is expected over the next decade.
The research also indicates that high breast density is a particularly significant risk factor, with women with the highest density up to five times more likely to develop breast cancer than those with low density.
Breast density refers to the amount of glandular tissue and collagen in the breast compared with the amount of fat. High density occurs when there is more collagen and glandular tissue than fat in the breast. To put that into more visual terms, high density refers to the amount of white in a mammogram.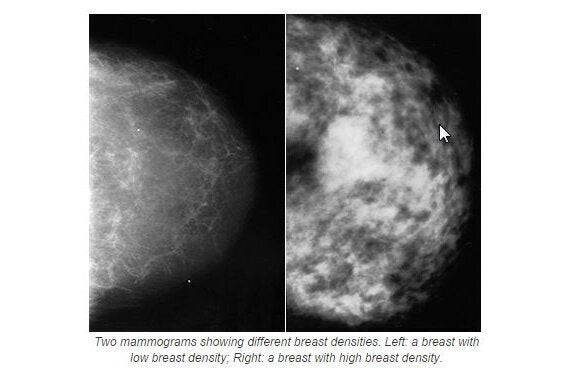 Our estimates show that over 700,000 women in the UK could have high breast density. That is 700,000 who would have their risk re-defined more accurately if we began to look at their breast density.
I must clarify that our aim is not to scare, shock or speculate, and we would not propose that breast density be used as a stand-alone indicator of risk. We simply believe that breast density is a valuable piece of information that must be added to the currently-identified list of risk factors used to inform women of their own individual risk of developing the disease.
Having been told you have a 'one in eight risk' of developing breast cancer during your lifetime, one critical question remains: "am I the one who develops it or one of the seven who don't?"
This is part of the current challenge for the breast cancer community; we need to find better ways to estimate breast cancer risk, and our organisation strongly believes that breast density could help us do this.
We believe we are approaching a tipping point in our ability to estimate risk and prevent breast cancer, but to see such progress we really need to act now.
Economically, the research needs are similarly critical. Breast cancer is an increasing, and expensive public health problem. The cost of breast cancer to the economy stands at an estimated €1.4billion, with 40% of that on healthcare alone.
This is a really significant burden, and one that highlights just how vital prevention is. After all, the best weapon in overcoming breast cancer is the ability to stop the disease developing in the first place.
To fill this gap, we are committing £1million to prevention research, including funding three projects into breast density monitoring and the predicted effect of preventive therapies. But in order to be able to drive progress and target these research gaps, we need to raise a further £8.5million in the area of breast cancer risk and prevention.
Time really is of the essence. We must not be complacent in our thinking about breast cancer in this country, and we have to want to do more. If we don't act now, by 2030, around 185,000 lives could be lost to breast cancer and a staggering 1.2million women could be living with the disease.
As the paper outlines, through research in this area we believe that we can be optimistic about the future. It is our hope that breast cancer can be overcome - prevented, cured and outlived - by 2050.
If we are to reach this turning point, however, we must work together. Research alone will not be enough and we need to create a scale of leverage that enables us as a nation to do more; to not only catch-up our European neighbours in breast cancer survival rates, but to begin leading the way.
As such, on top of our commitment to prevention research, we are calling on Public Health England to work with the breast cancer community to develop a risk and prevention action plan that will ensure we cut breast cancer incidence across the country.
Whilst breast density is an established risk factor, it is not being used to calculate women's risk of the disease. Given the prevailing evidence, and with trials currently underway, we hope that a pilot to incorporate breast density into the NHS Breast Screening Programme will be established within five years.
Until progress is made on a scientific and clinical level that enables women to be better informed about breast density and their own risks, however, it remains even more vital that women are aware of the signs and symptoms of breast cancer and report any unusual changes to their GP.
Similarly, it is crucial women know their family history of breast and other cancers, and to talk to their GP about this if they are at all concerned.
Awareness of the role of lifestyle factors in the development of the disease will also be crucial to our ability to prevent breast cancer. We know that lifestyle adjustments - including achieving and maintaining a healthy weight, regular exercise (around 30 minutes, 5 times a week) and reducing alcohol intake - could prevent 30% of all breast cancers. That's 15,000 cases each year.