"Together, we are building a creativity economy in a region whose young people are an asset, not a liability."
I'm standing in the old Iraqi embassy of Tunis, newly transformed into Cogite, the country's first co-working space. I was drawn to our host, Houssem Aoudi, when I spotted him across the room in a Dismaland t-shirt. He tells me of his love for Banksy and a recent trip to the artist's dystopian themepark in Weston-Super-Mare. He's decided he has to bring it to Tunisia. I can see how pertinent and poignant it could be amongst the faded glamour of forgotten amusement parks and empty seaside resorts, now that the holiday season is over.
Aoudi is co-founder of Cogite, set up just after the Revolution in 2011 with the hope to be more than just an alternative to the traditional office for the digital workforce. It calls itself a 'Community of do-ers' and has become an oasis for a growing number of social impact-driven entrepreneurs and organisations, contributing to the country's transformation to a more democratic and open society.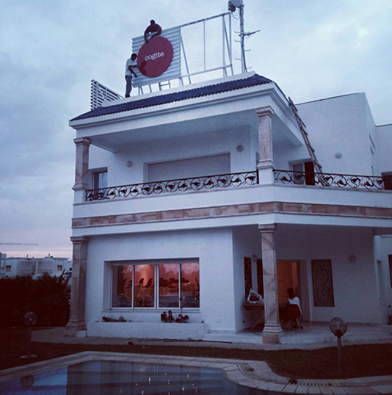 "It's a space of engaging citizens aiming at creating alternatives", he says. "As entrepreneurs we share a communal sense that it is our duty to construct Tunisia. For me, entrepreneurship is a kind of resistance against unfriendly banking systems and our old-fashioned government. Being an entrepreneur offers us a valve to breath with."
Cogite also hosts TEDxCarthage, intended to show what is possible in Tunisia and beyond, through individual and collective endeavour. Since 2010, there have been 6 TEDxCarthage events, including TEDxCarthageWomen, which was so popular it sold out in four minutes. The event came at a time when many Tunisians were expressing discontent over the slow pace of reform, and it sought to reignite their optimism. With audiences ranging from 1,500 to 2,000 people per event, TEDxCarthage has become one of the largest free speech events in Tunisia. This project, and others being created in the space, all hope to contribute to the emergence of a more innovative public sphere.
Tunisia still faces many challenges. Its citizens are among the largest groups of foreigners joining Islamic State in Syria and Iraq. Tunisia itself has been hit by two big terrorist attacks this year, further damaging the tourism industry. And its economic system is plagued by corruption and cronyism.
But there is a new wave of energy and enterprise, recognized last week by the Nobel Peace Prize. Awarded to the National Dialogue Quartet, a coalition of civil-society organisations, for rallying the public behind the constitutional process and concluding the revolution with peaceful, democratic elections. The prize highlights Tunisia's remarkable story, in contrast to many other countries where the hopefulness of the Arab Spring quickly gave way to chaos, political turmoil or stasis.
It makes Tunis a fitting choice for MidEast Creative Co-working Summit I'm attending. Hivos, the Dutch development agency, has gathered a diverse collection of young men and women from across the Arab region who are seizing the opportunity to spread a new movement of enterprise in tech hubs, art studios, hacker and makerspaces. Providing more than just a place to work, these spaces serve as an anchor for communities of young, motivated individuals who are transforming the ways in which people work, creating new types of jobs and reinvigorating the cultural life of their cities.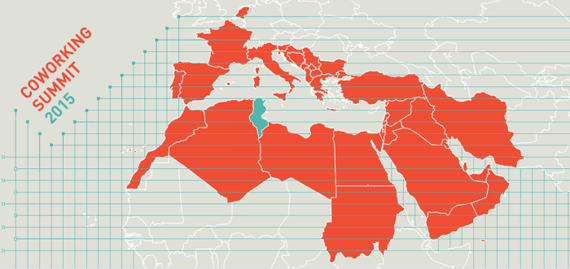 From the capitals of Beirut and Cairo to smaller Moroccan surf towns, there are now over 100 shared workspaces, 88% of which were established after the 2011 revolutions and 30% in the last year. Moreover, in the male-dominated environment of start-ups and entrepreneurship, there is significant female participation at the summit, with female founders representing 30% of the hundreds who applied to take part.
Many of these entities, like Cairo's Hackerspace, are living through a revolutionary context. Others, like Basra's Science Camp, were born in a country grappling with war. All of them face significant political, social and economic challenges which can make running them a lonely and difficult process. During introductions on the first night, we remember one of the participant's co-founders who was recently killed in Iraq. Though there are formal sessions on finance, community building, new tech and leadership, the group quickly makes the agenda its own. The summit allows them to share experiences and find solutions between them, a rare opportunity to meet peers in a region where just getting visas is difficult.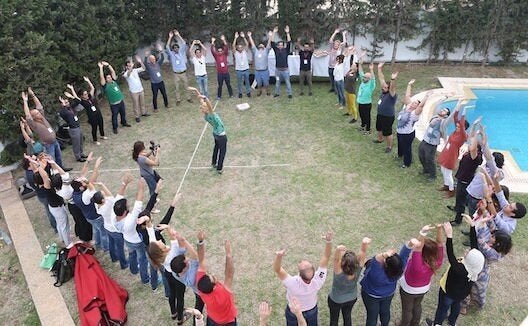 My team at the British Council have partnered with Hivos on several activities such as Creative Enterprise workshops. We're keen to do more together, connecting our complementary initiatives with creative hubs in different regions of the world. We discuss how we might link this entrepreneurial energy with local public institutions and other community groups, to support diverse forms of leadership which inspire systematic change for a greater number.
As MidEast Creatives' Arthur Steiner says of the dynamic group he convenes, "Together, we are building a creativity economy in a region whose young people are an asset, not a liability."
Beatrice Pembroke is Director of Creative Economy at British Council, which supports international collaborations, innovation and enterprise with the creative and cultural industries. She is also co-founder of techforgood.global.