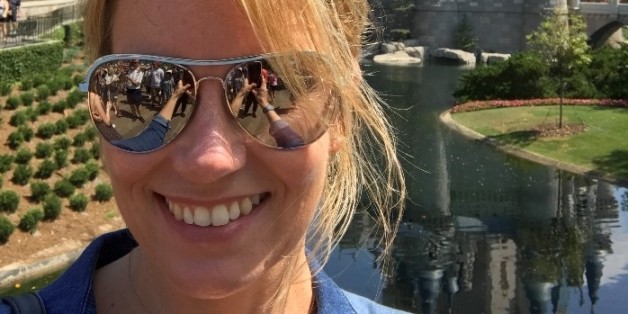 Becky Moore
It's 2009. I'm with a small group of fellow mums and we're walking through the gates of Walt Disney World, Florida for the first time ever. Even though we've only just met, our excitement has brought us together and we're firm friends already. Spotting beautiful Cinderella Castle for the first time - pretty, pastel and huge at the end of bustling Main Street USA - we're already grabbing each other's hands, laughing and breathless with disbelief.
That week was life-changing in so many ways. We explored the parks, ate delicious food, cried as the fireworks exploded over the castle, swam and played at Blizzard Beach. We talked about our families, our worries and our hopes and dreams, we laughed and truly relaxed. Before, I was a stay-at-home mum: a bit lonely, a bit sad, missing my friends and family back in Hertfordshire and writing a blog to stave off the boredom of long days spent in this strange country where shops closed at lunchtime, you paid by cheque and the shop assistant wrote the long card number out - in full - on the back. When I came back, everything was different. I knew what I wanted to do: I wrote about the trip and the comments came flooding in. I started to view that little website differently, not just as a slightly sad online diary documenting my life, but my own corner of the internet: a place for inspiration and creativity. I was happier and more confident and it showed in what I was writing.
Eight years later, and we're still in contact. We keep in touch and get together whenever we can. And although our lives have changed dramatically - there's been sadness and happiness, divorces, new careers, marriages and more - we'll always be friends. Our holiday changed so much for all of us.
My own little family are now back in England. My boys are grown up and the blog is now my business. I write about lifestyle, food and travel (specialising in Disney holidays - go on, ask me anything), and Walt Disney World is still my favourite place in the whole world - I've returned time after time: with family, friends and even alone.
What I've learned over the years is that this wasn't just my first holiday without the kids, it was the place where I finally found the confidence to be myself. I find that you either 'get' Walt Disney World, or you just don't. But for me, a place where you can wear flowery Minnie ears with pride, shoot laser blasters without hiding your competitive nature, belt out Frozen songs at the top of your voice, scream on a rollercoaster, eat an ice-cream, no, eat two ice-creams, with sprinkles, really is the Happiest Place on Earth.
That moment - that first walk down Main Street USA, taking in the wonderful atmosphere, feeling the sunshine on my face, hearing the music and laughter, soaking up the sheer joy of Walt Disney World - ended up changing my life forever. And even now, every time I set foot inside the Magic Kingdom, my heart soars, not just because it's my favourite place in the whole world, but also because without it, my life would be so very different.
If you're thinking of booking a break, you should know that British Airways Holidays takes the stress out of planning, booking and going on holiday, from start to finish. British Airways Holidays never forgets that your holiday is something you never forget.