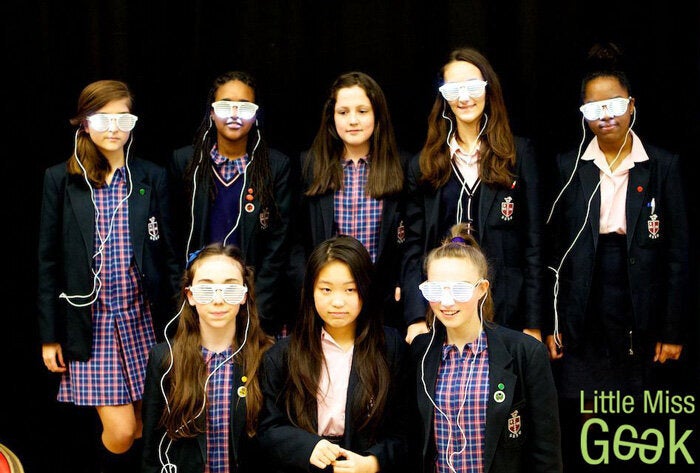 There are certain things that are just "meant" to go together in life. Cheese & Pickle. Posh & Becks. Then there are those combinations that have never been, and are unlikely ever to be, considered a match made in heaven - the "Socks & Sandals Practice of Poor Pairing", if you will. But boundaries are made to be broken.
On Thursday 25th April at St. Saviour's and St. Olave's School in Elephant & Castle, the typical school day was shaken up. The Little Miss Geek Wearable Tech event supported by Dell & Microsoft, in celebration of International Girls in ICT Day, took a group of girls ready for just another day of lessons and led them on a figurative journey out of the classroom and onto the catwalk. But not just any old catwalk, this was a boundary-breaking-catwalk; where "Fashion & Tech" squeezed into the same breath felt as reassuringly natural as combining the words "Dolce" & "Gabbana".
We wanted to shatter the myths that technology is a boring 'boys' club'. Girls see fashion as a creative fun industry. Conversely, they see the tech industry as a dull place to work for 'pizza guzzling nerds'. By fusing fashion with technology we were out to demonstrate just how creative technology can be and empower the girls to believe in the endless possibilities of working in tech.
Claire Vyvyan Executive Director and General Manager at Dell UK wanted to get involved because she believes "Across the world, women are significantly underrepresented in the technology industry and as a result are missing out on the chance of pursuing a really rewarding and exciting career. Dell's aim is to educate and inspire the female workforce of the future to pursue a career in IT, and the Little Miss Geek campaign is a perfect fit with this mission."
So Wearable Technology was the theme for this day of fashion-meets-futurism. After an introduction from local MP Justin Tomlinson on the importance of drawing more women into technology, we had our own set of female speakers to shed some light on the fashion-tech industry for the girls.
Clara Mercer from the British Fashion Council, brought live-streamed catwalks to life for us and reflected on the ever-expanding space for fashion at the cutting edge of our technologically-evolving lives. Charu Desodt, who works for Microsoft's Lift London Games Studio, further captured imaginations as she told the girls that there is "so much [for them] to do and so much to change" in the industry.
By the time Francesca Rosella, creative director of CuteCircuit (whose dresses have been worn by Nicole Sherzinger and Katy Perry) took to the front of the room, any "boys' world" notion of technology seemed as ancient an idea as reviving a floppy-disk universe. "Boys and their toys", it is our pleasure to introduce you to "girls and their gizmos".
With Nicole Sherzinger's LED twitter dress projecting #LittleMissGeek live-tweets from the front of the room as their inspiration, the girls were able to put their own spin on LED fashion, making Little Miss Geek LED T-shirts with MzTEK, the all-female technology learning community.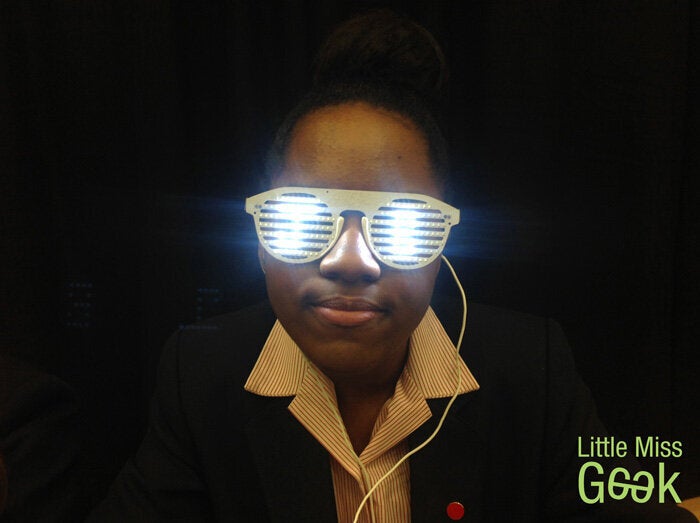 Sewing switched for SD cards, the students headed over to meet Technology Will Save Us to programme personalised Bright Eyes LED glasses. Learning quickly "on the job", they used specially designed computer software along with Dell XPS 12 laptops to control 147 LEDs embedded in the glasses to create flashing patterns and animations.
A genuine technology powered buzz filled this female-dominated room, reaching its peak as Xbox's and a Dell XPS Laptop were awarded to three excited girls for their passion and enthusiasm. Laptop winner Zea, later wrote to Little Miss Geek and said "I found [the day] truly empowering" - we couldn't have summarised the atmosphere of the day better ourselves, as girls confronted technology head on.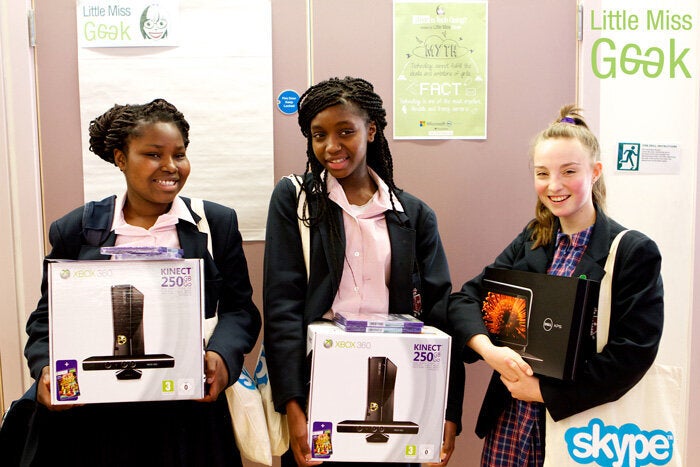 The number of females working in the technology industry may be decreasing by 0.5% every year, but out of this frenetic school scene of creativity and wearable technology came girls rushing to sign up to Mr. Talbert's computer science class next year.
It just goes to show - boundaries between females and technology only exist if we let them; that's why it's key we educate and inspire the next generation of girls to believe anything is possible, especially when it comes to technology.
@belindaparmar is the CEO of Lady Geek, founder of the Little Miss Geek campaign author of Little Miss Geek: out in paperback and Kindle edition on Amazon.
Follow us on Twitter @LadyGeek.