The annual Mobile World Congress (MWC) is returning to Barcelona on 25th February. Anyone who's anyone in the mobile technology industry will be there sharing their thoughts on the evolution of mobile technology. But where are all the women?
At the time of writing this article, only 2 of the 24 Keynote Speakers at MWC 2013 were female (8%) and only 36 of the 250 female Conference Speakers (14%) were female. These stats show that the percentage of female speakers (14%) is so low that it even falls, rather embarrassingly, below the rock-bottom UK average of women working in technology (17%). This percentage is shocking. They have a duty, as the leading event in the mobile technology world's calendar, to address the gender issue in tech and are in a position to set a positive example. MWC seems to be shouting "it's okay to alienate women, we're doing it!" whereas they should be saying "it's not a man's game, look how many fantastic women there are in the industry".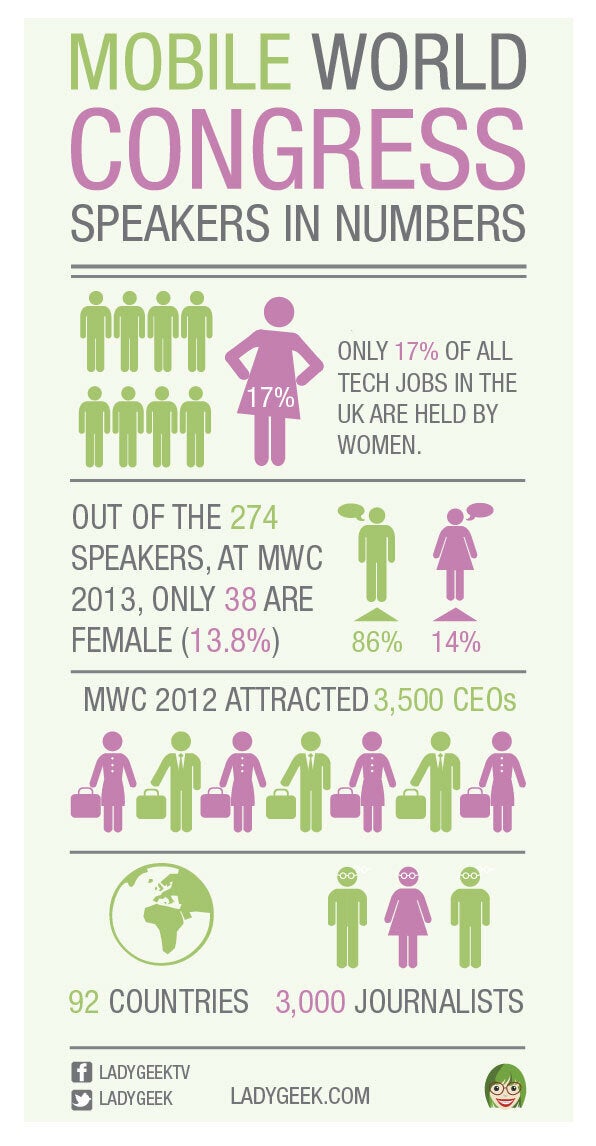 Alongside the pitiful lack of female speakers, it shocks me that there isn't a single session to confront the topic of women in tech. How are women ever going to feel comfortable if the biggest annual congregation of mobile technology industry leaders turn their back on an opportunity to welcome them into the industry?
Here at Lady Geek we've been shaking things up, challenging preconceptions and breaking free from industry shackles with our Little Miss Geek Campaign. Little Miss Geek inspires young women to become Tech Pioneers through schools, coding clubs for girls and inspirational role models.
MWC has the calibre, presence and following to build momentum and keep the ball rolling. Last year the event attracted over 3,500 CEOs from all over the world - the people who are best placed to shift attitudes. Where else (apart from possibly CES) do we see this many figureheads congregating in one location? These opportunities should not be slipping through our fingers.
At the moment it feels like we're forever going to be stuck watching all-male panels, only hearing one side of the story. Perhaps the only way to prevent this, if MWC won't do anything, is to go straight to the panelists themselves. An article by a journalist called Rebecca Rosen urges men to refuse to appear on any panels where there are no female representatives, ensuring that without female panelists there can't be an event. It's strategies like this that are, unfortunately, the only way to make a difference. It's an attitude that us Lady Geeks will actively promote amongst our following - don't underestimate the power of these tactics.
It's time for the major conferences to start listening. Outdated, sexist marketing tools - such as CES's booth babes - have been heavily scrutinised this year, and as a result it would be marketing suicide to have them again next year.
It would take just two simple steps to drastically change the tech landscape at MWC. First, even out the ratio of speakers and second, set aside a session to address this increasingly worrying issue.
Help us ensure women are part of the next technological revolution.
Popular in the Community