By Jack Owen and Ben Goldstein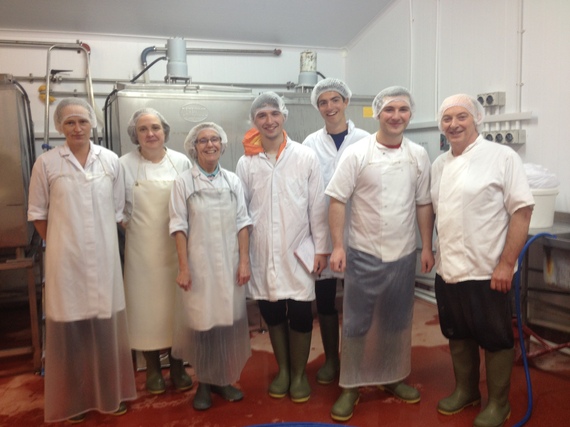 Us and the team at Rosary Goats Cheese
"Hello is that Juliet Harbutt? Sorry, but I've got a bit of a weird question."
Ben was on the phone to the self-proclaimed 'Cheese Lady', who we'd found through a hasty Google search.
Our initial summer holiday plan was to barge up the Norfolk Broads, but our middle-aged travel aspirations were not matched by a middle-aged disposable income. So we decided to do the next most obvious option: we would hire bikes, and hunt down locally produced British cheese.
"I can send you a list of all the cheesemakers in Britain. It's the only one. I know, because I wrote it."
We'd struck gold - the Cheese Lady was living up to her title.
"A word of warning. Though cheesemakers are passionate about their cheeses, they may not be so receptive to you two nutters on a bike."
Two months later, we were on a train to the suburbs of Southampton, with Juliet's British Cheese Directory in hand. We arrived at our first B'n'B stop: Rachel and Graham. We were shown to our wooden chalet replete with one cosy double bed, Sky TV and a portaloo.
The next day, we set off - ready to tear up the New Forest cheese scene with our sexy road bikes and keen journalistic eyes.
Two hours later, we were still trying to escape Southampton's complex ring road system.
Plenty of GoogleMaps-ing later, we made it to the New Forest, which was predictably beautiful. Even the sun made a brief appearance.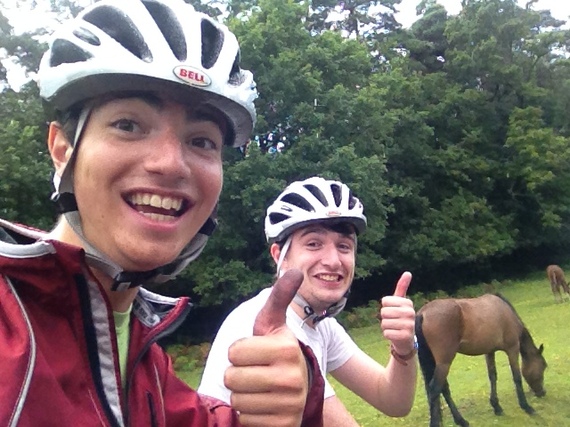 Making friends in the forest
Ten minutes before reaching our first cheese stop, though, the heavens opened once again. Before you could say "yes of course I've packed a waterproof, it's in the top pocket of my rucksack", we were drenched.
We arrived at Rosary Goats, and we were immediately ushered in and offered towels and a cuppa. We accepted both. This bespoke cheese factory is owned and run by Chris and Clare Moody, who bought goats a few months after getting married in 1986.
"Goats were quite innovative back in those days," said Chris, as he handed Ben a mug emblazoned with 'Sainte-Maure de Touraine, Toulouse'. "Oh, that's a cheese we found on holiday in France." These guys were cheese tourists too - we immediately felt at ease.
Since the early days, Chris and Clare have sold their goats, and buy in their milk to focus on the cheesemaking. Now, their products are stocked nationally in Waitrose ("there's one of those right by Ben's house," Jack chipped in) and their Garlic and Herb Goats Cheese was named Supreme Champion at the 2014 British Cheese Awards.
Supreme.
The Moodys had converted their garage into a cheese factory, and we were introduced to the three smiling staff members. We stood gawkily as Rhona - who came to Rosary seven years ago as a supposed 'retirement job' - gave the goat's cheese logs their ash coating.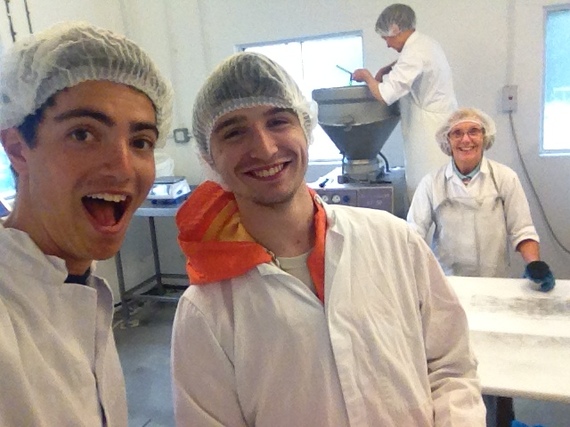 Gawkward
"There's lots of different theories why one might coat the cheese in ash," Chris began. Adam, his son who was working for his parents over the summer, interjected: "Dad, it's because the people at Waitrose think it looks fancy."
"Dad's always trying to experiment," Adam continued. "I go off to uni, and I have to relearn everything because he's bought new equipment."
Walking round the small facility, it was clear that the process was constantly being tweaked and adapted. Chris was clearly a man tinkering in his shed - it was just that his shed was an artisan cheese factory.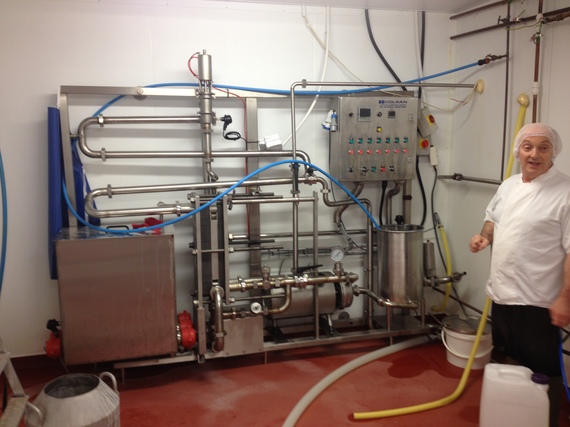 Chris tinkering with his massive pasteuriser
Back in the Moody kitchen, it was time to taste the efforts of Chris and Clare's tinkering.
"I don't think we have any crackers, do we?"
"No - even the bread's frozen."
"Do we even have a cheese board?"
"No - but we definitely have a cheese knife."
The goat's cheese, though, held its own without any accompaniments. It was creamy and delicious, but now we faced a difficult task: two people who knew nothing about cheese having to talk about it convincingly.
"It's very...um...light. I mean, I don't know how to describe it - but it's definitely not heavy," Ben tried.
"Mmm, mousse-like is what people normally say," Clare jumped in, rescuing us.
She was right! It was mousse-like.
"It's got a tang of natural acidity, but it's milder than the more mature type goats cheeses on the continent," Chris added.
"It's definitely yummy," said Jack.
Our next stop was Loosehanger Cheeses, run by hard-working couple Gwyn and Ness Williams. The couple established their company twelve years ago, after Ness had previously worked for Rosary Goats in their early years. The Williams expressed a fondness for their fellow cheesemakers. There seemed to be a real sense of solidarity across the British cheese scene: "At the annual industry get-together, everyone seems to get along - although of course you're going to get cliques anywhere."
Ness explained that there was a hierarchy, with those who own their own animals above those who use bought-in milk.
"Who do we get to look down on though?" asked Ness.
"Students who come knocking looking for free samples," replied Gwyn, quick as anything.
Loosehanger was a different set-up to Rosary. For starters, we were sitting in a converted cowshed with two cooling rooms bought knockdown from a defunct Guinness factory. Meanwhile, the cheese was being matured in two re-purposed refrigerated lorries.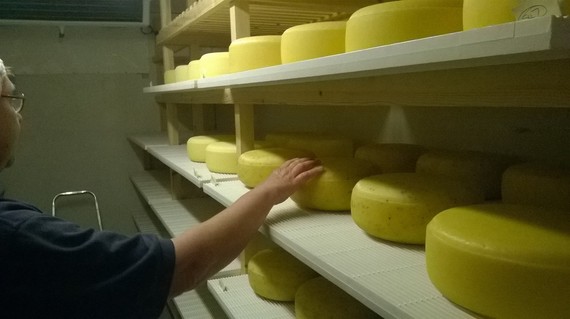 This room used to be a lorry
This was cheesemaking on a relative shoestring, and it was beautiful.
When she started out, Ness was advised by an industry buyer to take a similar route to Rosary and focus on one type of cheese to maximise volume in order to supply the big supermarkets. Characteristically, though, Ness had other ideas.
Loosehanger creates such a variety of products that their one small facility can furnish a whole cheese board. 80% of their sales go to local pubs and restaurants, keen on New Forest produce.
This smaller output does not mean less work: Ness's working day begins at 4am, followed by a couple of hours kip in a sleeping bag on the factory floor. It finishes with the final turning of the cheese at 10pm.
"Ness is very particular about who she lets in," Gwyn explained.
"I do let people in when I want to, but only when I need them. It's a war against bacteria and mould; I'm basically a professional cleaner with a bit of cheesemaking on the side."
It's clear that cheesemaking is a tough industry. The pubs Loosehanger supply want them to constantly innovate - after last year's seaweed and lemon experiment, Ness is currently working on a red, lemon-flavoured brie for Christmas.
"Ten years ago, everyone liked flavoured cheese and we used to be able to sell at farmers markets, but they're in decline now. 'Local' is still a good buzzword at the moment, but that'll die too and we'll have to think of something else.
Any fool can make cheese, but it's hard work to sell it."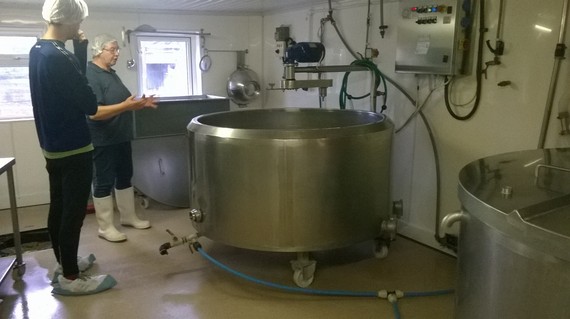 Great cheese, great leggings
After Ness's tour of the factory, Gwyn was ready with a smorgasbord of cheeses. "Did she let you get a word in edgeways?" he quipped, as he handed over the first taster.
Loosehanger only uses Ayreshire milk in its cow cheese, so they all share a rich, creamy taste. The milk is notable because it can be successfully manufactured into a whole range of cheeses. In the space of seven minutes, we were able to gorge ourselves on blue, brie, pressed and flavoured varieties. Ness also finds time to make five cracking flavours of goat's cheeses. As we finished off the last of the samples, we found ourselves in a passionate discussion over the relative merit of Old Sarum and New Forest Blue. We almost thought we sounded like experts.
Our day was up: we'd cycled through picturesque country villages, made friends with the cheeses and their makers, and were even beginning to be able to sound like we knew what we were talking about. It had been a triumph - we were in high spirits.
Gwyn walked through the door with a grin.
"Um, I'm going to have to give you a lift to the nearest train station. Ben's bike has got a puncture."
Pride comes before a fall.
*******************************
Follow the action at #cheesequest.
@bgolds12 and @jackwowen.
Ben and Jack are staying with Rachel and Graham in Southampton.
Rosary Goats Cheese is available nationally in Waitrose stores, as well as directly from them.
Loosehanger Cheeses can be found in many pubs and restaurants in the New Forest region.
If you want to know anything more about cheese, just talk to the Cheese Lady.