This week's 'On the Streets' covers not only diverse works from around the world, but also worthy walls, touching on global social issues such as inclusion and seclusion, sense of belonging and identity, stereotypes and social stigmas with a pinch of sarcasm. We have chosen this new Herakut large -scale mural to lead off the review, because of its positive message and purpose. Part of a three month project, run by AptART and the French organization ACTED in Jordan, the work created in Zaatari Refugee camp not only beautifies the environment, but engages and stimulates participation of the local youth. Images via the artists.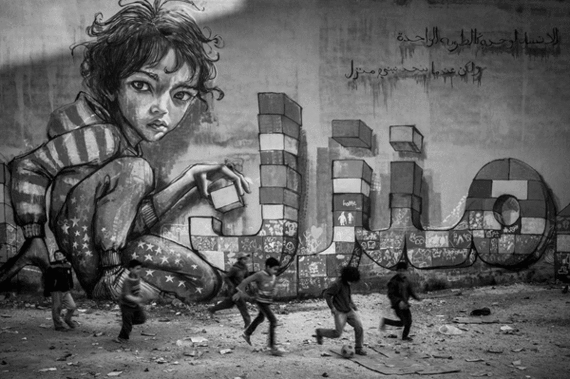 Another Herakut Jordanian piece for the Awareness and Prevention Through Art project in the Middle East.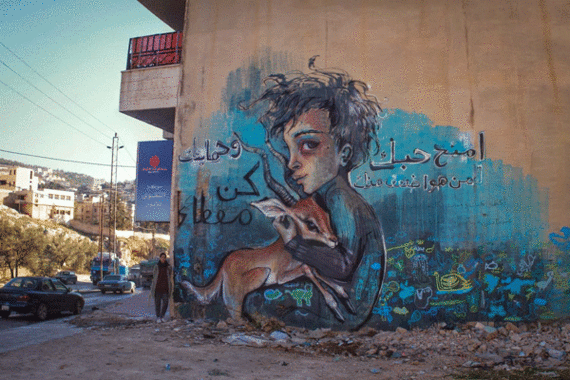 Other notable works come from Basik in Tunisia, I♥ in Vancouver, Lush in Lyon, Mobstr in London, Hyuro in Valencia, Borondo in London and Jr in Baden- Baden.
We stay in the desert, where Italian artist Basik fascinated with creating images, did not miss to use all the space he could find in this distant Tunisian town. We like how art spreads across the most unusual, extreme, dangerous and dark crumbling places to light them all up.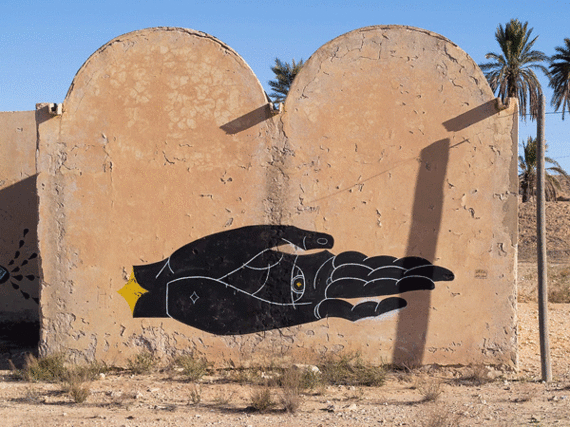 A more detailed shot of Basik's work. Images via StreetArtNews.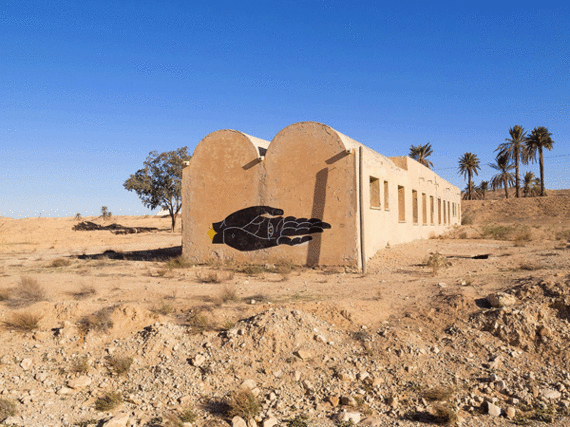 Street art often comments on political and social matters and the following piece by Canadian artist I♥ in Vancouver is a good example. Named 'Nobody Likes Me', the work raises questions around people's obsession with social media and the real fear of losing touch with reality. Image via StreetArtNews.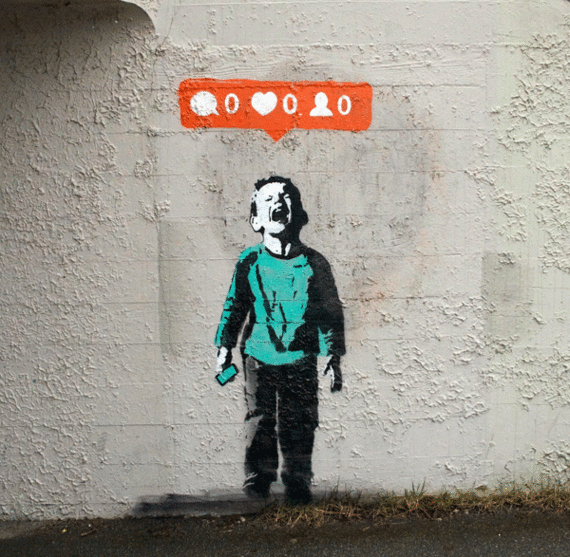 Australian LUSH, well- known for his to the point, often heavily ironic works, sees I♥ as a copycat. It is one of those 'chicken or egg' questions of who did it first, but the message of both the works is important enough to have a second look at it. Image via the artist.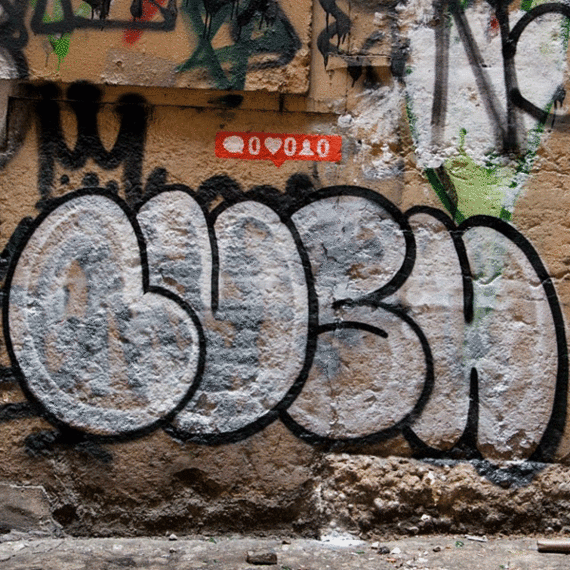 We always enjoyed seeing Mobstr's cheek-in-tongue, thought-provoking interventions in the urban public space. This new one in London is brilliant as it raises both questions and eyebrows and stirs the otherwise occupied with everyday life thoughts of Londoners. Image via Vandalog.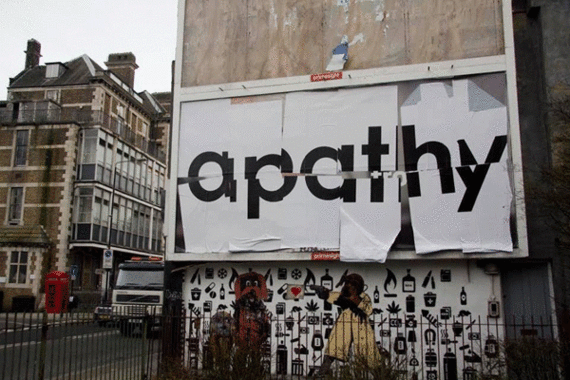 Hyuro continues challenging the social stereotypes and this new wall in Valencia comments on stigmas and roles in society. Image via the artist.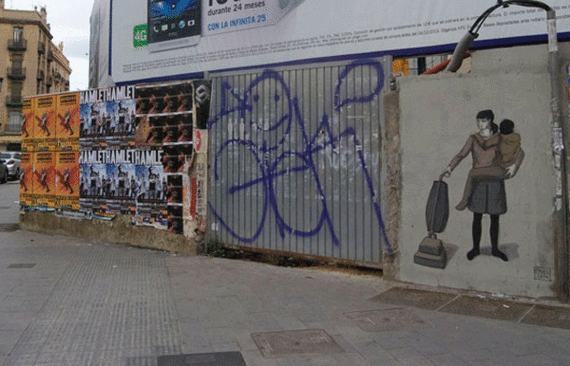 We saw examples of street art being political, abstract, social , rebellious and controversial. The work below, by Spanish artist Borondo, is one that reflects on symbolism and beauty, inviting the onlookers to explore and unveil their own thoughts and feelings. Image via Adam Blue.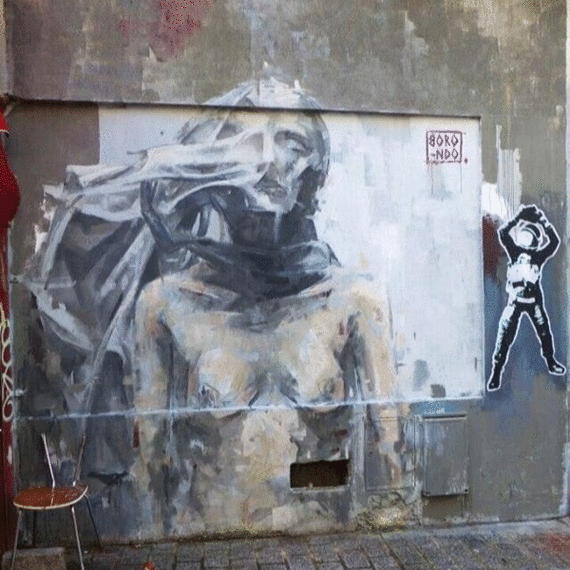 'My art does not change the world, but I hope it inspires people to change how they look at the world and at other people', this is how renowned Jr describes his work. The photography pasted on a building in Baden- Baden, Germany, is part of his ongoing project 'Unframed' and adapts cultural and historical contexts with strong emotional impact, to tell the deep and personal stories of two nations (German and French), once separated in war. The result is breath - taking and worthy for our review ending. Image via the artist.