This week's global street art review coincides with the International Day for the Elimination of Violence Against Women (25th November) and central for the edition will be works revolvong around the intimate complex nature of women. It will also explore worthy walls done for Art Basel Week in Miami.
Leading off the way is this fantastic Fin Dac and Angelina Christina collaborative piece, named 'Vroom Vroom' in Williamsburg. The two artists' distinctive styles and colour palette blend in perfect harmony, making the work a true delight. Take a closer look at the close-up shots below to see for yourselves.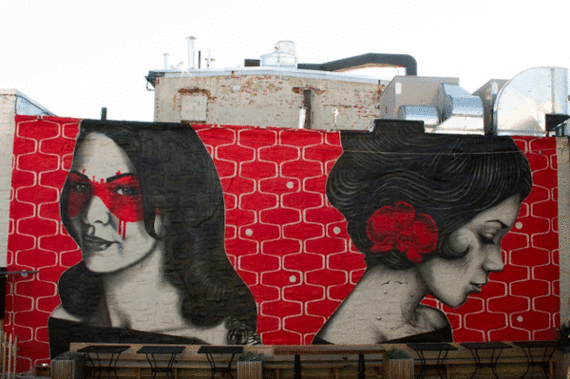 Other notable pieces come from Anthony Lister (Wynwood), Hyuro (Terracina, Italy), RONE (Wynwood), Remed (Martinique, France), David de la Mano (Montevideo), Olek (Wynwood) and Alice Pasquini (Paris).
Close-up images of Fin Dac and Angelina Christina's work. Photos via StreetArtNews.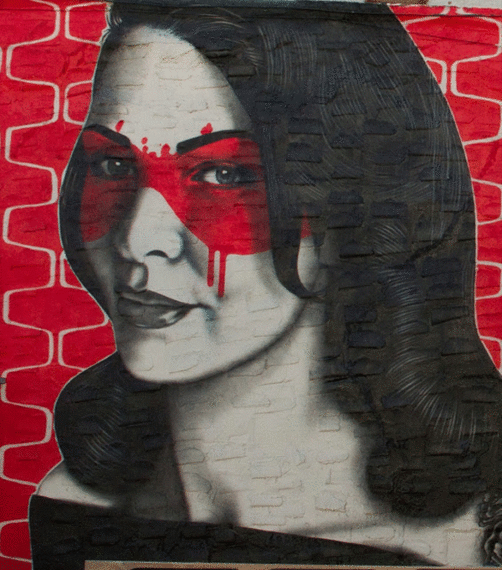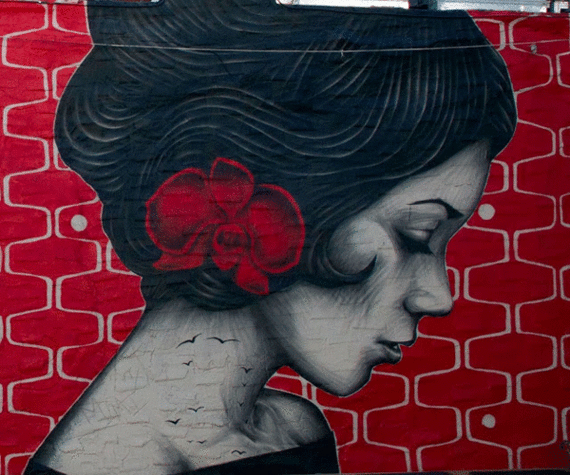 Regularly described as 'Australia's best comtemporary artist', Anthony Lister does not stop to prove that statement with his bold ironic but masterful painterly style on large scale. The mural below is brand new and located in Wynwood, so if you are in the area, do not miss the chance to see it in person. We think it is great! Image via StreetArtNews.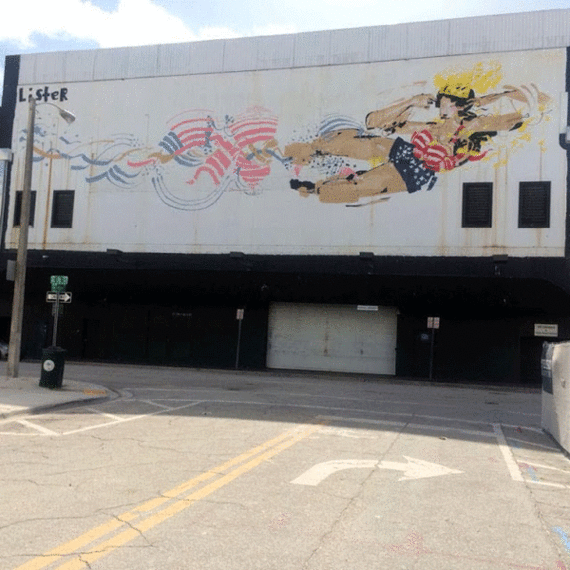 Close-up shot of Lister's piece.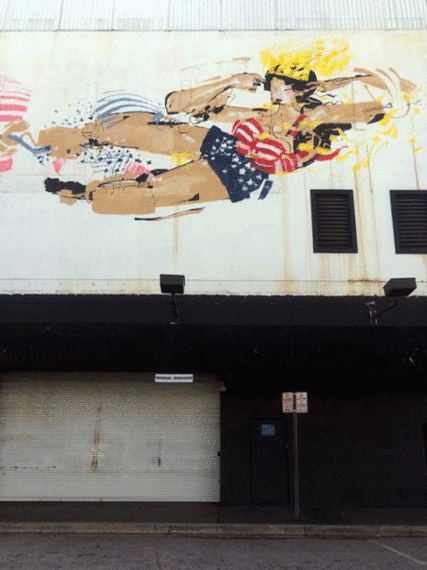 Spanish-based artist Hyuro, well-known for her delicate street drawings in black and white adeptness, was in Italy, where she delivered this memorable mural to celebrate the International Day for the Elimination of Violence against Women. Images via Arrested Motion and StreetArtNews.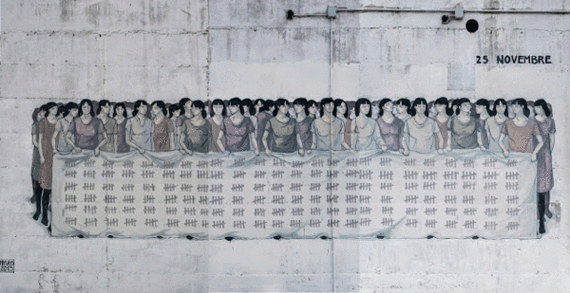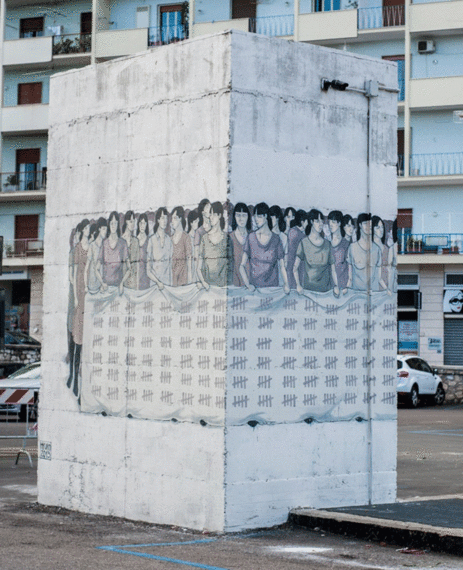 After a prolific European stay (covered here and here),Australian artist Rone is now in Miami, where he already completed a piece in his signature alluring cinematographic style. Image via StreetArtNews.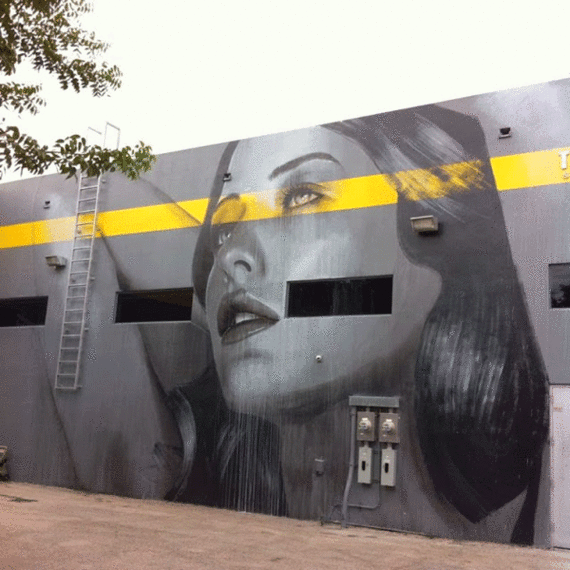 It has been a while since we last saw Remed in action, (covered here) but this new work in Martinique is simply outstanding. Combining representative colour palette and minimalist approach, the piece, named 'Cyclops, Frog Woman, Astronaut' carries the spirit of pre-Columbian Petroglyphes from Carribean. Image via StreetArtNews.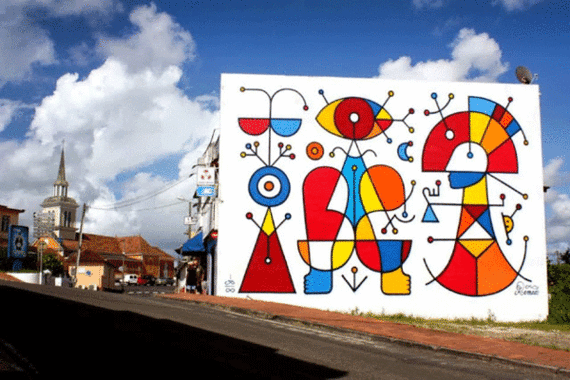 Explorer of human nature and behaviour David de la Mano does not disappoint with his newest poetic Montevideo collaborative piece with Irene Lasivita, Nicholas Alfalfa and Pelos de Pluma. Image via the artist.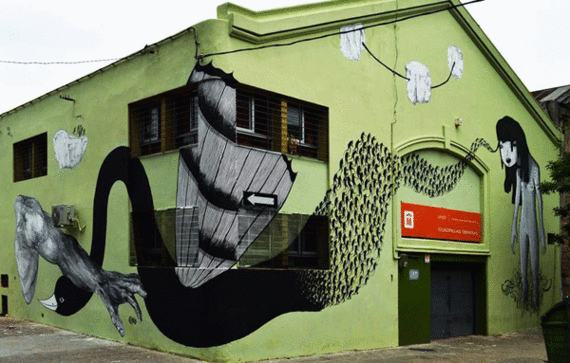 Crochet artist Olek, whose work makes New York's crowds stop walking and staring at the ground, is also in Miami, busy wrapping Wynwood up in colourful crochet. We love the way Olek's work communicates directly with the viewer and brings vibrancy and moments of calm serenity. Image via Martha Cooper.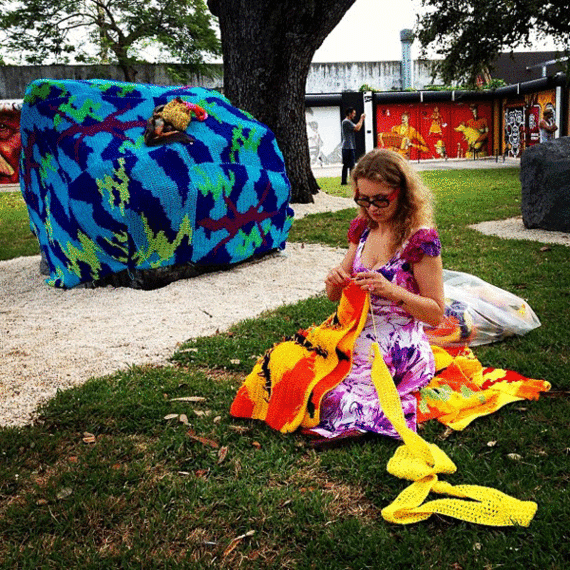 We finish off with Alice Pasquini's beautiful wall in Paris. Take a closer look, it is a crowd-pleaser. Image via the artist.