Our overdue global summary of street work returns with a hefty selection of great art from around the world. Art, fashion, human behaviour and love - all gets its place in this roundup. First on the list, leading off is the newest Herakut's wall in Jordan, named 'One is just a brick. Many together can be a home'. Once again the artistic duo finds a strong and poignant statement to make about the neighborhood, city and world we all inhabit. Image via the artists.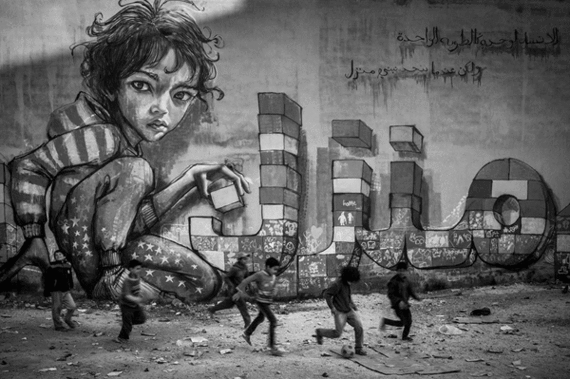 Other worthy works come from Know Hope for Pow! Wow! in Hololulu, Jade in Brazil, D*Face in LA, Lady Aiko in Honolulu and NYC, Miss Van, Ciro Schu and Klone Yourself in Tel Aviv, David de la Mano in Salamanca, Phlegm and RUN in Cardiff, Bradley Theodore, Bast, Faile and Eine - all NYC.
Tel-Aviv based artist Know Hope takes part in this year's edition of Pow! Wow! Hawaii in Honolulu and this large piece stands out with its recognisable imagery and clean minimalist style. Image via Arrested Motion.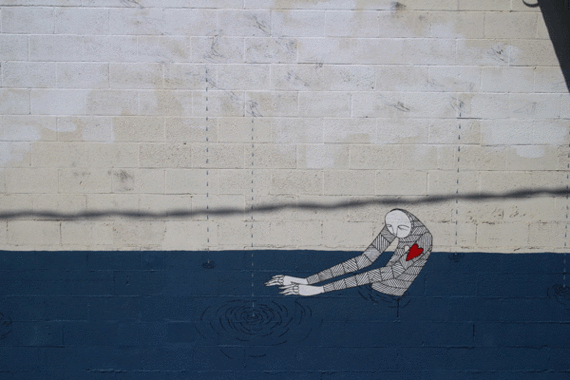 Talented Peruvian painter Jade has been in Brazil and this lovely mini mural gets straight into the hearts with its clear message - love should be cherished and cared for! Image via Vandalog.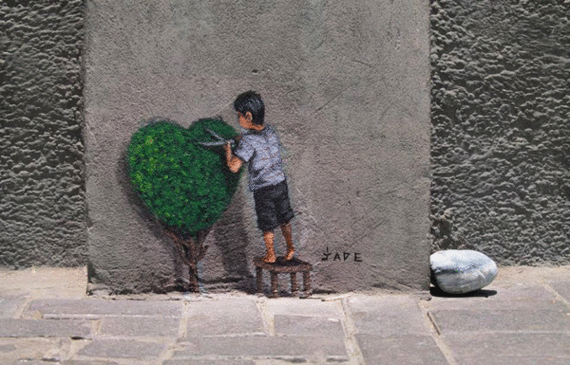 LA wakes up to find two new large-scale breath-taking D*Face walls, both featuring signature pop-influenced characters. The piece below stands in front of another work, painted by D*Face back in 2011 ('Going Nowhere Fast') on the side of Corey Helford Gallery, completing the circle. All images via the artist.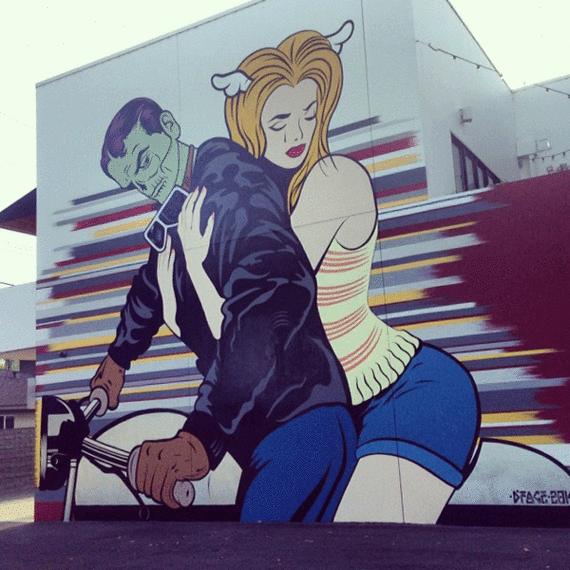 'Going Nowhere Fast', 2011, D*Face.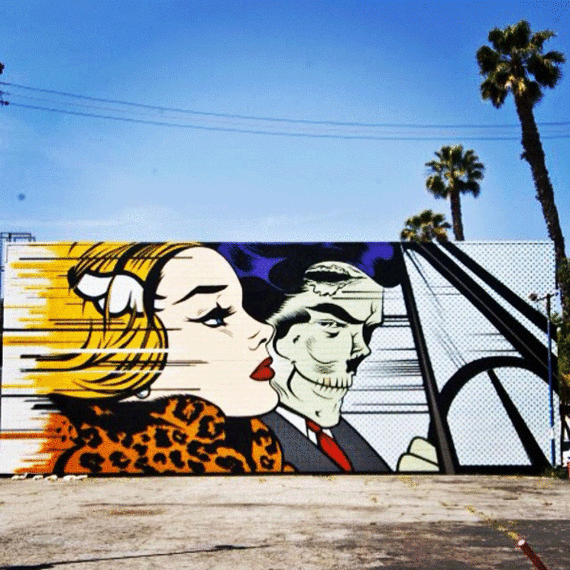 Second new mural by D*Face in LA.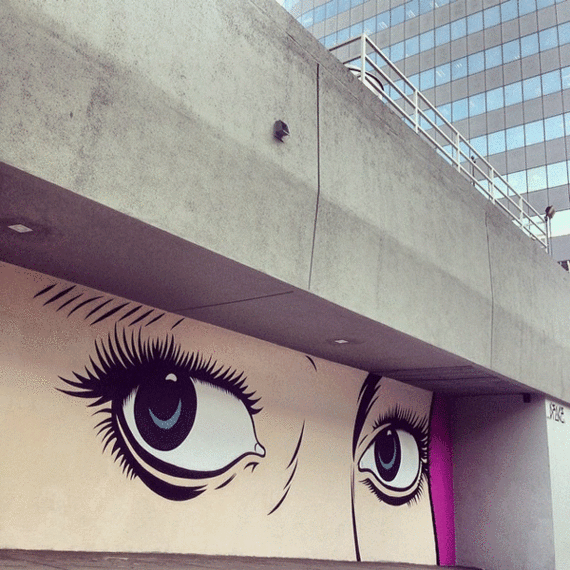 We leave sunny LA and head off to Honolulu again, where we spot Lady Aiko's contribution to POW! Wow! Featuring signature stenciled characters, the work named 'Here's Fun for Everyone' is undeniable an eye-candy. Image via StreetArtNews.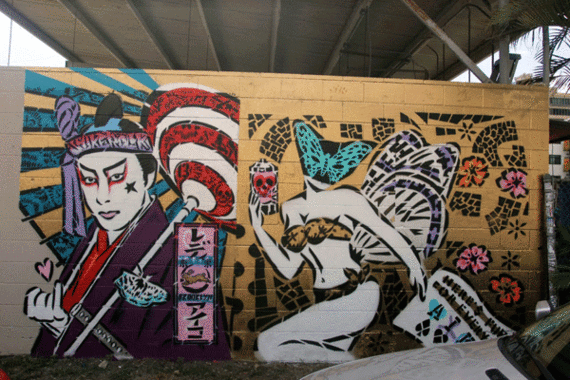 Close-up detailed shot of the mural.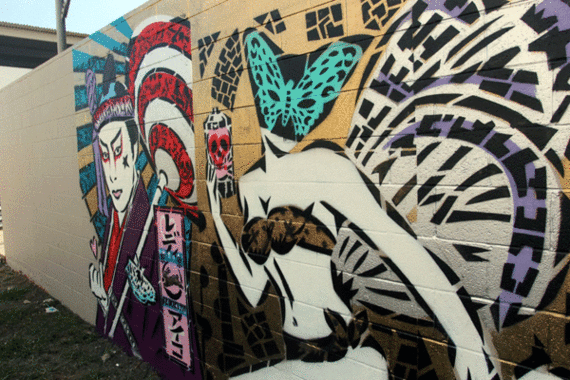 The bold bright colour contours of Miss Van's curvacious naked masked female character blends in perfect harmony with Ciro Schu's abstract imagery and Klone Yourself's contemporary surrealism on the streets of Tel Aviv. Splendid combination we think! Images via Miss Van.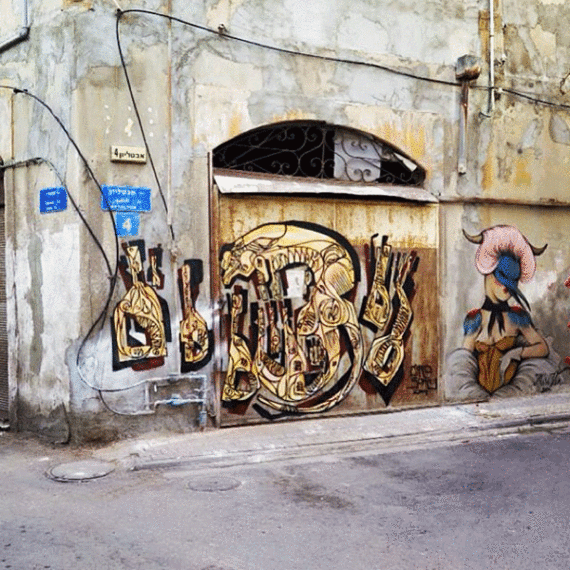 Detailed elements of the same wall - Miss Van and Klone Yourself.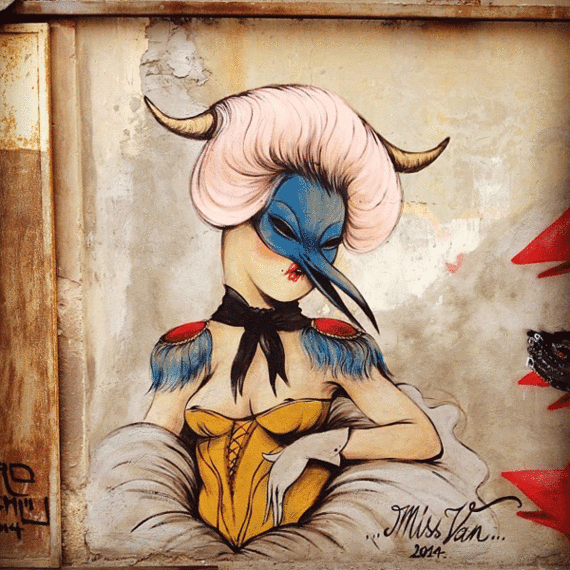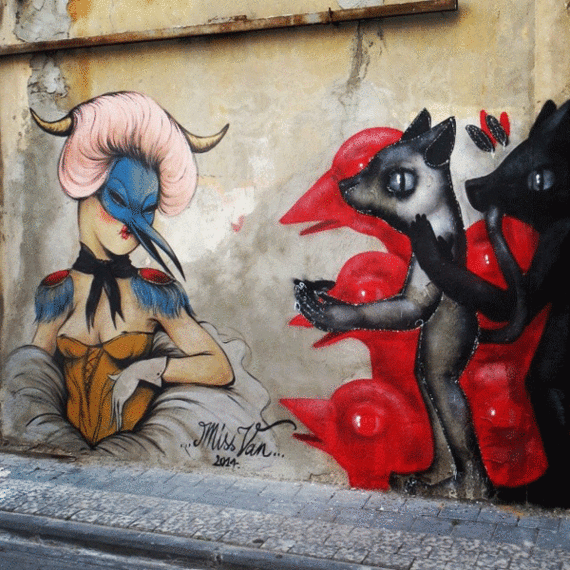 Urban explorer of human behaviour David de la Mano does not disappoint with his new 'Diaspora' mural, painted in the Urban Gallery, Salamanca. The work is impressive with the intensive amount of detailed figurative imagery, revealing the concept of human dispersion in an involuntary nature.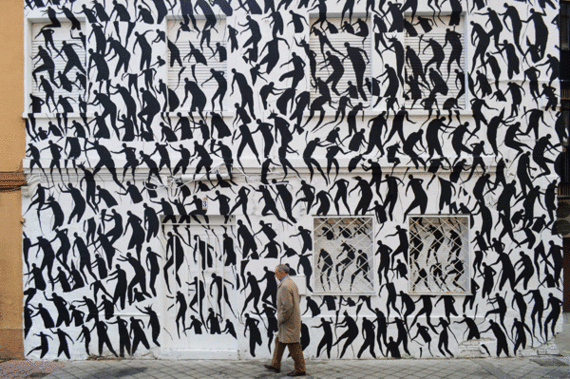 Close-up shots of the piece. All images courtesy of the artist.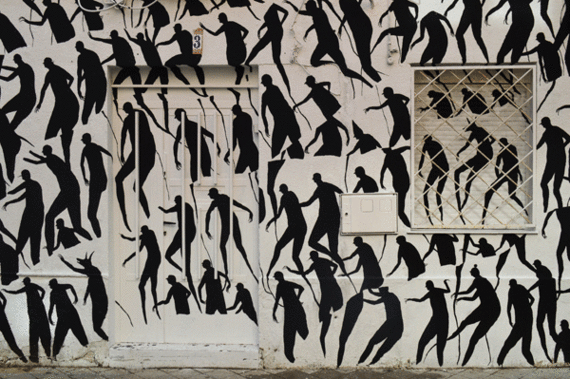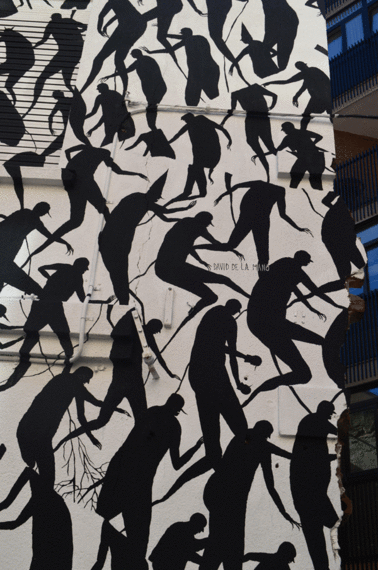 More urban surrealism comes from this collaborative RUN and Phlegm wall in Cardiff, completed for the Empty Walls Festival. The piece, all in monochrome, features signature for both artists characters and motifs. Image via monoprixx.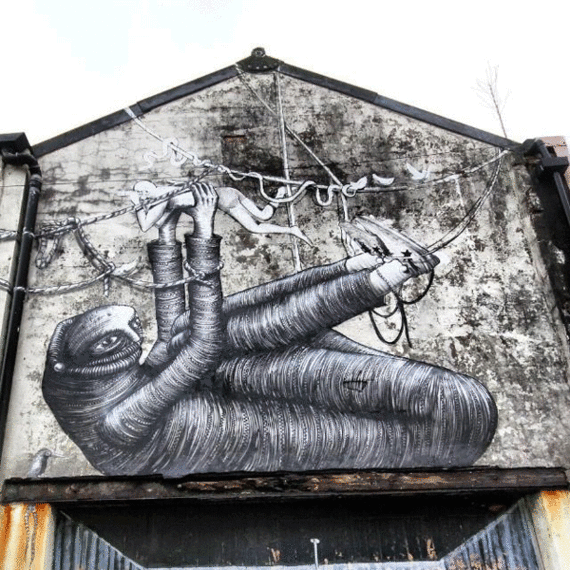 Escaping from monochrome and surrealism, we come across those two colourful Bradley Theodore pieces, done in a creative attempt to reveal and widely communicate the complex relationship between art and fashion. Insisting on that fashion allows people to become art, the artist paints fashion icons to prove his point.
Below: Homage to Diana Vreeland and Anna Wintour next to Karl Lagerfeld, NYC. All images via the artist.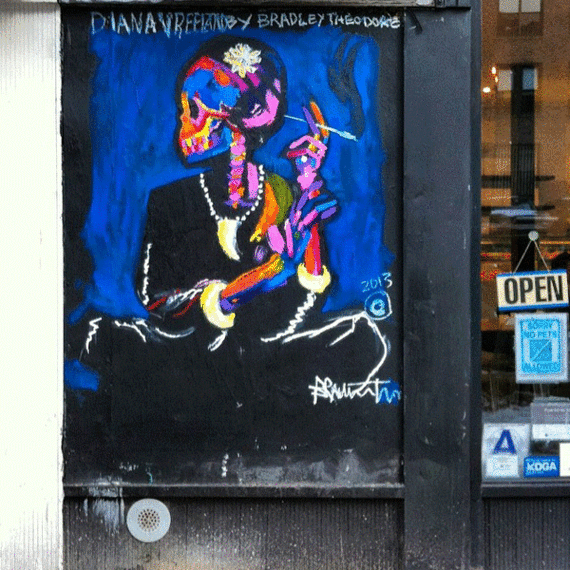 Theodore's respects to Wintour and Lagerfeld coinciding with NYCFW.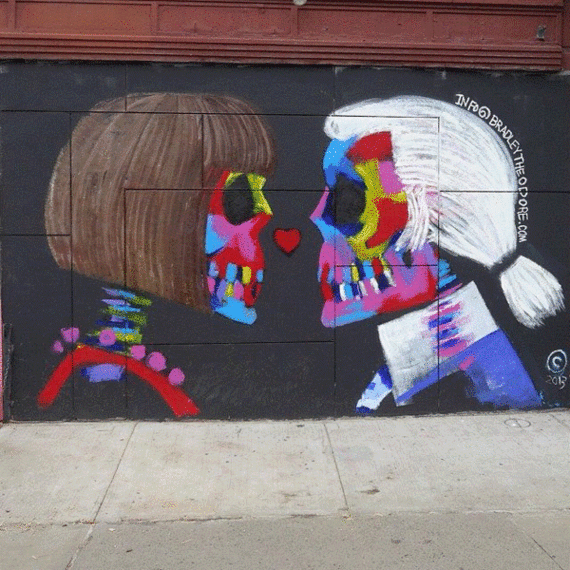 We stay fashion-tuned with this brilliant new signature Bast paste-up, done somewhere in snowy New York. Image via the artist.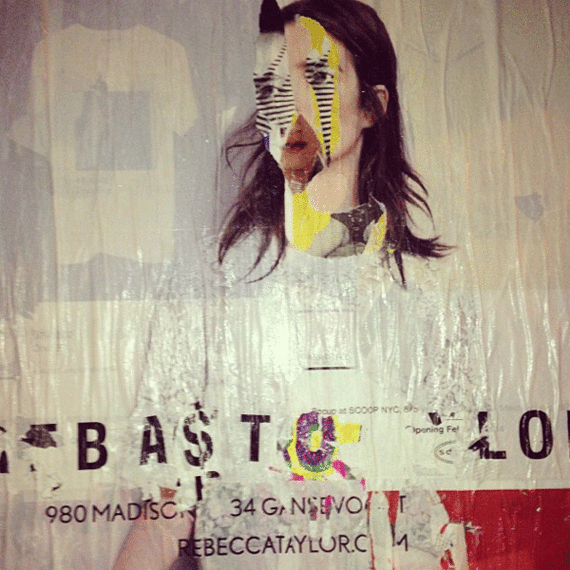 We finish our review of worthy art with a few works, touching on the ever so important theme of love.
First is Lady Aiko with her take on Valentine's romance, followed by the short and sweet Faile's 'Happy Valentine's Day'.
Lady Aiko, NYC., 2014. Image via Brooklyn Street Art.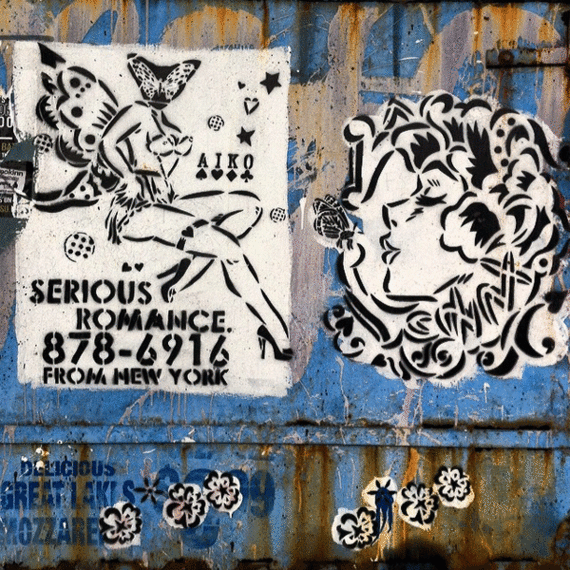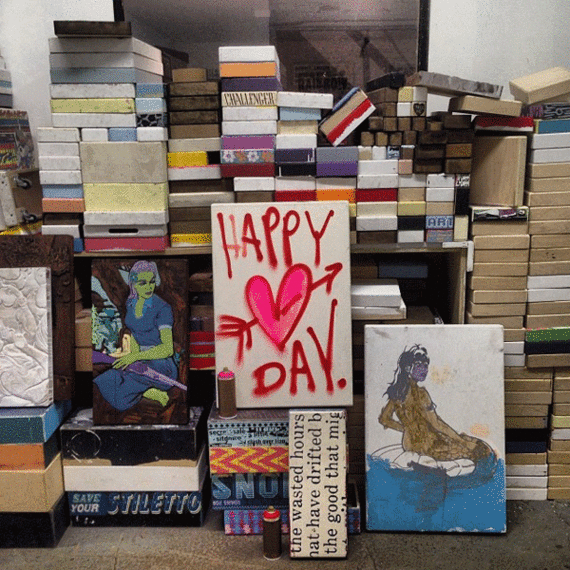 Man of letters Ben Eine returns to NYC to brighten and inspire. This piece, done on Rikers Island fascinates with its bold sharp typography and positive message. We leave you to it...
Image via Christopher Vidal.