With 2013 coming to its end, it is only appropriate to have a rather hefty On the Streets roundup.
Trends from the current year include less illegally painted walls (with most notable and memorable example - Banksy's NYC 'artist residency') and more Street Art Festivals and mural projects worldwide.
Overall, 2013 saw a plethora of original and thought provoking works, provocative concepts and high quality draftmanship. This monthly review consists of worthy examples of works mentioned below that in our opinion is a fine representation of the scene and its most notable representatives.
Leading off is Vinz Feel Free with his Nativity 3/3: Maternity in Valencia. We have always admired Vinz's unique take on aesthetics, media and concepts and Nativity 3/3: Maternity speaks on its own.
Image via the artist.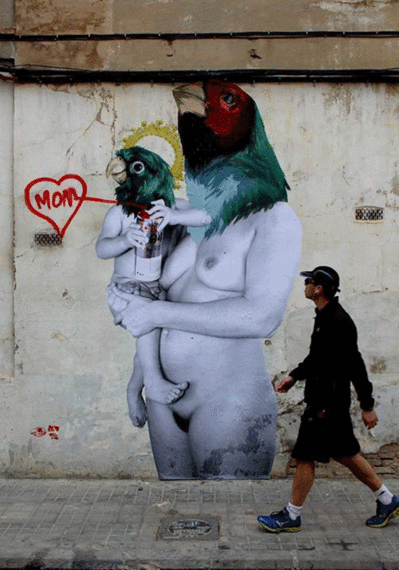 Other worthy walls come from Aryz - Lodz (January), Fin Dac - North Wales, (February), John Ahearn and Rigoberto Torres - South Bronx (March), Seth Globepainter - Paris (April), Reka One - London (May), YZ - Paris, D*Face -London (both June), Etam Cru - Richmond (July), Cake - NYC, Herakut - Frankfurt (both August), Natalia Rak- Bialystok, Poland, David Shillinglaw- London, Os Gemeos - San Francisco (all September), Mau Mau- London, Faith47 and Conor Harrington - San Juan, Banksy - NYC, Os Gemeos and Banksy - NYC, Phlegm - Cardiff (all October), D*Face and Shepard Fairey - Malaga, David de la Mano - Montevideo, Vhils and Pixel Pancho - Lisbon (all November) and lastly all in December- Reka One, Faith47, Best Ever - Miami, D*Face - Tokyo and Sam3 - Barcelona.
Take a closer look at our review and share your thoughts. Enjoy!
January
The beginning of the year is marked by Aryz's fictional large-scale character in Lodz (Poland), painted in signature colour scheme. Truly impressive. Image via the artist.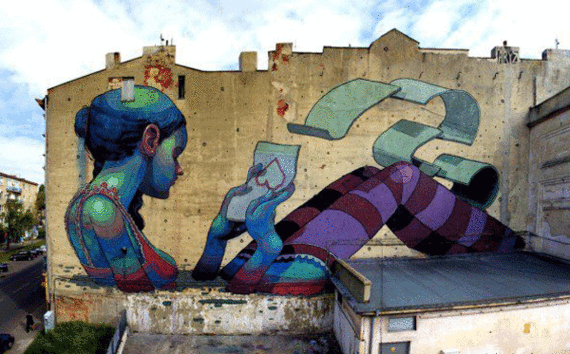 February
Our choice from February is this stunning mural in North Wales, part of the Black Duke project by master of Urban Aesthetics - Fin Dac. Image via the artist.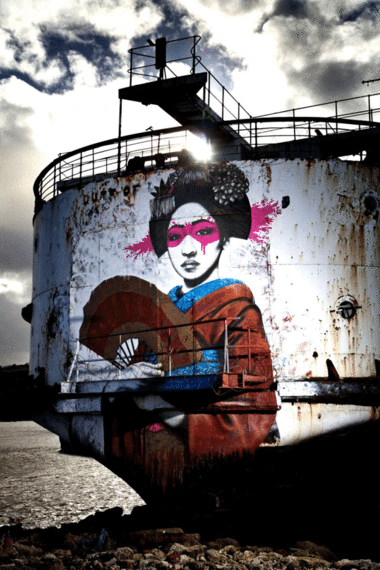 March
The spring spirit has been captured masterfully by this John Ahearn and Rigoberto Torres in South Bronx, part of the South Bronx Project. Image via South Bronx Project.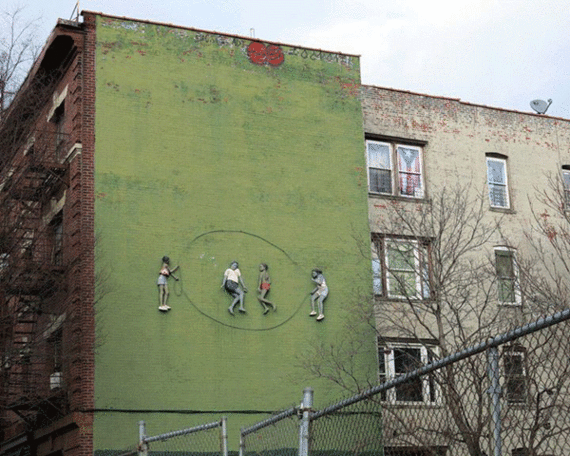 April
We consider this Seth Globepainter's mural in derelict Parisian building for one of the strongest in April. See for yourselves. Image via the artist.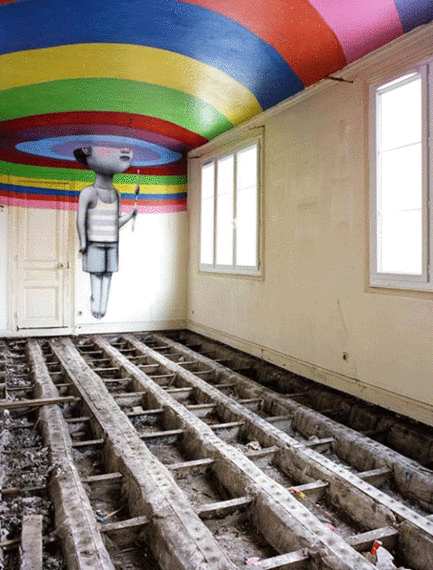 May
Long-time favourite Australian Reka One returns in London, where he delivered this magnificient wall, named 'Fallen Angels'. Featuring bold strong lines, clean shapes and unique characters, the piece continues to provoke open dialogue between passers-by and their surrounding and remains untagged, despite its legal status. Image via the artist.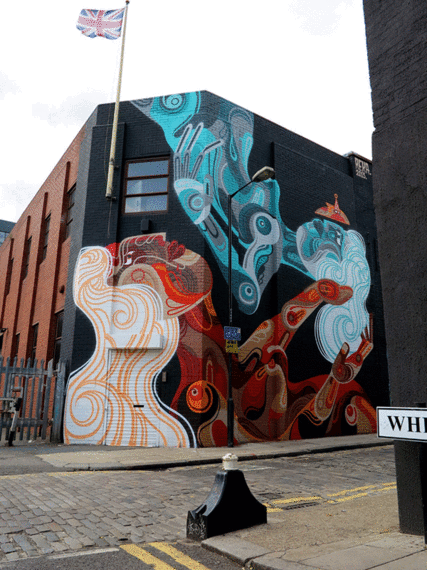 June
One of the less known, but truly inspirational female artist is French YZ, whose works are a poetic reply to the always- changing society and the beauty in people's short life. We consider this YZ's wall a fair choice for a leading June mural. Image via Open Walls Gallery.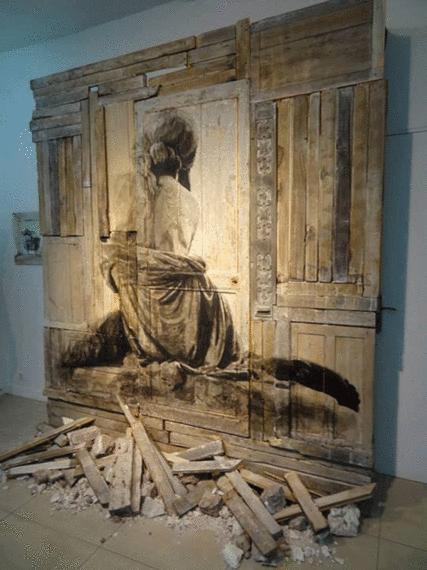 June was a busy month, therefore we find it quite hard to pinpoint just one worthy example of notable art on the street. Therefore we added another one -D*Face's fabulous and shortly tagged 'Guilty Pleasures.' It is so good that we had to share it with you again - we are guilty but cannot deny yourselves this pleasure...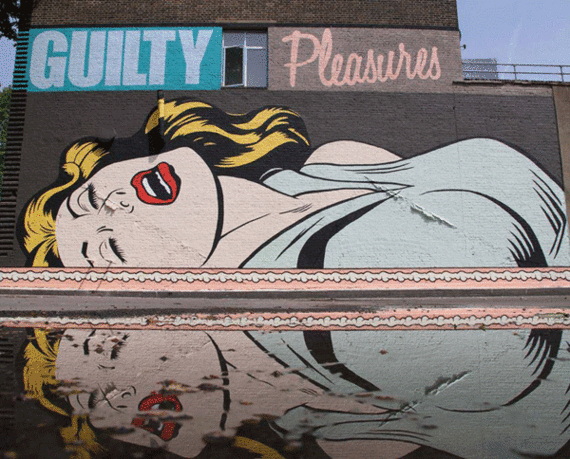 July
With summer in full swing, what better than an Etam Cru mighty wall in Richmond?!
Image via the artists.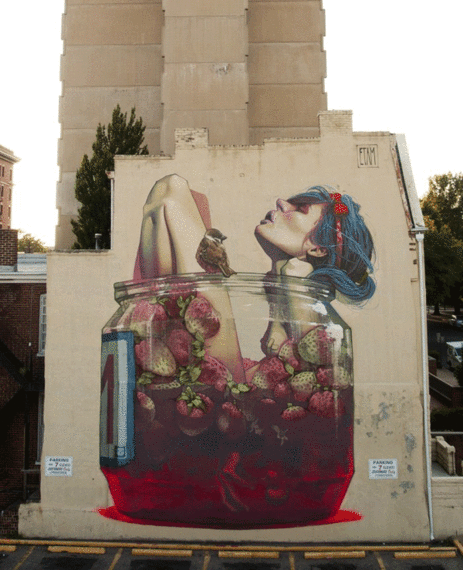 August
1. No one can paint the human nature and soul in all its guts and glory better than Cake - the wall below says it all...
Image via the artist.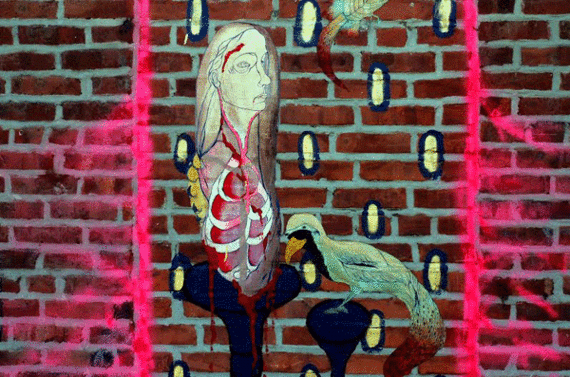 2. Our second mural choice for August is located in Frankfurt and delivered by well-known duo Herakut, one of their bestest this year. Image via Alexander Krziwanie.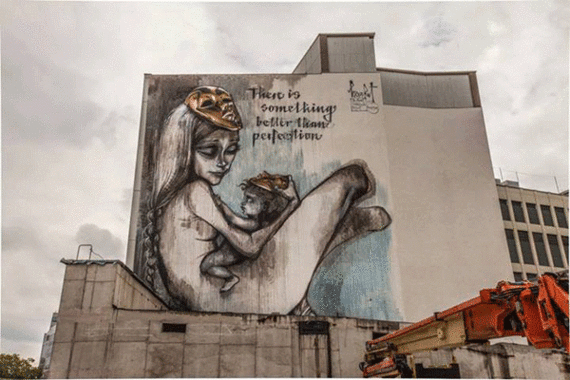 September
Street art festivals are not something uncommon or rarety anymoreand Poland is one of the places with a strong presence and tradition in the organisation and exsecutions of memorable art events.
1. This piece by Natalia Rak for the Folk On the Street, illustrates perfectly the tendency of legal and commissioned walls. Image via the artist.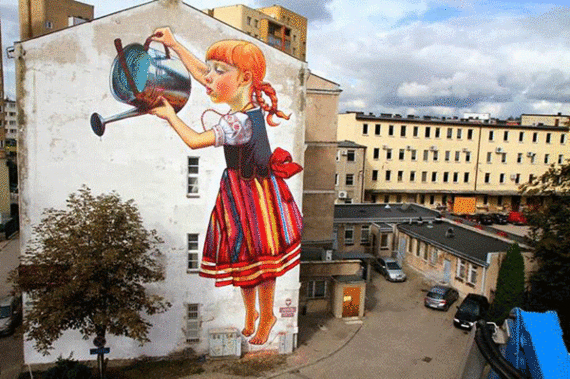 2. We cannot miss this fantastic and signature 'So many snakes, not enough ladders' wall by David Shillinglaw in London, our second choice for September, followed by an Os Gemeos signature one in San Francisco (3). Images via Poppy Zella Reed and Os Gemeos.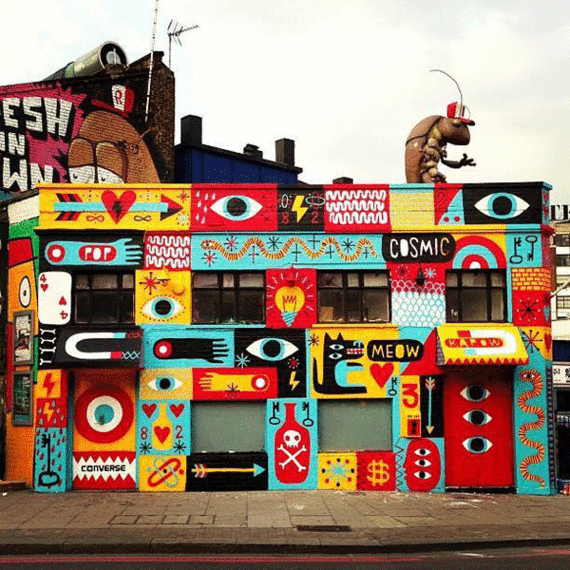 3. Os Gemeos, San Francisco, September 2013.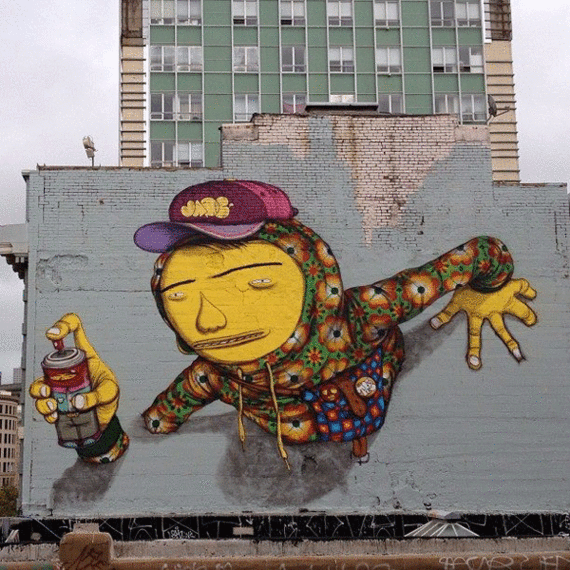 October
October and December are generally strong with Freeze Week and Art Basel, therefore our monthly choices will be numerous.
We start off with this cheek-in-tongue Mau Mau one, done during Moniker Art Fair 2013, commenting on the commercial side of street art tours. Image via Monoprixx.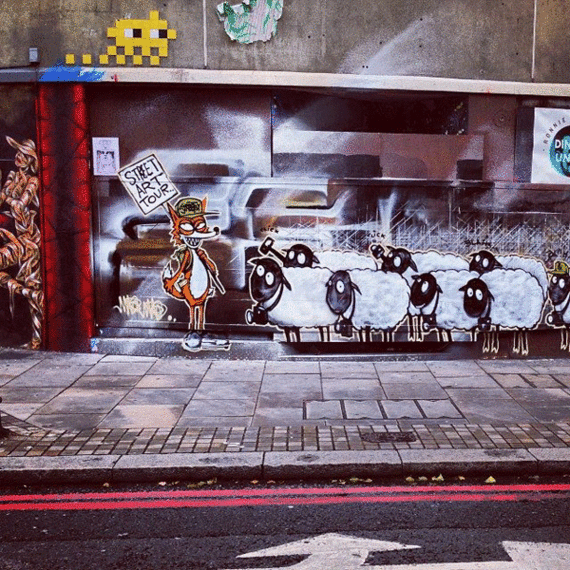 2, Faith47 and Conor Harrington's walls in San Juan are deservedly included in our ranking for October, followed by the most notable from Banksy's artist residency' in NYC.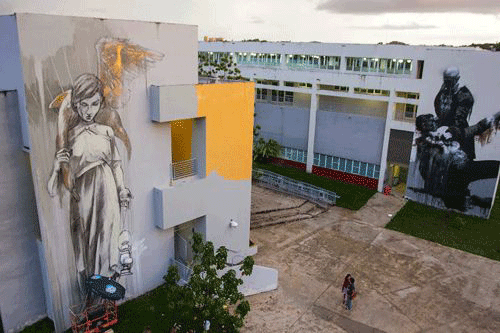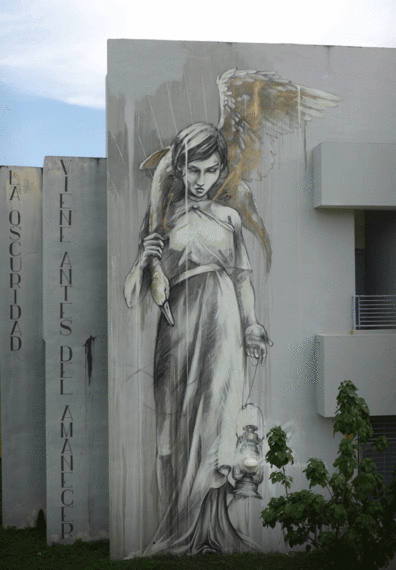 3. Banksy's heart- shaped balloon in Red Hook neighbourhood, Brooklyn, long gone now. Image via Getty.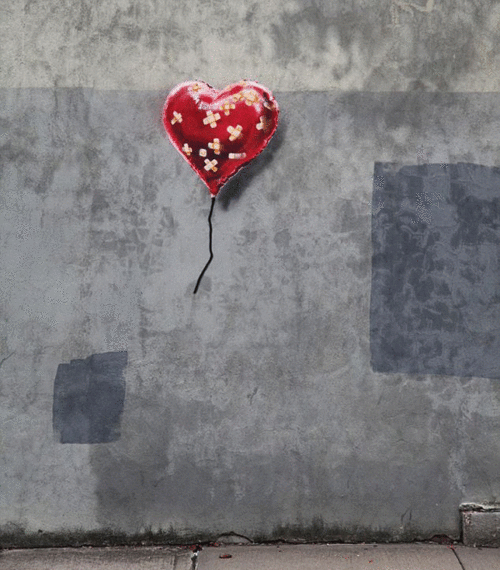 4. A rare Banksy and Os Gemeos outdoor collaboration in NYC. Images via Juxtapoz Magazine.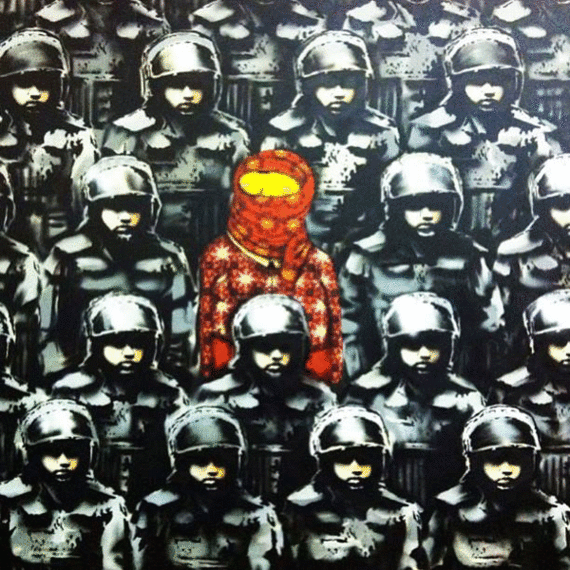 5. Banksy and Os Gemeos wall II, NYC.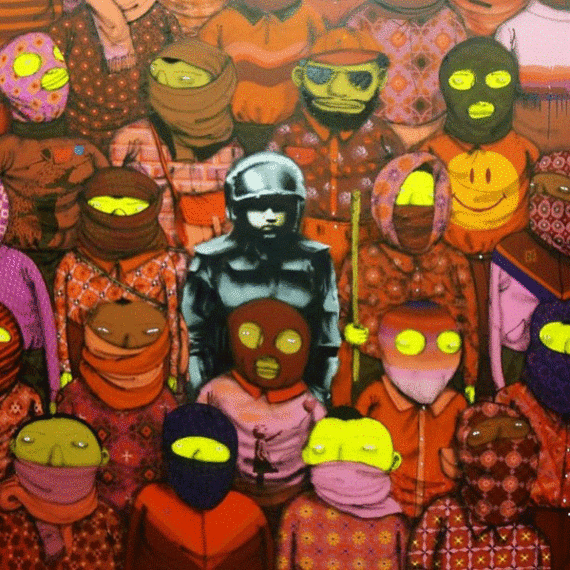 6.Phlegm in Cardiff, September 2013. Image via the artist.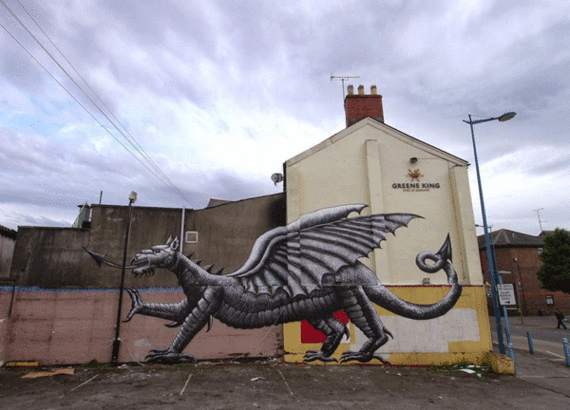 November
1. D*Face and Shepard Fairey's walls in Malaga are a strong start for November.
Image via StreetArtNews.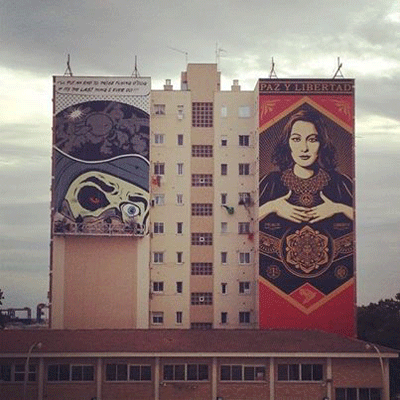 2. David de la Mano's collaborative piece in Montevideo is a fair example of draftmanship and prime location. Result - N2 for November. Image via the artist.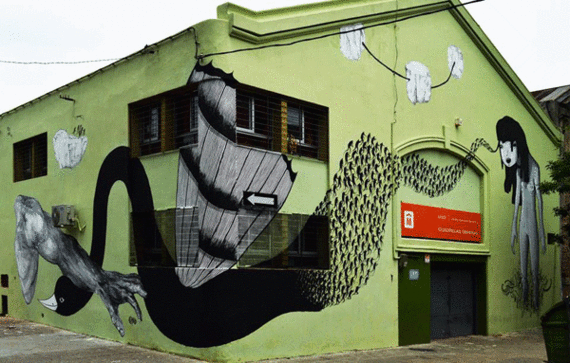 3. Pixel Pancho and Vhils signature styles blend in perfect harmony for this stunning collab.
Image via Vhils.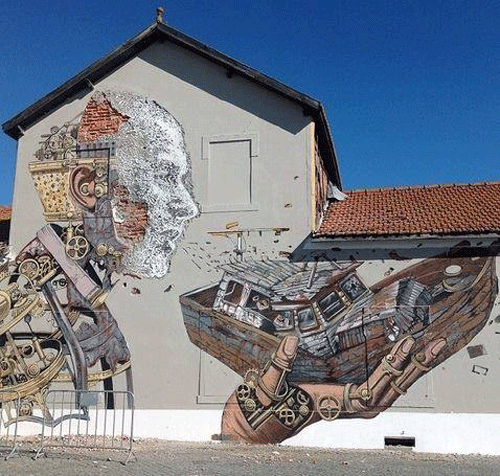 December
The last month of 2013 unveiled many and strong street art pieces and it is fair to say that it was difficult to pick up the most influential and prime ones.
Here is what caught our eye in Miami, during Art Week Basel, followed by two other works in different locations.
1.Reka One, Miami, 2013. Image via the artist.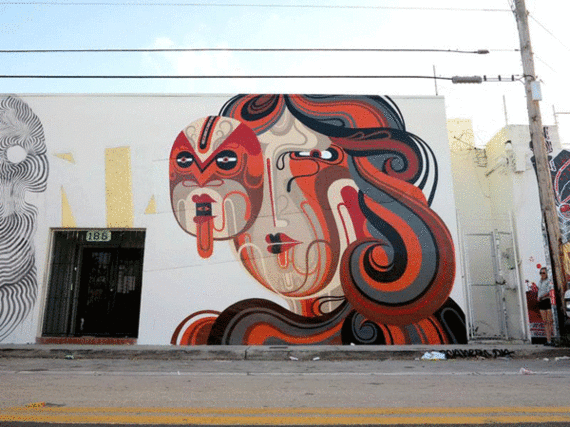 2. Faith47, Wynwood, Miami, 2013. Image via Arrested Motion.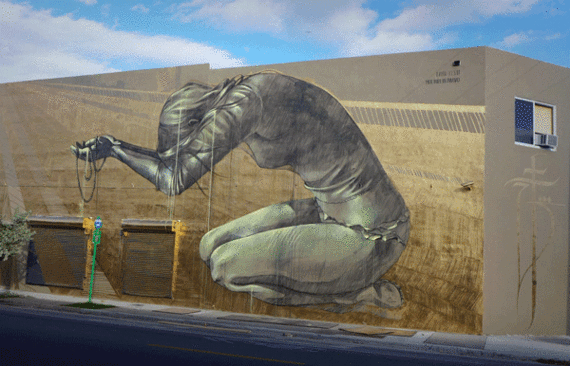 3. BEST I EVER, Wynwood, Miami, 2013. Image via the artists.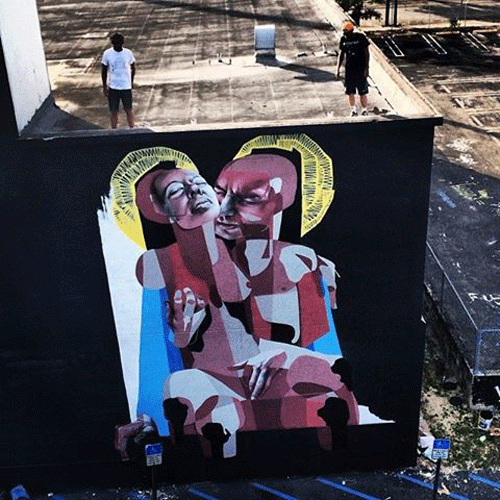 4. D*Face, Tokyo, 2013. Image via Arrested Motion.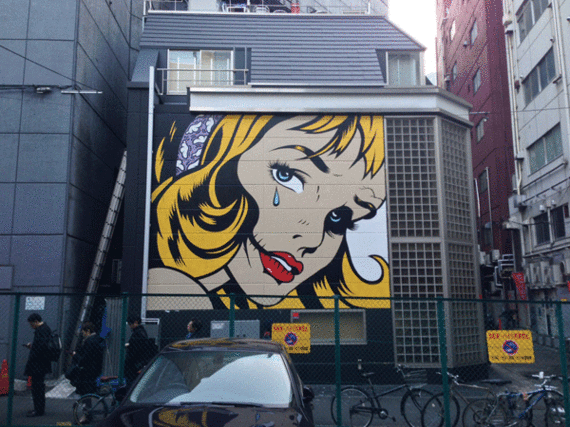 5. Sam3, Barcelona, Spain, 2013. Image via StreetArtNews.