Despite David Luiz's thumping free-kick sending Brazil into the semi-final of the World Cup, a sombre mood engulfed the nation following their 2-1 win over Colombia. 20 minutes after the PSG defender had blasted his side into the next round, Juan Zuñiga brought down Neymar with a knee to the back, breaking a vertebra in the 22-year-old's spine.
Being stretchered off, supporters held their breath and hoped for the best, only to learn precisely the opposite the next morning, with Brazil's Golden Boy now ruled out for the remainder of the competition. A Seleção have not fulfilled the 'Jogo Bonito' expectations on home turf, but have progressed with a ruthless efficiency that has become a benchmark for any Luiz Felipe Scolari team. Brazil have made the most tackles (24.4) and conceded the most fouls (19.2) per game at the World Cup.
The 31 fouls they committed in the 2-1 win over Colombia on Friday is the most in a World Cup match this summer as the tactic to disrupt the attacking rhythm of their South American counterparts worked. In light of that, Brazil relied on Neymar to provide the moment of magic to guide them to glory. He netted the equaliser against Croatia and the penalty that saw them secure 3 points on the opening day, while his first half strike against Cameroon sent Brazil on their way to a 4-1 win.
Neymar provided the assist for Thiago Silva's opener against Colombia in what had been a memorable tournament for the Barcelona star prior to injury. His WhoScored rating (8.22) is currently bettered only by Lionel Messi (8.87), Arjen Robben (8.80) and James Rodríguez (8.40) and it's fair to say the young striker had been living up to the standards expected of him.
However, with a daunting encounter with Germany looming, Brazil enter the fixture without Neymar due to his injury, while captain Silva will also miss out due to suspension. Dante is expected to come in alongside Luiz as the latter's replacement, yet it remains to be seen who will start in place of Neymar.
"Neymar is our benchmark. He is our reference because he always makes the difference. We have lost the one player we did not want to lose," 'Big Phil' said on Sunday and his absence against a staunch Germany defence will be a huge blow. Germany's highest rated players in their 1-0 win over France on Friday were their back five, with centre-back Mats Hummels (8.47) in particular impressing. Now Scolari needs to maximise the attacking quality of his squad to find a way past Die Mannschaft on Tuesday.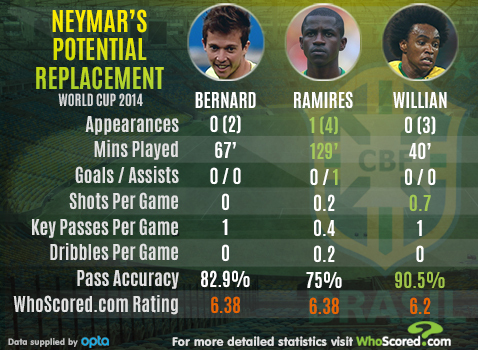 The player likely to come in for Neymar is Willian, while Bernard and Ramires are also options for Scolari. The 25-year-old enjoyed an impressive debut campaign with Chelsea, though Scolari's preferred attacking trio of Hulk, Oscar and Neymar behind Fred means he has been limited to just 40 minutes of World Cup action so far.
Nevertheless, in that time Willian has executed 3 key passes, more than Bernard and Ramires (both 2), despite registering fewer minutes on the pitch than both Bernard (67) and Ramires (129). Willian is not as good, individually, as Neymar, but the relationship he has with Oscar at club level could benefit the Brazil attack.
With Willian or Ramires however, Brazil would be a more physically dominating unit higher up the pitch than with Neymar, an aspect that could help decide the outcome between the hosts and Germany. Willian perhaps stands in higher stead than Ramires as the former has the attributes to transition from defence to attack in the blink of an eye, an aspect of his game that will help the team against Joachim Löw's side.
Benedikt Höwedes is expected to start at left-back against Brazil and will likely find it harder against Willian than Oscar due to the former's greater pace. A centre-back by trade, Höwedes has at times looked out of his depth, in particular in Germany's 2-2 draw with Ghana, and may struggle to contain the pace of Willian in Belo Horizonte.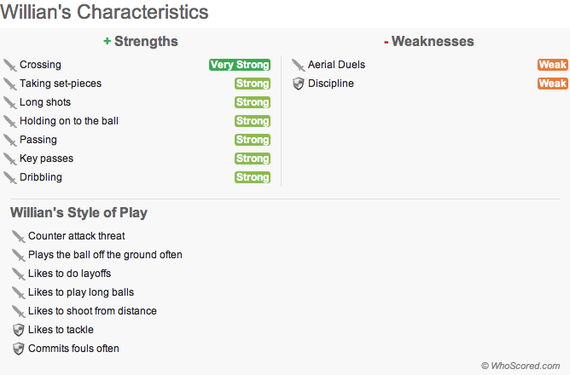 Willian can rapidly shift through the gears when needed and should the German defender press too far forward he could easily find himself caught out by his opponent, especially if Brazil look to hit their European counterparts on the counter. Of course, Bernard can also fill in for Neymar. Scolari described the pint-sized speedster as having "joy in his legs" due to his pace before the competition, but the Brazil head coach prefers him on the left-wing, which would mean a complete re-shuffle of their attacking midfield.
Starting him, though, would likely see Hulk to move to his preferred position on the right-flank, allowing him to cut inside onto his favoured left foot, while the speed of Bernard may help pin Philipp Lahm back in his own half should Löw keep his captain in defence. Of course, the ability to successfully defend from the front would help determine who replaces Neymar. He has won possession the most times in the attacking third (11) at the World Cup and it remains to be seen whether Bernard would be able to match Neymar's defensive output.
Ramires may be able to replicate this tenacious approach, but his attacking qualities certainly leave a lot to be desired. Granted, he has 1 assist to his name, while Willian and Bernard are both yet to provide for a teammate, but his high-intensity, pressing game is better suited to a more defensive role. His chance to stake a claim for a starting spot came in the 0-0 draw with Mexico, but a poor opening 45 minutes, reflected in his WhoScored rating (6.14), saw him hauled off at half-time for Bernard.
While he has barely featured at the World Cup, Willian will undoubtedly be the best option to replace Neymar in the attack. The 25-year-old has both the attacking and defensive ability to maintain Scolari's dogged game plan and against a resilient, hard-working Germany side, both of these assets will be essential.
He may not be able to replicate Neymar's goalscoring exploits - "Neymar is a striker whereas I am more a midfielder who sets up others," Willian admitted - but his creativity could benefit Hulk and Fred, two players who are yet to set the world alight at Brazil 2014. Ramires has already proven he is not up to the task of playing in the three in a 4-2-3-1, while the poor defensive side of Bernard's game may gift Germany's full-backs greater - and a dangerous amount of - freedom.
Of the three main available options, Willian is clearly the best of the bunch. While he is not in the same bracket as Neymar, it's fair to say the Chelsea midfielder is the stand out candidate to replace the attacker in Brazil's starting XI against Germany.
Who do you think should replace the injured Neymar in Brazil's starting XI against Germany? Let us know in the comments below?
All statistics courtesy of WhoScored.com where you can find yet more stats and player ratings.