Despite eventually finishing four points off top, José Mourinho regularly insisted Chelsea were never in the title race last season. "Champions are only one (team) and the champions will be City or Liverpool," the Portuguese said after their surprising 2-0 win over Liverpool at Anfield at the end of April.
Nevertheless, most are in agreement that the latest Premier League season was in fact a three-horse race and Blues fans could have been forgiven for getting their hopes up, even if they were ultimately left disappointed. A higher points total than the previous campaign shows progress, despite the fact that Chelsea could only manage back-to-back third place finishes.
There are those who feel Rafa Benitez was unfairly criticised by supporters during his short spell at Stamford Bridge, though spending six seasons at the helm of rivals Liverpool would not have helped his cause. Coming in on the back of Roberto Di Matteo's sacking, the Italian having secured Champions League glory six months prior to Benitez's appointment, did little to appease the fans.
Regardless of whether the Chelsea faithful were happy at him coming in on an interim basis, the fact is Benitez bettered their sixth-placed finish from the previous campaign and landed the Europa League trophy. The Spaniard also enjoyed an impressive points per game return (2.00), a figure that isn't to be scoffed at.
However, over the season, that average would have seen them finish fourth in the Premier League last term with 76 points. Ergo, despite failing to land a trophy this term, Mourinho's re-appointment was still somewhat justified. Chelsea averaged more points per game (2.2) under the Portuguese last season and though the Blues were unable to build on their third-placed finish, they have made steps forward.
Despite consistent poor performances from the strikers, Chelsea most needed improvement in defence. Having conceded 6 goals in back-to-back away games to Sunderland and Stoke in December, Mourinho said of his defence: "It's a big concern." Mourinho has seen to the problem.
Chelsea conceded the fewest goals (27) in the league last season while the average number of goals shipped per game (0.7) was lower than under Benitez (1). Furthermore, the Blues conceded fewer shots per game with Mourinho (10.4) than they did during Benitez's tenure in west London (12), so it is fairly clear that the club have become a more solid defensive unit.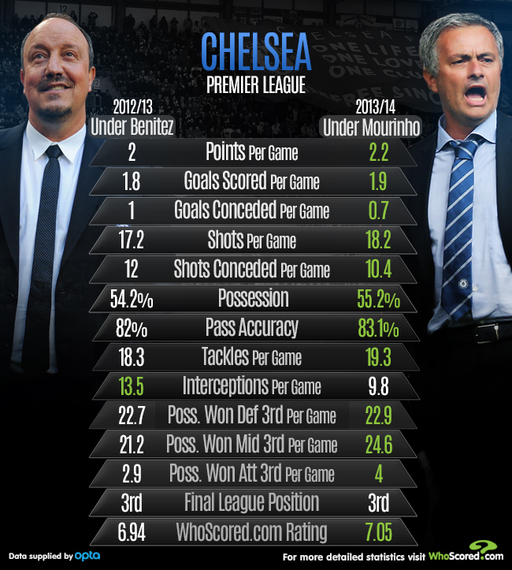 The difference between winning possession in the defensive third per game under Benitez (22.7) and Mourinho (22.9) is marginal, but it's in the midfield third where the difference is telling. Chelsea won possession more times in the middle third under Mourinho (24.6) than Benitez (21.2), though having a player of Nemanja Matic's quality in the squad has helped the current boss.
The Serbian returned to Chelsea from Benfica in January and was an instant hit with the fans. His WhoScored rating (7.62) was bettered only by Eden Hazard (7.65) of every Chelsea player and that indicates just how impressive he was following his re-signing. Matic added an injection of athleticism and power to the midfield that stood him in higher stead than teammate John Obi Mikel, with no player winning possession more times in the midfield third per game (4.2) of every Blues player last term.
Comparatively, Spaniard Juan Mata did so the most times per game under Benitez (2.7), a player who is better served creating chances for his teammates, not winning the ball. Adding Matic to the ranks clearly benefitted the team and added energy to a midfield that had stagnated.
Matic's ability in front of the defence profited the more attack-minded players, who felt safer knowing that he was there to alleviate danger should they lose the ball. Sitting deeper granted the offensive players more freedom to hurt the opposition and helped Chelsea win possession more times per game in the final third under Mourinho (4) than Benitez (2.9) as the Blues pressed higher up the pitch to rob the opposition of the ball.
Mourinho prefers to have 5 outfield players behind that ball at all times and it is east to see why Matic fits in so well, as the Serb is able to win the ball quickly and many feel he is the final piece that completes the midfield jigsaw. His deployment is one of the main reasons that Chelsea are better defensively under Mourinho than Benitez. Supporters were enthused at the return of the Portuguese and have every right to be confident of further success with the defensive side of Chelsea's game enhanced following the 51-year-old's return.
While Chelsea won the Europa League during Benitez's time at Stamford Bridge, the team has improved with Mourinho back at the helm, despite not being able to win a trophy for their efforts. Defence, though, is an area Mourinho remains keen on improving, having accepted a big money bid for the tactically naive David Luiz from PSG. Kurt Zouma's acquisition in January and reports of a move for Raphaël Varane imply that Mourinho wants to further bolster his backline, becoming a more solid unit in the process.
Though supporters were never keen on Benitez leading the team in the first place, he still performed admirably during his spell in west London. However, it goes without saying that the team has progressed following Mourinho's return, despite both managers finishing their respective season in the same league position.
Do you feel Chelsea have progressed under José Mourinho? Let us know your thoughts in the comments below
All statistics courtesy of http://www.whoscored.com where you can find yet more stats and player ratings.