When Filipe Luis signed for Chelsea from Atlético Madrid over the summer, some felt it was time for Branislav Ivanovic to revert to centre-back, with César Azpilizueta moving to his favoured role on the right. However, three games into the Premier League season and Ivanovic has once more shown why he is the Blues' starting right-back.
José Mourinho last season insisted his Chelsea side were not favourites for the title, but their blistering start to this campaign has fans believing the Blues will win their fourth top-flight championship in 10 years. Mourinho has been fortunate in that Cesc Fábregas and Diego Costa have hit the ground running to send the west London side to the summit of the Premier League, but Ivanovic, too, has played a key role in their rise to the top.
The powerful Serbian is the fourth best-rated Chelsea player and fifth highest in the Premier League (8.06) this season. Meanwhile, with 2 goals to his name, only Costa (4), Nathan Dyer and Steven Naismith (both 3) have netted more times than him. Ivanovic bagged just 3 goals in 36 league appearances in the whole of the 2013/14 campaign.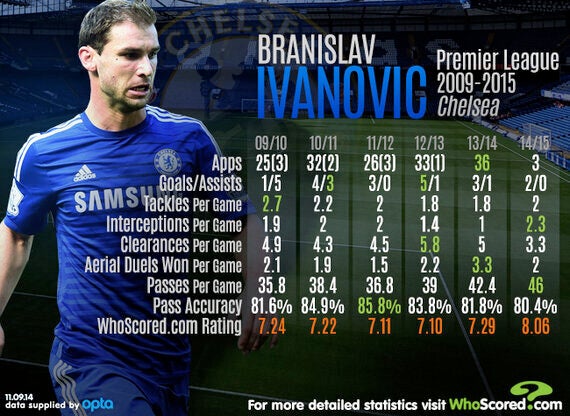 Needless to say, the burly defender is improving with age. Although admittedly only based on a small sample size, his WhoScored rating this term is at its highest over the last 6 seasons as Ivanovic continues to go from strength-to-strength at Stamford Bridge. His marauding style on the right-flank to strengthen attacks has many feeling the former Lokomotiv Moscow defender is a right-back, right midfielder and right winger all wrapped up in one.
Ivanovic is currently averaging 2.7 shots per game, a return bettered only by André Schürrle (5.5) and Costa (3) of all Chelsea players. Clearly given license to roam forward, Ivanovic has thrived and the team are profiting as a result. When a player of his physical standing pushes forward with intent, it is going to be difficult to stop him and Mourinho's demands of him to overlap offers the Blues a further offensive outlet.
With an average of 1.3 successful dribbles per game, opposing sides have struggled to contain Ivanovic once he has gained a head of steam this term. The Chelsea attackers on the right-flank, either Schürrle or Willian, prefer to cut inside and drive for goal and their movement opens up space for Ivanovic to burst into. As a result, it is more than likely that he will go one-on-one with the opposition left-back, and he is hard to know off the ball, such is his strength.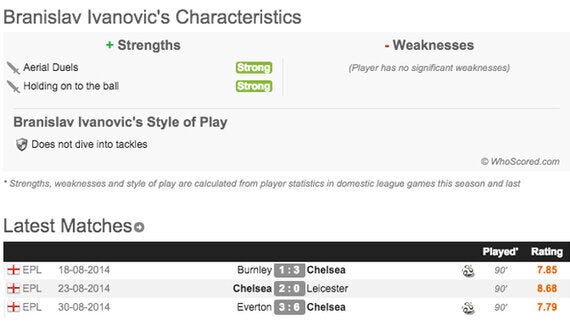 His offensive duties could be enough to see him shun defensive responsibilities, but Ivanovic is ensuring his supreme fitness levels are not going to waste. While some players may appear tired on the back of an energy sapping World Cup, the right-back is excelling having not partaken in Brazil 2014.
As a result, the high level of Ivanovic's defensive performances have not dropped. The defender is currently averaging 2 tackles per game, while no Chelsea player is making more interceptions per match (2.3) than him. His notable reading of the game helps to deny the opposition, while his ability to confidently stride forward from the back to win the ball means he alone can instigate attacks from the defensive third.
Having averaged 2.3 accurate long balls per game in the first 3 games of the season, Ivanovic has the vision and ability to pick out a Chelsea attacker from distance to help the team quickly transition from defence to attack. Costa and Fábregas have been winning the plaudits for their respective starts to life with the Blues, but Ivanovic has maintained a spectacular level of consistency that that deserves recognition as well.
As Chelsea strive to land domestic and European glory, players such as Ivanovic - perhaps one of the unsung heroes of the club - will be vital to further success. The defender has been one of the west London side's most dependable players since joining in January 2008 and his impressive beginning to the campaign suggests he is going to continue this form in what has the potential to be a memorable season for the Blues.