The culmination of Sevilla-Elche brought an end to a season full of twists and turns in Europe's top five leagues. Atlético Madrid surpassed all expectations with their La Liga title win, while Manchester City, Juventus, PSG and Bayern Munich secured domestic glory.
Nevertheless, of each champion in Europe's big five divisions, only Juventus have representatives in WhoScored's team of the season - Giorgio Chiellini and Paul Pogba. The Bianconeri swept aside all those before them and ended the season with 102 points, a new record in Italy's top tier. Antonio Conte's side won all 19 of their home games, the only team not to drop points on home turf on the continent, and the duo played a pivotal role in their title defence.
Big things were expected of Pogba this season and he did not disappoint with an impressive goals (7) and assists (7) return. Only Kwadwo Asamoah (2.2) averaged more successful dribbles per game than Pogba (2.1), a commendable haul from midfield, and his average WhoScored rating (7.64) this season was a marked improvement on the previous campaign (7.38).
However, the France international would not have been granted the license to showcase his attacking talents without a solid defensive base, and this is where Chiellini comes into the equation. The no nonsense centre-back averaged more interceptions per game (2.1) than any other Juventus player, while only Arturo Vidal (4.1) made more tackles per match than Chiellini (2.5), exhibiting his qualities in the backline once more.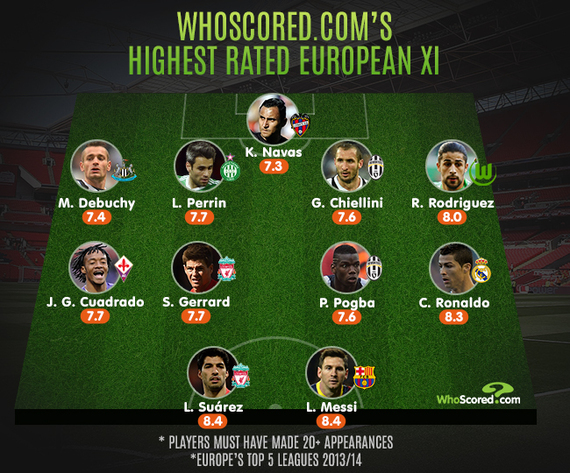 The duo aren't the only Serie A representatives in the team of the season, with Juan Guillermo Cuadrado also featuring in the XI. The Colombian was crucial in Fiorentina's top four finish having completed the most dribbles (118) in Italy's top tier. Only Giuseppe Rossi (16) netted more league goals for the Viola than Cuadrado (11), while only Borja Valero (9) registered more assists than the 25-year-old (5) in what was an impressive campaign for the winger.
In La Liga, while Real Madrid failed to land their 33rd title, Ballon d'Or winner Cristiano Ronaldo once again lit up Spain's top tier, with no player scoring more goals than the Portuguese (31) in Europe. The 29-year-old was at his best despite an injury-hit campaign and could easily have netted more over the season having struck the woodwork the most times (9) in La Liga this term.
Unsurprisingly, Ballon d'Or runner up Lionel Messi also features, despite perhaps enduring a below par campaign by his extremely high standards. The Argentine could have capped off the season with the title had his second half goal against Atlético stood, but it wasn't to be for the attacker. Nonetheless, Messi won the most WhoScored man of the match awards (14) in Spain, while only Diego Costa (20) scored more clear-cut goalscoring opportunities than the Barcelona ace (17).
The Primera División's final representative comes in the form of Keylor Navas. The likes of Petr Cech, Manuel Neuer and Gianluigi Buffon are lauded as the best in their position, but the 27-year-old's performances exceeded the trio. No goalkeeper made more saves than Navas (160) in Europe's top 5 leagues and England could struggle to find a way past the Costa Rican when they face their Central American counterparts at next month's World Cup.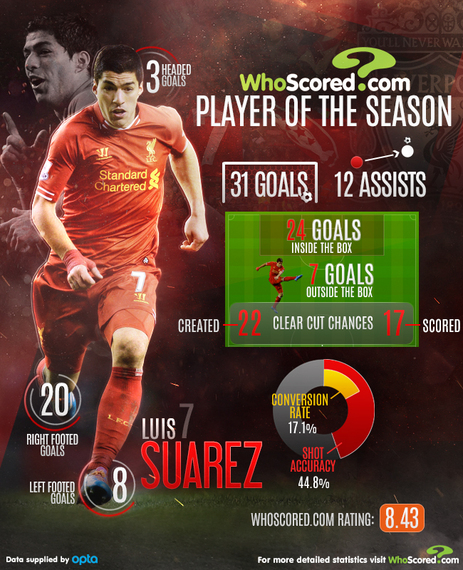 The only Bundesliga player to feature in the XI is Ricardo Rodriguez. The left-back was imperious for Wolfsburg, with no player winning more man of the match awards (9) in Germany's top tier than the Swiss. Rodriguez had a direct contribution to 22.2% of Wolfsburg's goals (5 goals, 9 assists) to cap off a splendid season in their back four. He saw only Kevin De Bruyne average more key passes per game (3.2 to 2.3) and only Luiz Gustavo (3.4 to 3) make more tackles per match of all teammates this season.
On the opposite side of defence is Newcastle's Mathieu Debuchy. Though the Magpies lumbered towards the summer, losing seven of their last eight league matches, Debuchy performed above and beyond for the Tyneside outfit. Only Luis Suárez (14) and Wayne Rooney (7) were awarded more man of the match awards than the right-back (6) in the Premier League this term as Debuchy, individually, enjoyed a decent campaign.
Steven Gerrard is the first of two Liverpool players to feature in the team of the season having enjoyed something of a renaissance under Brendan Rodgers. Deployed in a deeper role, the England international performed admirably in the Liverpool midfield, with his average rating (7.74) at its highest in the last five seasons. Utilising his inventiveness, Gerrard ended the Premier League season with the most assists (13).
Luis Suárez is the other Reds star to feature, with his WhoScored rating (8.43) making him the best rated player in Europe this season. No player scored more league goals (31) or won more man of the match awards (14) than the Uruguayan in Europe, while only Gerrard (13) provided more assists than Suárez (12) in England's top tier, displaying both his goalscoring and creative ability.
Ligue 1 is represented by only Loic Perrin in the XI, with the centre-back crucial for Saint Etienne and their fourth-placed finish this term. Only Martin Skrtel (410) made more clearances than Perrin (364) in Europe, though the Frenchman made the most headed clearances (250) on the continent. His performances in the heart of defence ensured only PSG (23), Lille (26) and Monaco (31) conceded fewer goals than Saint Etienne (34) in France's top tier this term.
Though only Pogba and Chiellini won their respective domestic title in the European team of the season, that says more about the collective efforts of Atlético, Manchester City, PSG and Bayern Munich rather than individual quality shining through. The players in the XI all performed exceptionally for their team in what has been a memorable 2013/14 campaign in Europe.
Who would make your European team of the season? Let us know your thoughts in the comments below...
All statistics courtesy of http://www.whoscored.com where you can find yet more stats and player ratings.