Jack Wilshere won the plaudits in Arsenal's 2-2 draw with Manchester City. The England international turned in a performance fans know he is capable of and the Gunners faithful are hoping this will be the beginning of great run of form for the 22-year-old, provided he can steer clear of injury. The same, however, cannot be said of Mesut Özil.
The German, a club record £42million signing from Real Madrid last summer, was supposed to kick on this season and realise his potential for Arsenal. Unfortunately, though, three underwhelming displays for the north London side this term have many doubting whether Özil can live up to expectations.
All three of the 25-year-old's league starts this season have come on the left side of midfield in Arsène Wenger's 4-1-4-1 formation, but Özil's form has been disappointing to say the least, reflected in his WhoScored rating (6.87). Although we are still at a very early stage of the current season, it is worth nothing how significant a drop this is from last season (7.28).
The main problem, without question, has been Wenger's deployment of the former Real Madrid star. To bring out the best in a player of Özil's quality, a manager must build a team around him. Wenger strived to do this last season with 24 of his 25 league starts coming in the number 10 role. It's understandable why the Frenchman would do this, with the attacker widely regarded as one of the most creative players in world football. In the season prior to his move to Arsenal - his final one for Madrid - Özil created more clear-cut goalscoring opportunities (24) than any other player in Europe's top five leagues.
This in part was down to then manager José Mourinho, who strived to keep him as fresh as possible. Özil was subbed off in 13 of his 23 league starts in his final full season at Los Blancos, in which he scored 9 goals and registered 13 assists. Both figures dropped last term with Arsenal (5 goals and 9 assists), but his performances were enough to convince supporters that he could better his returns this time around, especially with the acquisitions of Alexis Sánchez and Danny Welbeck to provide further offensive outlets.
Wenger's decision to play him on the left however is clearly having an adverse effect. The Arsenal boss has a plethora of central midfield options and the idea is for Özil to have more freedom on the wing. Aaron Ramsey and Jack Wilshere currently occupy the positions in central middle and using either of the duo on the left would be a waste of their talents. Özil, though, casts a frustrated figure on the flank as he is unable to gain a foothold in the game. He operates better more centrally, despite there being less space, where his creative talents can be maximised.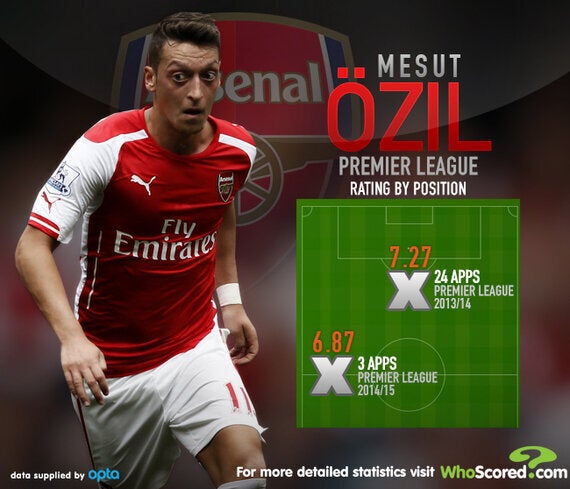 Furthermore, being used on the left increases his defensive responsibilities as opposed to when he plays as a 'number 10', but so far the Germany international has shunned these and it's little surprise that Özil's one statistically calculated weakness is his 'defensive contribution'. Rather than provide cover for the left-back the attacker has more often than not allowed opposition attackers to pass him by, thus leaving his teammate exposed. Seamus Coleman's opener in the 2-2 draw with the Toffees highlighted Özil's lack of awareness as the attacker failed to properly track the run of the Republic of Ireland international, who headed past Wojciech Szczesny to put Everton in front.
On Saturday, Martín Demichelis' equalising header was not the fault of Özil, but was a prime example of his apathetic attitude towards defending. As the City players rushed the box to meet Aleksandar Kolarov's corner, the Arsenal star stood and watched as Demichelis rose highest to head past Szczesny. The look of bewilderment on his face highlighted his poor attitude towards the defensive side of the game.
With Arsenal facing Borussia Dortmund on Tuesday, who have one of the best attacking right-backs in the world in Lukasz Piszczek, the Gunners need to shape up defensively to deny the Pole. If Özil puts in a similarly lazy performance on the wing as he did on Saturday, Arsenal could be punished by Dortmund on his side of the pitch, with some fans suggesting the German should be dropped for the Champions League encounter.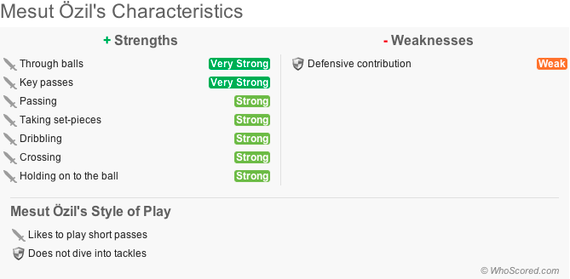 It may be down to tiredness after an energy-sapping World Cup, but Özil needs to step his game up in order to help Arsenal add to their recent FA Cup and Community Shield wins. Wenger must shoulder some of the responsibility for this drop in form, however. It is fairly evident he under-performs on the left and is better used in a more central position. If Wenger sticks with the 4-1-4-1 formation, it would be in his best interests to move Özil inside, where he could form an effective partnership with Ramsey, though this would likely see Wilshere drop to the bench, with either Mikel Arteta or Mathieu Flamini Arsenal's designated holding midfielder.
Reverting back to a 4-2-3-1, a formation Wenger used in all 38 league games last season, would also help Özil return to his best, though a 4-3-3 formation is also a possibility, a system Özil played in for Germany at Brazil 2014. That way the German could remain on the wing, while one of the midfield three would cover for the full-backs, though allowing Arsenal to maintain numbers in the middle of the park. The potential would also be there for Özil, Alexis and Welbeck to form a fluid attacking trio and the versatility of each player means they could continuously move across the frontline to help open up space for one another or any of the midfield runners coming from deep, be it Ramsey or Wilshere.
Wenger has been stubborn about changing his tactics in the past, but altering his current system of choice is essential if he wishes to bring out the best in Arsenal's most expensive player. Özil will be keen to silence his critics this week in Europe's elite competition and the meeting with Dortmund provides Wenger with the perfect opportunity to move the attacker back into a more familiar central role.