For centuries London has been a hub for fashion, and to this day it is home to many unique boutiques, but none are more unique than Aashni & Co, the Notting Hill based store which was founded by former filmmaker Aashni Shah. Since its opening in 2012 Aashni & Co. has emerged as one of London's most sought after destinations for luxury Indian fashion.
Aashni Shah, born and raised in Bombay, has been working in the creative industries for much of her adult life "my background and interests have always been focused on being a creative and a collaborator" she says "fashion has forever been a great passion of mine and growing up in India immersed by beautiful design, colour and clever use of fabric is something I pined for during my travels and my time in London" It was this lack of unique sartorial colour that triggered Aashni to create a store dedicated entirely to Indian fashion "I recognized a huge void of access to Indian design outside of India, and so my love of curating and creating were soon channeled into building Aashni & Co. as a vehicle to introduce the wealth of Indian fashion talent to London."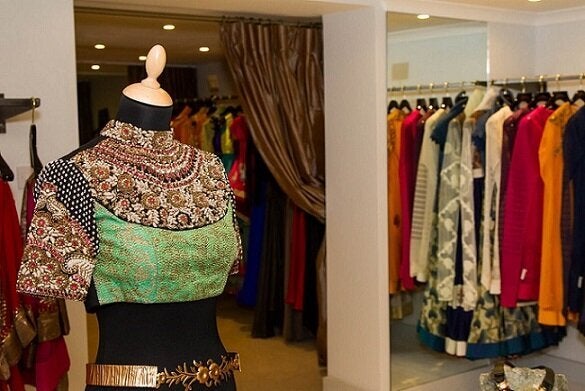 In a miraculously short space of time, Aashni & Co. has garnered much attention from fashionistas in the city and Continental Europe alike, all desperate to see what beautiful designs they have in store, and this attention is certainly not unwarranted, as Aashni and her team procure some of the most exclusive designs, from the likes of Manish Malhotra, Shivan & Narresh, Anand Kabra and Gaurav Guptaet al.
All great ideas are conceived with a concept in mind, and Aashni & Co. is no different, as Aashni explains "the concept is essentially filling that void and building missing links to Indian designers, their collections and changing pre-conceived notions about Indian design. Generally outside of India, many people understand Indian design as very ethnic and almost un-identifiable within the parameters of Western fashions." Aashni has gone to great lengths to dispel the idea that all Indian fashion is exclusively geared towards an ethnic market "the variety of collections available at Aashni & Co. are intended to showcase the different pockets of Indian fashions, the medley of styles and trends that exist but are almost hidden from a fashion psyche outside of India."
The world of contemporary Indian fashion is remoulding itself, and expanding at an exponential rate. This is another aspect which excites Aashni "contemporary Indian fashion collections are ultimately a manifestation of the dynamic nature of Indian culture. They breathe the forward thinking and experimental approaches that the fashion world needs. We develop as people through new ideas. In fashion terms, a reinvention of classic or heritage pieces, using Avant Garde detailing or even parody of style determines where we are going culturally, they can even be commentary. Contemporary fashion designers I believe also play a huge part in developing India into the future. With India being so culturally rich and with so much potential I feel that these collections will propel diversity and talent into global recognition."
If you visit Aashni & Co. you will see that it is an Aladdin's cave filled with the most beautiful and most colourful designs, with each piece of clothing embodying a different aspect of Indian craftsmanship, from the distinctively cosmopolitan feel of Sabyasachi to the Kashmiri influenced Rohit Bal. With so much talent coming out of India at the moment, Aashni expressed that she has a certain criteria to meet when searching for designers to showcase "the immense array of talent can almost make it impossible to choose from. However I was very determined for the store to have a clear through story that still managed to cater to a wide demographic of customers. I was very keen to balance the Aashni & Co. offering between well-established and heritage Indian household names whilst also showcasing more experimental collections and new and upcoming talent."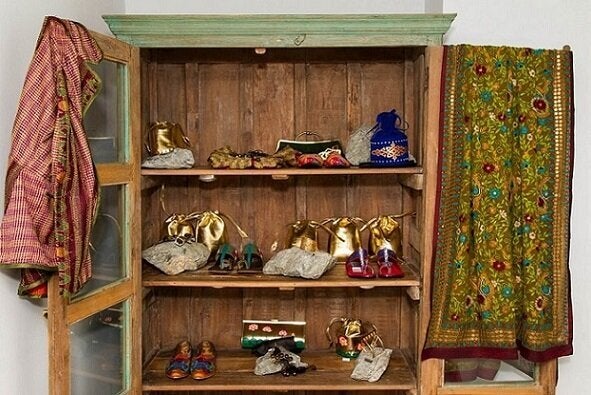 Ultimately, Aashni's goal is "to incorporate a selection and a buy what is accessible to both Asian and non-Asian clients. However there will always be, most definitely, a strong presence of Indian design and contemporary and fashion forward trends." With this Aashni & Co has the potential to be one of the most successful outlets for Indian fashion in Europe, one which also appeals to a culturally diverse clientele.
With Indian designers such as Manish Malhotra becoming internationally recognised, being placed on the same platform as Christian Dior and Yves Saint Laurent, it is only right that a boutique dedicated to such artisans exist.