In the fashion universe, Elie Saab is the brightest star. He is the man with the Midas touch, creating beautiful designs that typify high fashion and luxury. Elie has clarified the fact that fashion is an art form, and when it comes to womenswear, he explores the hinterland of sartorial elegance, melding together myriad themes and inspirations, from nature to fine art. He has attracted an array of royal and celebrity clients, from Princess Beatrice of York to H.M Queen Rania of Jordan, film star Mila Kunis to Catherine Zeta-Jones. The gilded world in which Elie now inhabits is a far cry from his days down the back streets of Beirut, working as an atelier, making clothes for his friends and family.
In 1982, after studying fashion in Paris for a year, he returned to Beirut, opening up his own workshop. What followed would be nearly 20 years of furious experimentation, conjuring up scintillating visions of glamour and beauty. Refining his skills in design and laying the foundations of what is now one of the biggest fashion brands in the world. "I am not only a fashion designer; I have the vision of an entrepreneur, a businessman," says Elie.
Since he came to wider public attention in 1997, becoming the first non-Italian member of Camera Nazionale della Moda, the Elie Saab brand has gone from strength to strength, and is now a global phenomenon, along with the likes of Christian Dior and Chanel. Elie's magnificent power in the world of fashion is a testament to his undying love for, not only design, but women too, as he says "I was born with this passion of creating and making dresses and was always surrounded by beautiful women, from sisters to neighbours, so the desire to dress them and make them look elegant was my constant inspiration." From the starlets of the silver screen to the Royal houses of Europe and the Middle East, the degree of loyalty clients have for Elie is extraordinary and this is, on the most part, down to his devotion to women.
Always keeping in mind that the Elie Saab woman has discerning tastes, and moreover, expects the highest quality, Elie never disappoints, he says himself that his clients are "feminine, elegant and crazy about glamour!" and "I must surpass myself every season." With a design ethic that is rooted in tradition, it is no surprise that giving birth to glamour comes so easily, cherry picking the most intricate elements of dress design and putting them to use.
When it comes to fashion, Elie is the maestro of couture, preferring to stick to evening wear and wedding gowns, happily admitting "Why should I bother with anything else, when I know that evening and wedding dresses are my specialties? When I know that the very nature of such a dress, which demands spectacularly rich fabric, intricate beading, and always a touch of fantasy, means I can create clothes that complement or even amplify the high points of a woman's life." Possessing a unique understanding of aesthetics, he intertwines the rich tapestry of European and Middle Eastern culture, femininity and unashamed theatricality, to create gowns that are larger than life, with each piece possessing a potent essence of pure genius.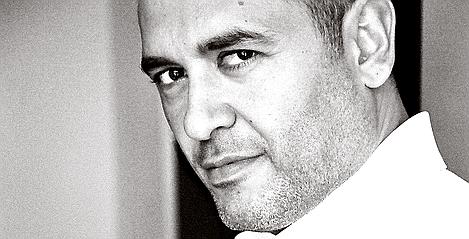 The Master: Elie Saab
The world at large got to see just how amazing Elie's dresses looked, when film star Halle Berry wore a garnet taffeta couture gown to the 2002 Oscar ceremony, it sent the press into a flurry of enthusiastic excitement. However, Halle Berry was not the first superstar to have been bewitched by Elie's talent, as he explains "other Hollywood stars had worn my designs before, but it was certainly a huge exposure for the brand and created a lot of publicity for Elie Saab. Clients, stylists and celebrities from all over the world wanted to find out more about us and have access to one of our red carpet gowns."
His clients know that an Elie Saab gown is going to stand out in the crowd, always flattering to the female figure and imbued with an unmistakable originality, which could only ever come from Elie. When it comes to originality, there are none quite as unique in the world today, having been entirely self-taught, as he says "I believe that creating your own identity is the first and most important thing to do. Perseverance, hard work and ambition are also very important to be able to overcome obstacles and succeed in the fashion field...I am passionate about my career. Of course a certain amount of talent was required, but even more of work, years of hard labour during which I had to teach myself most of the business."
With Elie Saab becoming a major force in the fashion world, it seemed inevitable that he should venture into accessory design, and so he did with, naturally, the greatest success. Manoeuvring and manipulating the theatricality of his couture designs to jewellery came as a surprise to many, yet this gamble paid off, and each season his exquisite necklaces, rings and bracelets can be seen in exclusive boutiques from London to Dubai.
Although his love for evening wear and wedding gowns will forever remain the driving force of Elie Saab, such a creative mind is destined to explore other avenues, he explains "I have already worked on many projects that involve my creations and personal style in fields other than fashion and I am always ready to explore new fields that can bring in my vision. When I receive a proposal for collaboration, I study well all the aspects to decide if it suits my image. The accessories have been further developed this season to include shoes, bags and clutches." Elie's fragrance in particularly is a career milestone.
It was back in 2009 that Elie signed a ten year fragrance and cosmetics contract with Beaute Pristige International, what followed would be the creation of one of the most sought after perfumes since Chanel No 5, with delicate floral notes juxtaposed with a fantastical essence of the exotic, it embodied the Elie Saab brand perfectly.
Now, with 30 glorious years in the business, and numerous goals achieved, Elie will certainly not be slowing down anytime soon, saying "the challenge lies within oneself, not just in a chosen industry. I am very hard on myself and always feel the need to do more and better, and of course I feel the pressure to maintain a high level of success in a very competitive industry." It is impossible to think of a world without Elie Saab, having brought a glorious sense of fantasy back to fashion; without this man for all seasons the world would be a much duller place.