Described as being "modern and sleek as a skyscraper" Elsa Schiaparelli was a tour-de-force in her day. A fashion designer extraordinaire, who pioneered avant-garde fashion, from knitwear to couture, and collaborated with some of the greatest creative minds of the 20th century, including Jean Cocteau, Salvador Dali and Christian Berard.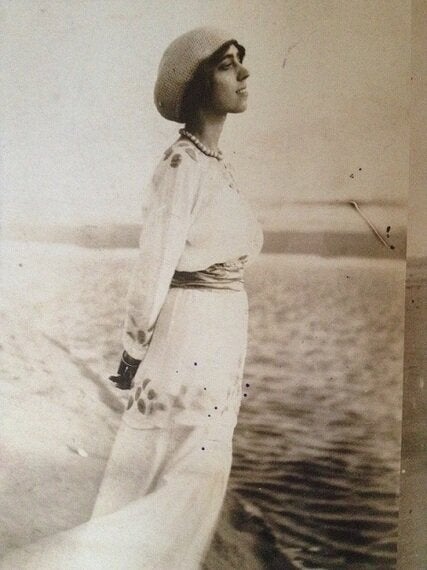 A young Schiaparelli taking in the delights of the seaside in 1915, sporting a dress of her own design. Even as young woman Schiaparelli's creativity was given an outlet. Her flare for design is very clear to see in this photo, fashioned in the popular Parisian style of the time.
In the first publication of a book by her granddaughter Marisa Schiaparelli Berenson, with a forword by the master of couture Hubert de Givenchy - Elsa Schiaparelli's Private Album is a magnificent and thoroughly delectable collection of pristine photos and private correspondences, along with extracts from Schiaparelli's memoir.
A mature Schiaparelli with her long time friend, the Surrealist Salvador Dali. It was Dali who proved a huge influence for Schiaparelli, his bizarre and dream like creations ignited a flurry of excitement. Schiaparelli's famous "lobster dress" being the prime example.
The book takes us back to a world of sepia tinged glamour, when women were ladies and men were gentleman, the sweet smell of elegant Gitanes and Chanel No. 5 emanates from every page. Starting off with Schiaparelli's childhood and then charting her rise as a creative doyenne.
Born in 1895 to a family of Italian aristocrats and academics, Schiaparelli's upbringing was one where knowledge was highly regarded, her father Celestino Schiaparelli being dean of the University of Rome, her uncle Giovanni Schiaparelli a renowned astronomer and her father's cousin a lauded Egyptologist.
One of Schiaparelli's gowns modeled during a show. It was at this stage in her career that the Surrealist influence began to recede from Schiaparelli's designs, and the more ethereal elements started to take centre stage.
Whilst studying philosophy at the University of Rome, she published a compendium of sensual poems, which sent her socially conservative family into a frenzied panic of shock and disgust, so much so she was sent to a convent, where if she hadn't gone on hunger strike she would have stayed. After escaping to London, and gaining a job as a nanny, Schiaparelli's creativity began to blossom.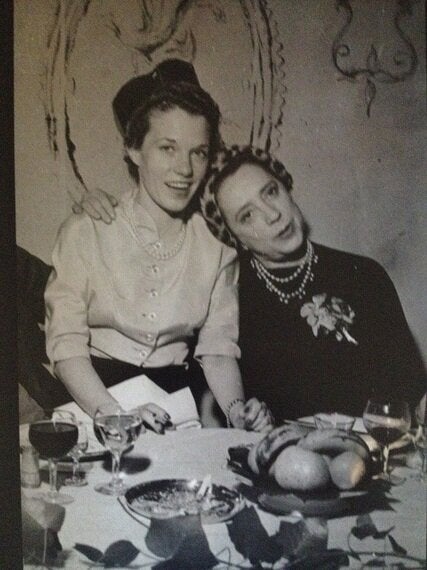 Schiaparelli during a dinner with family. As expected, Schiaparelli was the ever unconventional mother.
A quote from her granddaughter on the poems reads - "To the family the book came as a bombshell. The newspapers got very busy. Extracts from the poems were reproduced all over Italy, even abroad. Every critic chose a different one. Schiap's father considered the whole thing a terrible disgrace and would not read the book."
Elsa Schiaparelli's Private Album is a treasure. With stunning stylised images abound and beautiful, insightful chapters from her granddaughter, the book sheds light on the personal world of this fashionable firebrand. Lifting the lid on a woman changed the face of fashion.
Elsa Schiaparelli's Private Album by Marisa Schiaparelli Berenson, Foreword by Hubert de Givenchy is published by Double-Barrelled Books.