India has long been a melting pot of colour and culture, in the metropolises of Bombay, Delhi, and Bangalore etc, differing cultures live side-by-side, although not always in serene harmony, the spirit of pluralism has kept alive an eclectic cauldron of colourful culture. It is of no surprise that India has proved a source of inspiration for many foreign travellers over the centuries, and now finally, an Indian company is taking India as its inspiration.
India Circus, an idea conceived in 2011 by the acclaimed designer Krsna Mehta, has attempted to make sense of this diverse culture through design. With a keen eye, Krsna has looked through the many centuries of art, architecture, textiles etc to create unique and beautiful designs which embody India the new and India the old simultaneously. The idea for India Circus came about through frustration, admits Krsna, who upon returning from America, realised there was nothing he could take back as gifts, which mixed together the unique essence of Indian culture with a globally recognisable style.
It is strange that in such a vast country, says Krsna, there are not enough designers out there who project India in an interesting way. I think the problem is that many designers are trying too hard to mimic Western design, particularly from an interiors point of view. All the new houses across India's cities look as if they could be from anywhere in the world. Krsna goes on to say that this is not the case in Sri Lanka for example, which has many designers who draw their inspiration from traditional Sri Lankan culture.
Krsna also admits that it is not easy working and producing in India, this is the primary reason why so many Indian designers, artists etc relocate to Europe and America, and therefore it is important that designers have a voice and the impetus to stay, rather than take flight. India Circus is showing that it is possible to create a successful design business in the current climate.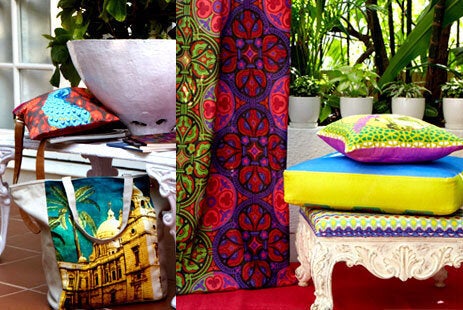 When it comes to a design and business concept, India Circus is cut from a very different cloth to its contemporaries, being the first company of its kind to make chic style affordable. Embodying a refreshing and vibrant sense of creative curiosity, there is nothing else like it in the world today. The designs on offer are designated into four collections - Neo-Nawab, Tamara, Kuheli and Jalebi, encompassing a broad sweep of interior designs and accessories, each piece is drawn from the multifaceted and stylistically diverse myriad Indian culture, past and present.
The Neo-Nawab is an opulent extravaganza, influenced heavily by the luxurious Mughal dynasty; Tamara is a dedication to the rich flora and fauna of India, with beautiful ornamentation and highly exuberant patterns, Kuheli pays tribute to the traditional arts and crafts that are synonymous with Indian history, each design is replete with individual takes on traditional art forms, and finally the Jalebi collection is an explosion of colour, unashamedly Pop Art in its approach, the designs combine a unique sense of eclecticism, with images of rickshaws, chai cups and grand monuments mixed together sublimely.
India Circus has been received with great enthusiasm by the public, says Krsna, sales have been great and there is an ever growing hunger for the many collections on offer. As Krsna states, now is the time for India the brand to emerge, and by finding inspiration from the past, the future looks a lot brighter. With the burgeoning Indian economy and the country finding a bigger place on the world stage, it is important for a narrative to be created, in terms of design, an art historical image which promotes the rich and diverse culture of India, not just to the world, but at home too.
As a design entity, India Circus is forever evolving, having already expanded into many cities across India, as well as North America and Europe, they are on the way to becoming a global phenomena, and with Krsna's unique design ethic steering the way forward, India Circus is in very capable hands.
Popular in the Community